Jean-Christophe Bédos – Birks and The Bees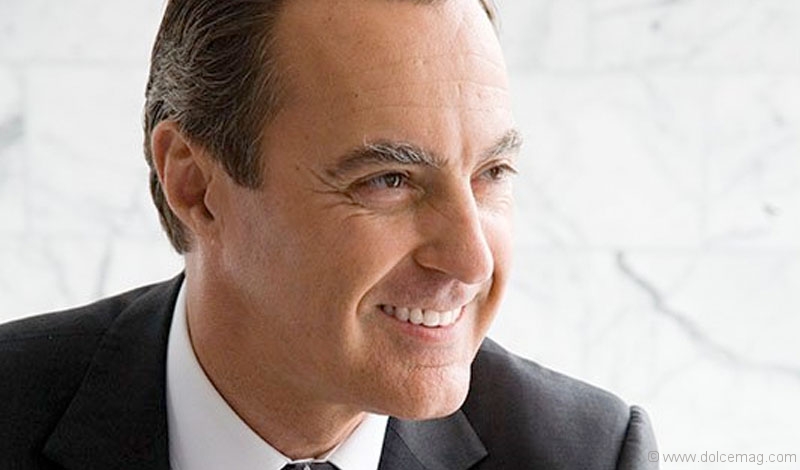 The image of a company head trudging to work through banks of snow and sub-zero temperatures is something I never imagined until sitting next to Jean-Christophe Bédos in a suite at the Shangri-La Hotel in Toronto.
A few minutes ago, the predictably unpredictable Canadian climate had me braving my own weather-related obstacles: ankle-deep puddles and sheets of rain sweeping across University Avenue on what had begun as a harmless, albeit grey, summer-ish day in July. Rushing off the soaked street and taking cover in the soaring hotel lobby, Mother Nature had considerably dampened my efforts in punctuality and appearance. But my bad hair day soon turned the corner: Bédos strode into view, having just wrapped up his photo shoot with Dolce. On the sort of afternoon when all should be forgiven for coming up a little less than refined, Bédos decidedly impresses in a dark Gucci suit and bee-patterned Eton tie.
In the living area of his stay on the 16th floor — his publicist, Eva, quietly hovering in the background — talk quickly turns to the deluge outside. As a proponent of pedal power and a regular of the Heel-Toe Express, the CEO and president of Maison Birks is all too familiar with the scenario. "To ensure that the day is a good day, I cycle to work in the spring and summer, and walk to work in the winter," he explains. "It's the best way to start the day; it helps me reflect on matters and also to somewhat — especially in the winter — feel that I'm conquering the day, even when it's minus 20 degrees outside.
"Canada Goose helps," he adds with a laugh.
While it's only a short trek from home to his corner office at the flagship Birks store in downtown Montreal, Bédos has become known over the years for his large yet measured steps — the most recent being crossing the Atlantic to punch the corporate clock in a country whose natural resources and abundant landscape the European-bred leader regards in admiration. The move brought him to the helm of Birks, a leading purveyor and retailer of high-end jewelry and watches in Canada, in 2012. His ability to remain naturally curious and wear like a second skin the insight to adulate a young country's best offerings have amplified his presence as a respected leader in the luxury jewelry industry for more than 25 years. "Whether you call representing others and caring for the group 'leadership,' something that always mattered to me was speaking up for others," says Bédos, recalling childhood days of being asked to captain the school rugby team and voted in as class representative every year.
Beginning his career in 1988 at Cartier, Bédos' introduction to the jewelry industry was by chance. Graduating with a business degree from Nottingham Trent University, where he had simultaneously worked on a distance-learning law degree, he left England to complete one last year of study at the Université Paris I Sorbonne. To pay for his small living space, he looked for a part-time job, landing an assistant position in global marketing at Cartier in the City of Lights. "I would do that every morning for a year, and in the afternoon work on my law degree. I was self-conscious; my parents weren't into jewelry, or luxury, for that matter," he explains. "If we wanted something we had to work for it, which is good because it shapes the character. I've worked hard to get where I am, but I think there's also an element of luck."
At the end of the year he was offered a job as the junior product manager for the revered jewelry and watch retailer's international division, which brought him back to England to set up a marketing department by 1992. He went on to earn his MBA and become the managing director for Cartier France, his experience and education opening many doors. From 2004 to 2011, he was CEO of Boucheron, where he played a critical role in repositioning the French jeweler into the luxury market.
Somewhere between his bright smile and refined demeanour I wonder what else could lie beneath the tall and dark James Bond of jewelry, a man who reads Winston Churchill and unwinds to classical music. "I can only say what I've heard: focused, resilient, long-term driven and fun."
Fun?
"As in a good sense of humour. I take things with a twist. You don't believe me?"
Bédos smiles as he recounts how he proposed to his wife, a woman he praises for her steadfast support. Expecting an elaborate engagement tale of caviar and carats, I get the ironic unfolding of a man in the jewelry business without a ring instead. "It was in a pizzeria that I went on my knees. I wanted to propose with a 1-carat beautiful diamond, but the stone and mount I had secured weren't ready for that day. Rather than make it totally grandiose, I decided to downplay it to the maximum. So I presented her with a coke can ring instead," he recalls, shaking his head. "The weekend after that the ring came, and she was really impressed. She was in tears — maybe tears of despair — but she said 'yes!' She's a good sport," he laughs.
Bédos, who speaks English, French, and some German and Spanish, was born in Morocco and raised in the south of France. When he arrived in Montreal from Paris on a cold January day back in 2012, he immediately embraced the country's promise of opportunity.
He and his wife and four children headed straight from the airport to an apartment, a temporary living arrangement until the furniture for a home they had secured in Westmount arrived. "I should have come to Canada sooner. When once in Paris, I took a taxi — and most of the time you have a very bad experience with a Parisian taxi driver — but here was a young guy who was very interesting, very eloquent, and I had a nice conversation with him. I thought, 'Wow, this is one in a million, a great moment.' I asked him what he did in life and how he became a taxi driver, and he said, 'I have to provide for myself because I can't find a job.' He had a PhD. I went home and I said, look. There is something wrong if we live in a society that doesn't provide for future young generations — what about our own kids who are coming next? We realized that we probably needed to move, so we made a shortlist and at the top was Canada."
Apart from finding the discipline to balance his occupational responsibilities between family time, Bédos went to work on making friends and laying down his roots, all the while overcoming the challenges of rebuilding a brand and directing business in what was new territory for him. He set out to create a culture of collaboration and initiative within the company, encouraging his team to produce, deliver and stand by their ideas. He injected a true sense of togetherness right from the top and through his organization, inviting colleagues to sit alongside him during meetings at his desk, a long, rectangular dining table meant to encourage discussion and the conviviality one enjoys while having a meal. "I wanted to avoid the usual traps of applying the same recipes, instead making an effort to have a humble approach to learn and discover and make myself accepted, rather than impose myself on the company."
Bédos knew that genuine brand history was nearly impossible to replicate, putting Birks alongside global jewelry giants vying for the lead in the crowded market. But he also knew that the company had other distinct advantages. Compelled to flip an inferiority complex toward other luxury retailers on its head, Bédos encouraged the organization to embrace the Birks identity, rather than dress it up or escape it. "Canada is associated with vast spaces, the feeling of conquering, the feeling that there are no borders. The first question for me was: how do I introduce a sense of pride and a focus on potential? It seemed there was a kind of insecurity within the organization: we're not Italian from Milano, we're not French from Paris, and we're not American from New York. So who are we?"
One of his first orders of business was to distinguish the semantics between "luxury" and "prestige," the former not quite the right fit to represent Birks's bloodline. "Luxury has its origins in Europe," he explains, "so we decided to use the word 'prestige' rather than 'luxury.' One of the reasons specifically was because we didn't want to associate Birks with the idea of being superior or important. When you meet Canadian people, you have people who are kind, unassuming, who don't take themselves too seriously, not 'snob.' In the world of luxury, you have a lot of long faces and snob attitudes; you don't have that here."
What we do have, he proclaims, is our very own source of the most acclaimed of gemstones: three diamond mines in the Northwest Territories and one in northern Ontario, and the inspiration of Canadian nature in all its forms. Ushering in a revived sense of national pride with the goal to refresh and renew, Birks unveiled two new storefronts in Montreal and Burlington in 2013, and an updated design décor of snow, ice and maple trees. Birks operates 51 stores, 30 in Canada and the rest in Florida and Georgia under the Mayors brand.
This year marks the 135th anniversary of the Montreal-based icon, founded by Englishman Henry Birks and most distinguished by its sacred blue box. To observe the milestone, the company announced its support for the conservation of honeybees by partnering up with the University of Guelph's Honey Bee Research Centre. Often viewed as a nuisance, the threatened insect plays a critical role in pollinating our crops, especially fruits and vegetables. Standing by its duty to raise awareness on the dramatic decline in honeybees in our cities, Birks introduced three bee-themed collections — Bee Chic, Bee Sweet and Busy Bee — with 10 per cent of sales from a honeycomb-shaped silver pendant  benefitting the Research Centre, a pioneer in global bee health.
"Earlier on we decided we would not commemorate the past with a self-celebrating exercise," says Bédos. "That kind of narcissistic approach is very often not interesting. So we said, we have the roots, they are deep, they are enriched with history and heritage, but we must project ourselves toward the future rather than turn back and look at our past. We celebrate our future by celebrating nature. And this is how we identified that bees are the future of nature, of the world. We knew we had a story to tell, and with that a social corporate responsibility," says Bédos, his wrist encircled with a limited edition Birks Heritage Pilot watch.
In an additional effort to counter the disappearance of bees, Birks's headquarters in Montreal fitted its roof with an urban beekeeping installation and suspended green roof earlier this year.
Architecting Birks as a valuable and unique export in the high-end jewelry market with Canadian sources of inspiration, Bédos is guiding the historic brand with the nudge of a parent propelling his child up in the air at the local park swing set. His latest objectives include measuring the strength of Birks's collections in the United States and a forthcoming plan to expand to China.
In speaking of his proudest moment, Bédos flushes while sharing the contents of an emotional letter his father sent to him on his 50th birthday. "The moments my father considered successes for me were fun moments. He remembered when I was in sports and selected for the team, he remembered how dedicated I was at school, and how proud he felt when I moved to England to study. [While reading the letter] I was thinking, good Lord, I did not expect this kind of life or career. It's not that I'm so successful, but I've enjoyed what I've done.
"There is no regret, the fact that I've never looked for quick return on investment, I've never tried to have a fast kick or boost, I've always accepted that with sweat and pain you can achieve." In the case of Jean-Christophe Bédos, slow and steady might just win the race.
www.birksandmayors.com