Kathryn Sullivan: It's The Journey, Not The Destination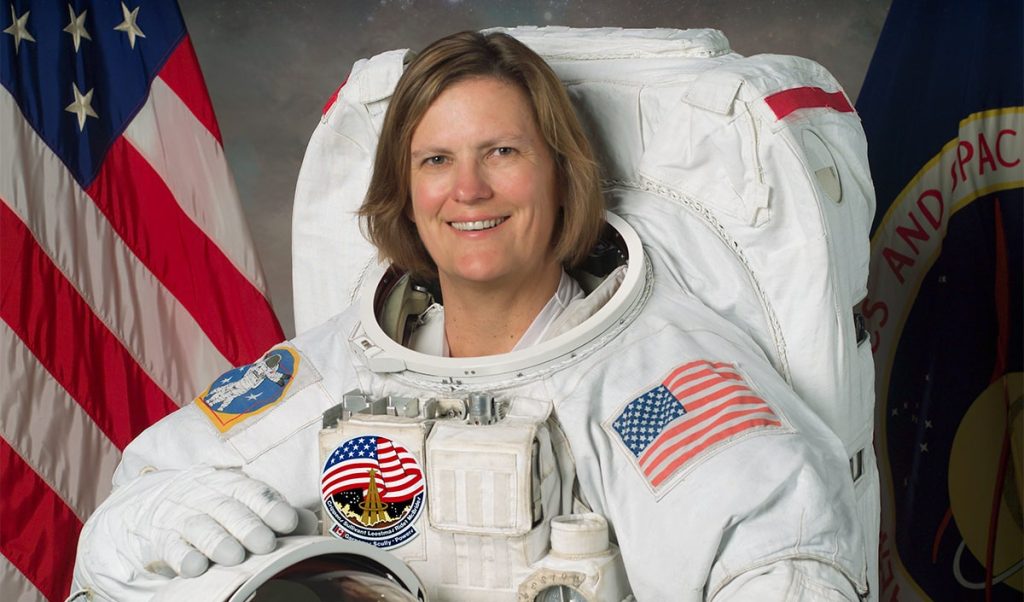 The race to space has already begun, but what is it like to have actually experienced interstellar? Time to find out from retired astronaut and lifetime explorer Kathryn Sullivan.
There are some among us — those with insatiable curiosity, keen intellect and a desire for adventure — who are destined to be modern-day explorers. For some, this means rocketing into space as an astronaut, while for others this might mean submarining into the deepest depths of the oceans. Or, for Kathryn Sullivan, it means both.
Sullivan is an American geologist, oceanographer and a former NASA astronaut and U.S. Navy officer. In 1984, she was the first American woman to walk in space. But, in addition to having travelled to the moon and back, Sullivan became the first woman to dive to the Challenger Deep in the Mariana Trench, the deepest part of the Earth's oceans, in 2020. In light of her profound experiences and exclusive perspectives, in September 2021, Sullivan was appointed to the President's Council of Advisors on Science and Technology to advise the president and the White House on policy matters in science, technology and innovation.
Between being in space and deep in the ocean, Sullivan has seen it all and continues to be inspired by the Earth we live on. "I'm amazed by this planet, so, any chance I get to explore, for me, preferably first-hand experience, and explore some other place, some other aspect of it, I find it fascinating. It's expanding my understanding of this marvellous little ball we live on." Her perspective, having seen views most civilians will never be able to, reminds us of how precious life really is, and that staying curious is a gift, in itself. "Being of a mindset of seeing what's there to appreciate, whether it's a small little gem of something or something more grandiose."
Dolce spoke with the retired astronaut to learn what it's like to have explored the world through her eyes.
Q: Where do you think that your curiosity comes from? Is it something your parents taught you?
A: I think it came pretty naturally to me. I mean, my parents were really great about supporting and eliciting our curiosity, and, I mean, sometimes, when a grown-up does that, it feels a bit like a test, but it was never like that in our family. I would say that they were more like co-explorers, especially my dad. We'd be wondering about something, and he'd say, "Well, let's think about that. What do you think?" I think he was trying to help us build the muscle, the mental muscle that lets you turn your curiosity into something you learn and something you can do, instead of just, "Did I pass the test if I answer Dad's question?" Whether it was a profile on a person or a story with the early astronauts, or a National Geographic person going off somewhere, all those stories really absorbed me. I also think somewhere along the way, it was not just the story of where the National Geographic guy went to, but the realization that, "Man, there are people in the world whose livelihood is to go to these places and see them and learn about them and learn enough to write a good article, which teaches me something, not just stamp your passport and buy a trinket."
Q: What did it feel like to be the first American woman to walk in space on October 11, 1984? Can you describe what that mission was like?
A: Well, the first part meant nothing to me at all. I wouldn't have cared if I was the 783rd woman to do a spacewalk — it was my first chance to do a spacewalk. And when you say spacewalk, you might think, Well, a walk around the park. You're only going outside of the spaceship to do some real work that matters. It matters to your spaceship, to the station, or, in our case, it matters to a bunch of researchers, so it's not just a fanciful little stroll. It's a complex thing. It's a lot of responsibility. It indicates a lot of confidence in you. It's a lot of confidence in you to select you to be on a crew with five or six or seven other people. But if you are assigned to go do a spacewalk, it means, you, yourself, only you, are going to get in a small spaceship that's shaped like your body — because that's really what a spacesuit is — and you're going to be pilot in command of your own spaceship while you're outside, so it's by far the most hazardous thing that astronauts do in space. The whole thing has got its hazards — that's kind of out there — and so I was just fascinated to get the work done. I was intrigued. I knew a lot about the experiment we were doing, and so that was interesting. I think the main thing in my mind was, If you ever want to do a second spacewalk, you got to be sure to do this one very well. But for who would have written my name in a history book, that really never entered my mind. It was never something that I really paid attention to. My first spacewalk was a chance to prove myself and my responsibility to do this well — that's what I was focused on.
Q: Flying to space most certainly tests your mental health, in terms of reaching an emotional and physical feat that you may never experience before. How did it feel when you returned to planet Earth?
A: Even long before my first flight, and I can't put my finger on how or why this became clear to me, but it was, "This will undoubtedly be the most heralded thing you will ever do, and that in no way means there's nothing more interesting and valuable and worthwhile to do here on Earth, so you go and explore those things." You just understand that the peanut gallery won't be there applauding you, like when you were an astronaut, but that's not the indicator of what something is worth — how many people are applauding you or how big they write your name in an article. That often has nothing to do with how worthwhile and, to you, how satisfying it should be to be a part of that experience. So, I mean, I think there's a little bit of a downer after a space flight because you've been sprinting in such an intense run, with a completely full and completely structured life, getting to the flight and through it. And you come back, and suddenly your days are quite unstructured in comparison. It might be that my background and my work as an Earth scientist helped me with this because, if you go somewhere like the Mahogany Desert or Antarctica, most people will say, "Oh God, there's nothing there." There's a lot there that's really fascinating if you get into the frame of reference where you can see it, but if you're just going to whiz by it at 60 miles per hour, yeah, it looks completely empty. It's more about your own frame of reference than anything else.
Q: Was there ever a moment that scared you during the mission?
A: For me, it's about getting rid of the doubts, the uncertainties, before, by taking stock of the team you're working with and the engineering that's gone into it and my own level of preparedness. I think the skills I've built in many, many years of assessing risks and looking at engineering systems and managing risk … If I'm satisfied with the risks and the competencies, I kind of lean in. I could probably get afraid if something really, really unexpected and clearly dire happened, maybe that would be a moment of fear, but, especially as a crew member, you don't have the option of just throwing your hands in the air and being terrified. You're going to have to fix it and do everything you can to solve the problem. If you're a passenger on an airline, you can just scream and be loud; the guys at the front can't be doing that.
Q: What message would you like to send to little girls whose dreams are to become an astronaut or geologist one day?
A: I would say those are both fabulous goals to pursue. They will challenge you and make you grow and make you stronger both physically and mentally and that's all to the good. That will all serve you well through every other aspect of your life, so that's worth investing in. I would say even in this day and age, you may well meet people along the way who say you can't, or you shouldn't, or girls and women don't belong here. Pat them on the head, say, "Thank you very much," and ignore them. They're just wrong. As long as you build the strength, and scientific and technical competence, you got to be good at what you do. That's a got-to-have, so you have to invest in all the skills it takes to do those things. The final thing I would say is that everyone and anyone who aims at this, when they first start, when they're honest with themselves, they'll see some strengths that they could build on, and they'll see some weaknesses. Build on your strengths, but don't forget to strengthen your weaknesses. Shore up your weaknesses. So, if you're not as good as you need to be in physics or math, get some tutoring. If you're not as good as you think you ought to be in communicating, because communicating clearly and concisely is really important in all these things, go practise more, try more, get some help. I think there's a flaw in the advice that says, "Find your passion and go with it," because that kind of implies to ignore everything else you're not as good at, and that's not a good way to go through life. It's got to be both and both build on those strengths and shore up those weaknesses.
Q: Can you share a little bit about the Astronaut Scholarship Foundation?
A: The Astronaut Scholarship Foundation — you can think of it almost as the alumni association of American astronauts. The organization was originally founded by the Mercury 7 astronauts and their families, but now it's a much wider group of people. Many of us astronauts will help the foundation raise money to give out these scholarships, and a number of us will also serve as the reviewers of the applications. I think the value and importance of this, to me, is, across a wide number of universities across the United States, it allows the opportunity for sharp young students. Most of them kind of have an eye on an aerospace career, many of them, I'm sure, hope to fly in space one day, but they're not just playing for that. They're really investing and building the knowledge and skills that give them a successful career in aerospace. Many of them are absolutely dazzling talents, even as undergraduate students. So, we review them carefully. All of them are involved in some sort of research project, so it's not just reviewing the grades they got by studying the textbook. We're looking at real evidence of these students in action, doing new research projects, trying new experiments, often being part of a top-notch research team. Even though, as young as they are, they're bringing great ideas to that team. It's kind of a launch pad, an accelerator. It's clearly an endorsement of the folks who get the scholarship, but more importantly, it jump-starts them into another opportunity. And, for many of them, the financial contribution is an essential part of being able to continue on with their studies. We'd much rather have these students working on research projects, rather than flipping hamburgers somewhere or bag groceries at the grocery store to get the money to stay in school. They're sharp, sharp students, and we'd rather make it possible for them to go all in.
"There's absolutely no nook or cranny on this earth and no living thing anywhere on this earth to which each of us is not connected"
Q: What lesson did you learn on your expeditions?
A: I think I would highlight two lessons. There's absolutely no nook or cranny on this Earth and no living thing anywhere on this Earth to which each of us is not connected. Those connections are maybe not front of mind, but I think it's important for us to all understand that's a fundamental truth of this planet — the incredible and intricate ways in which we are all connected to every place on the planet and every living thing on the planet. I don't just mean, "Nice to know you're there." I mean, there's a substantive important relationship. The other thing, I don't know if this is something so much that I learned, but one of the things that I've really appreciated on the path that I'm on is, I can kind of think back to my 26-year-old self, straight out of grad school, walking into the astronaut core and the refinement, and reaching up to that challenge and stepping up to it, and stubbing my toe and then stumbling now and then, but carrying on. I guess if I were to try to get this more concisely, I would say I think I knew this before, but I think I've come to deeply understand — there are three bullets on my resumé that say I flew in space each time — they're not worth the ink that they're printed with, but the person I became by reaching for that and succeeding at it — that's what the real value is. And I think that's true with anything on your resumé. You write "PhD from MIT or Stanford" on your resumé, that tells me what your degree cost, but if I want to understand what your degree is worth, I'm not going to look at your resumé, I'm going to look at you, the person you became by achieving the result. That's where the worth of it is.
Q: What is your favourite meal in space or in the deep ocean?
A: It's a really simple meal, but it's kind of hard to beat a tuna salad sandwich 33,000 feet below sea level. I did always like the shrimp cocktail. Turns out, you can actually dehydrate shrimp cocktail, with its cocktail sauce, rehydrate it, and not to say that it's shrimp just taken off the boat, but it's awful darn good. What's even better about it is that you can suspend your shrimp in midair and have it twirl around a little bit, so a twirling shrimp cocktail is pretty hard to beat.
Q: If you had to choose between living in space or in the ocean, which would it be?
A: I like living on Earth with all of this planet, in the deserts, on the mountains, at the seashore, in the sea — this is the place I want to be. My primary motive in applying to become an astronaut was that I would get to see the planet with my own eyes from orbit if I succeeded in being selected, and I loved the rest of it, too, but what was I really hankering for? To see the Earth that way.
Q: What did you miss the most when you were away from your loved ones?
A: You know, I really wasn't aware of missing anything. My space flights were five to seven days, that's pretty short. I do remember, in particular, my first flight, reluctant to leave orbit and the view, and zero gravity. But, I think it was the very next morning, I was driving into the space centre very, very early, and so there was this lovely sunrise in the sky, and a flock of migrating birds flying across my field of view, and literally, the thought that came through my mind was, OK, that makes it worth coming back here. You've got great sunrises and sunsets in orbit, and you've got 16 [sunrises and sunsets] each 24 hours, but you don't have flocks of birds flying against that backdrop.
Q: Who do you admire?
A: I take notes from more people than you could ever count, but I think I'd have to put Neil Armstrong at the top of that list, not just for the man that he was, but for the way he lived his entire life.
Q: What does la dolce vita mean to you?
A: There was a line in a pop song a few years ago that I think sums it up for me in a way that it's not having what you want, it's wanting what you have, which, to me, kind of means being of a mindset of seeing what's there to appreciate, whether it's a small little gem of something or something more grandiose.
www.kathysullivanexplores.com
@kathysullivanastronaut
---
This interview has been edited for length and clarity.