Stephan Crétier: Grapes From Wrath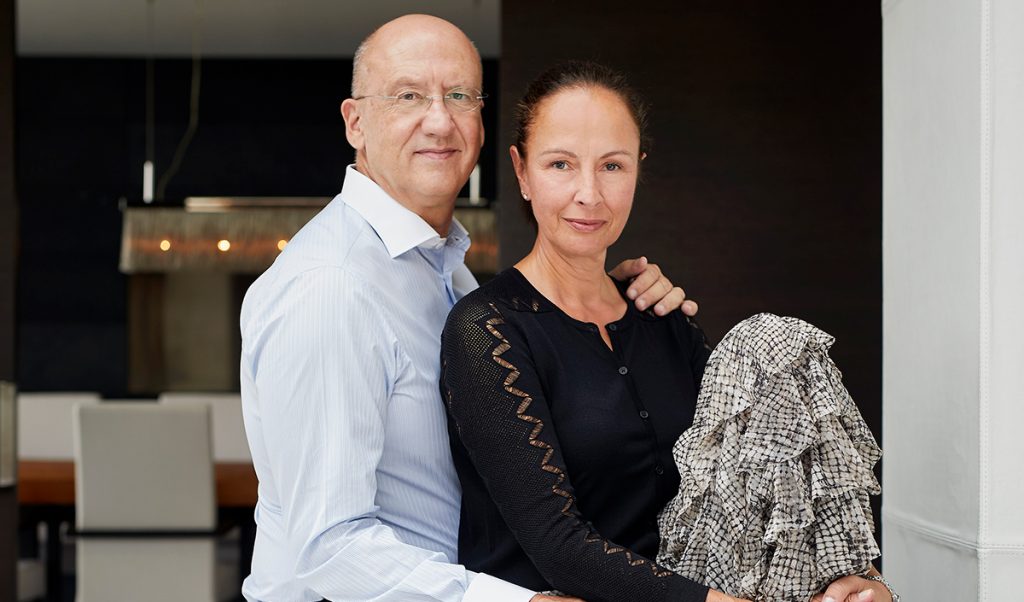 Devastated by California's 2017 Atlas wildfire, Stephan Crétier rebuilt and rejuvenated Roy Estate to continue to produce some of Napa Valley's finest nectar.
"One day, I became the owner of a wine estate, and, literally, just a few hours later, four out of the five buildings on the estate were destroyed by fire, including the house," recalls Stephan Crétier, in an interview with Dolce about the devastation caused by the California wildfire when the ink was still drying on his ownership papers in 2017. "But, I am an entrepreneur, and the fire presented some opportunities."
Fortunately, the wrath of the Atlas wildfire spared the vines, allowing Cretier and his wife of 27 years, Stephany Maillery, to begin anew and build the property into an elevated wine lovers' experience with an unparalleled home and hospitality space on the estate, while producing world-class wines.
It once again demonstrated the resiliency and drive that has defined the career of Crétier's, who, as founder, chairman and president and CEO of GardaWorld Security Corporation, now presides over the largest privately owned security services provider in the world with 122,000 employees operating in 45 countries.
"I don't know where I developed my business side or entrepreneurial skills," says Crétier. "I just wanted to make it out there, at exactly what, I didn't know. I saw my parents struggle financially, and it wasn't easy, so I wanted independence and liberty."
On his resumé as a young adult was a minor reference to being a store detective at The Hudson's Bay department store when he was 19, which his recruiter had picked up on. The recruiter sent him to interview at four or five security companies, which Crétier found very interesting, and he soon landed a job at one of them.
"I grew that company and told the owner we could consolidate and go national," recalls Crétier of this pivotal moment of his professional career. "He said, 'No, this is a family owned business,' but told me not to worry because, when I turn 65 and retire, he'll give me a nice cheque. I was 30 and ambitious, so I convinced my girlfriend I could start my own business."
Crétier started GardaWorld from scratch with $25,000 from a second mortgage, and today its global reach and security services are increasing in demand in an ever-more-dangerous world. "There are three certainties in life: You need to pay your taxes, everyone is going to die, and you'll always need security," he says.
GardaWorld's success has made Crétier and Maillery global citizens. Residing in Dubai since 2010, they travel extensively and meet many interesting people, which happened at a dinner one evening in Venice.
"I never woke up and said I want to own a wine estate," says Crétier about the serendipity that led him to Roy Estate. "This came by accident. You meet someone at a dinner in Venice, and you start talking about wine. And this person becomes a very close friend, and they were looking for a caretaker for the property."
"Being in the Wine business Is agriculture, As it is a Farm before Anything"
Known for its elegant, single-vineyard estate wines from the cooler, southern end of the Napa Valley, the 42-acre Roy Estate's wines are among the most highly allocated and critically acclaimed wines in all of Napa Valley. This is made possible by its location and its terroir, that magic elixir of all the factors that go into producing fine wine, from the climate to the soil to the elevation of the vineyard.
"Being in the wine business is agriculture, as it is a farm before anything," says Crétier. "There is the sexy part of tasting wine and drinking it and selling it, but there is also the difficult part of making it. Working with nature is interesting, as you wake up, and you don't know what you're getting, depending on heat and rain."
In 2006, Crétier and Maillery founded the Stéphan Crétier Foundation, a Canadian charity with the mission to give back to the community. Given his expertise in security issues and his passion for public safety, perhaps the most innovative part of the foundation is Crétier's Bolo Program.
Bolo stands for 'Be on the lookout,' which is commonly used to designate actively wanted suspects. While seen globally as a relatively safe country, Canada is not immune to major crimes and security issues. Few Canadians realize that tens of thousands of arrest warrants are currently outstanding in the country, with hundreds of those warrants being for major crimes. "Education and security are everyone's responsibility, and we've had success with the Bolo Program," says Crétier.
GardaWorld has been committed for years to welcoming military veterans into its ranks, as there is a natural fit for a post-military career with a security services company. As part of its respect for veterans, the Stéphan Crétier Foundation also supports the Vimy Foundation and its museum, which preserves and promotes Canada's First World War legacy, as symbolized by its hard-fought victory at the Battle of Vimy Ridge in April 1917, seen by many observers as Canada's 'coming of age' as a nation. In June 2021, the Vimy Foundation announced the creation of the Stéphan Crétier and Stéphany Maillery Peace Circle at its Centennial Park in Vimy, France.
Another major benefactor of the Stéphan Crétier Foundation is in his hometown, with the Montreal Museum of Fine Arts. A major donation from Crétier and Maillery in 2018 enabled the museum to realize a large-scale project that celebrates diversity and fosters intercultural dialogue through art with The Arts of One World Stephan Crétier and Stéphany Maillery Wing, which opened in November 2019.
The foundation also supports women's causes, especially violence against women measures, and all of its giving back is a natural extension for Crétier and Maillery in their continuing efforts to help their community. For their philanthropy, both have been recipients of the Queen Elizabeth II Diamond Jubilee Medal. "For me, giving back was about trying to find a way to be active in a certain way, and the foundation is still a work in progress," he says.
Crétier has a refreshingly non-materialistic take on what the sweet life, or la dolce vita, means to him.
"I think it's liberty," says Crétier. "It's the capacity to get up in the morning and decide what your day is going to be like and what your life should be about. That should be the top priority, and, hopefully, you finish that day with a great wine from Roy Estate."
www.garda.com
www.royestate.com
Interview by Estelle Zentil