Phillip and Peggy DeZwirek – The Good Nature of Philanthropy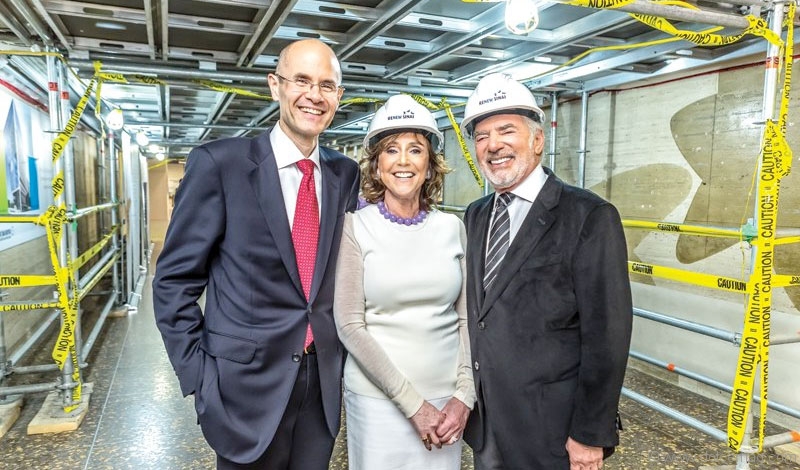 Toronto philanthropists Phillip and Peggy DeZwirek sit down with Dolce Magazine to talk about the fun side of giving back.
Phillip and Peggy DeZwirek are chatting animatedly in their bright kitchen when I first enter their home, a penthouse suite overlooking ritzy Yorkville in the dense heat of a July afternoon. The comely pair is taking a quick break before a waiting photographer in their living room captures their portraits for a spread in Dolce Magazine. In the interim I politely amble through their home, admiring an eclectic art collection that varies from Peggy's own sculptural pieces to the Impressionists and Picasso to the magic realists. Some purchased at major galleries, some from street artists, the compendium's intimidation factor is quickly replaced by the couple's earnest belief that the key to a good life is far from spoiling yourself in your riches; rather, it's about giving back.
"Most people don't realize that they really do live in an enchanted world and if you don't share it takes away half the fun," says former stockbroker Peggy, her husband of 41 years nodding in agreement. "I've always found it easier to give than to get," says Phillip, a financier-philanthropist and community leader with over 50 years of experience in the business realm. "You know, we always gave according to how we were doing, so the better we did, the more we gave. And we always feel good about it."
Over the years the DeZwireks have bestowed millions of dollars to various medical, Jewish, educational and charitable causes, their actions reflecting deep commitment to the community and a firm stance on corporate social responsibility. Described by Mount Sinai Hospital Foundation CEO Kevin Goldthorp as individuals who are "humble, smart and perceptive," Phillip and Peggy's most laudable effort to date is a $5-million gift in 2013 to Mount Sinai Hospital's capital redevelopment project. The multi-year Campaign to Renew Sinai is transforming the hospital's facilities and reimagining the main level lobby as a public space, expanding the hospital's internationally recognized clinical and research programs, and augmenting patient care excellence through best practices and technological advances. "Through philanthropy Phillip and Peggy are fulfilling their obligation to support others, heal the world and make it a better place. And they understand that and they live it each and every day," says Goldthorp.
The DeZwireks' $5-million boost to Mount Sinai's Campaign to Renew Sinai, along with a previous $1.2-million donation, brings the couple's total investment in phase 3 of the hospital's largest campaign in history to just over $6 million. The Phillip and Peggy DeZwirek Family Boulevard in the Mount Sinai lobby is being named in recognition of the gift. "Mount Sinai has always been the hospital that we went to, so being a part of this makes us proud," says Phillip, who served for many years as a volunteer and board member with the organization.
A self-described risk-taker, Phillip may have a penchant for pushing his limits — he climbed to the top of Mount Kilimanjaro at age 47 and zip-lined through the verdant terrain of St. Kitts this year at age 78 — but doesn't take chances when it comes to his benevolent offerings. Apart from the impact of the Mount Sinai Hospital donation, the generous gift marks the first time Phillip and Peggy turned to Toronto-based PearTree Financial Services, which provides generous donors the opportunity to lower their after-tax cost of giving to maximize the positive impact of their gift through its flow through share donation format, or FTSDF. "I was giving away a lot of money before I ever heard about PearTree," says Phillip. A founder of Pan Ocean Oil Corp. (now Marathon Oil), CECO Environmental Corp. and API Electronics Corp., Phillip first learned of PearTree's mechanism two years ago through a philanthropist friend of his living in Montreal.
Since 2007, PearTree Financial Services' FTSDF has been established in successful fundraising efforts in organizations as diverse as Vancouver General Hospital and the Winnipeg Foundation, reaching a total of $600 million in financing in just eight years. According to PearTree, major gift donors can expect the average after-tax cost of their charitable gifts of $25,000 or more to range from less than 15 per cent in Ontario to as low as 10 per cent in the province of Quebec. "If I give to any charity now, I do it through PearTree because they don't take one cent away from charity — they work off the amount given, none of which is from the money that goes to charity. So if I donate a million dollars through PearTree, the charity gets the full million dollars."
In addition to their Mount Sinai efforts, Phillip and Peggy have provided support to Toronto Western Hospital's stem cell research facility and have endowed a movie theatre and rehabilitation facility at the Hospital for Sick Children. In February of this year they extended their philanthropic efforts to Florida with a $2.5-million donation to the Marcus Neuroscience Institute at Boca Raton Regional Hospital, where its Center for Spinal Disorders and Back Pain will carry their names. The gift will be used to fund programs, technology and capital projects. "It's nice to leave a legacy for your children, your grandchildren and for everybody," says Peggy, whose Golf Fore the Cure Tournament at Oakdale Golf and Country Club has raised $3 million to fund rapid diagnosis of breast cancer since the tournament's inception seven years ago. "We're hoping that our actions set an example for new generations coming up."
It's easy to understand why Phillip and Peggy lend their support to worthy causes once you step into Phillip's home office. Lining the walls are framed autographed photos of legendary baseball players and former professional boxer Muhammad Ali — icons that have left pieces of their greatness scattered through history. And while they may personally prefer a little round of tennis or golf for leisure, the DeZwireks pull no punches when it comes to philanthropy. After all, living in a charmed world is way more fun when you're giving back.
photos by john packman
Hair by La Couture Salon / Makeup by Sandra ESTHETICS