Yachting Dreams – Sailing with SeaNet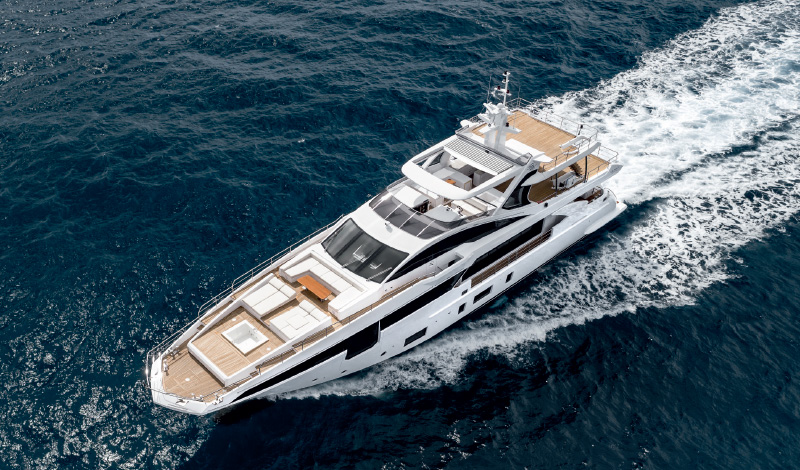 SeaNet's unique co-ownership program makes it possible to enjoy luxury yachting with five-star service and an experienced crew. And now, the latest addition to the SeaNet fleet, the new Azimut Grande 35-metre yacht, ensures you'll have a grand experience in a masterpiece of style and space.
Picture this: a big beach club in the stern and, surprisingly, a beach club in the bow as well, fitted with sofas, a sun-lounging area and a hydro-massage tub. An airy owner's suite with a king-size bed and a private balcony — unprecedented on a 35-metre yacht. A showpiece of a spiral staircase connecting all the decks and below deck. Four guest cabins (two VIP cabins with double beds and two with twin beds) below deck, with access from a central lobby.
The Azimut Grande 35-metre yacht is the top of the range in the Grande Collection. It's a step forward in new innovations of technology, design, comfort and navigation efficiency. Known in the industry for its pioneering co-ownership model, SeaNet Europe was chosen by a European owner to design, build and fully manage this yacht.
Matty Zadnikar, CEO and co-founder of SeaNet Europe as well as a Benetti build expert, is turning his hand once again to the art of yacht building. "Co-ownership is smart ownership," says Zadnikar. Self-admittedly "crazy about boats" since he was a kid, Zadnikar possesses a true passion for yacht-building, including the mechanics technology in engine rooms and yacht security and safety. No effort has been spared in making the Azimut Grande 35-metre yacht a paradigm of comfort. "As a yacht owner myself, I am pleased to share my experience and knowledge with fellow owners and those new to the market," says Zadnikar. "SeaNet offers a complete 360-degree service, from design and build to contract, crew and concierge."
Zadnikar himself, along with a qualified SeaNet build captain, will be present at the shipyard each month of the build to ensure that every detail is impeccable. And for the final three months of the build, the assigned SeaNet captain will be present to ensure that the yacht meets the high standards set by SeaNet Europe.
SeaNet's complete yacht concierge and management service are available to all new yacht owners who choose to build their yacht with the company under Zadnikar's expert eye, as well as to Benetti owners wanting to bring their luxury yacht into the SeaNet fleet. SeaNet will guide new owners on the creation of a company for the yacht under the Maltese flag and on the handling of all charters (should owners choose to do this), and it will offer a rotational crew and staff management. Ultimately, SeaNet ensures a completely hassle-free yachting experience, right from the start.
"With SeaNet I wanted to create a company that could offer everything, ensuring the best standards in yacht service and provision throughout SeaNet owners' experience," says Zadnikar. "At SeaNet, we want owners to enjoy the unparalleled thrill of stepping on board their yacht, but without any hassle. For SeaNet owners, the only responsibility is to make the most of their time on board — we take care of everything else."