The Cutting Edge of Catering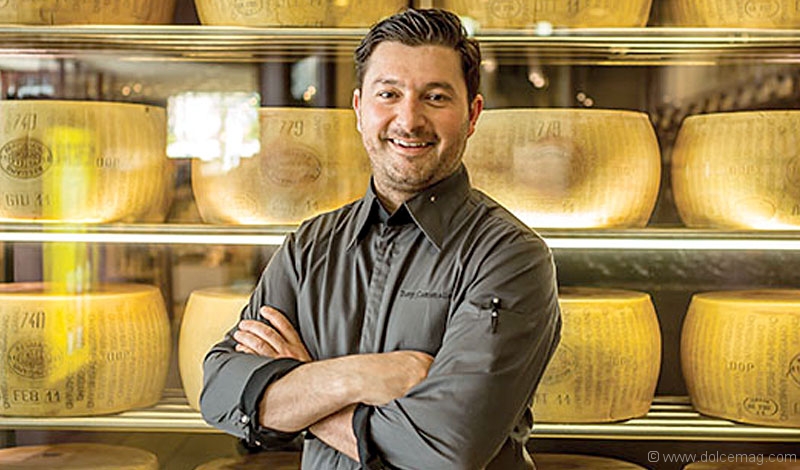 Irresistible gourmet bites of butter poached lobster, pulled porchetta sliders and a truffle and demi poutine are making their way through a well-dressed, hungry crowd. It's that magical time of day when dusk starts to settle, falling across a well-lit, beautiful backyard party and a pool transformed into a dazzling dance floor. The vibe is strumming to the beat of good times and good friends coming together to enjoy deliciously crafted appetizers, specialty cocktails and those indelible moments made on a soft summer's night.
For Pusateri's Fine Foods' corporate chef Tony Cammalleri, this storybook event is one of many he and his catering, kitchen and event teams have produced over the years. Dazzling imaginations and concocting eclectic menus all tailored to specific tastes and desires, Cammalleri proves that his proverbial plate is always brimming with fresh ideas. "We're not just a luxury supermarket catering to a niche clientele," explains the seasoned chef, who once helmed a full-staff restaurant kitchen before joining the high-end grocer eight years ago. "We're a cutting-edge team always ahead of the trend, delivering total start-to-finish catering, event coordination and execution for events big or small."
As a graduate of Humber and George Brown colleges' culinary schools, Cammalleri's knowledge of food extends far beyond the confines of a classroom. Growing up on a farm, he learned how to raise animals, tend to tomato and vegetable gardens, and fire up his first wood-oven pizza when he was just nine. And while the homegrown, organic trend may be all the rage now, Cammalleri has been reaping the benefits of living off the earth since he was a child. By the age of 15, he was determined to pursue a chef's career in a way that would have him stand out from the rest. After completing his education in Toronto, an inspired Cammalleri ventured off to Europe and enrolled in a training program that had him making handmade pastas at two Michelin-star restaurants, and plucking fresh porcini mushrooms on the grounds of a 15th-century church. Taking on the role of corporate chef for Pusateri's Fine Foods in 2011, Cammalleri — who often receives requests to provide specialty high-end airline food for private jet passengers — continues to blend his background and experience for results that are nothing short of spectacular.
Whether it's a high-end affair or prestigious fête, intimate dinner gathering or a milestone party, Cammalleri's special touch and attention to detail is transforming the way Toronto celebrates. "When I build a menu, I look at the whole experience, from the venue and theme to our clients' tastes, to the logistics of building an on-site kitchen," says Cammalleri, who recently helped launch Pusateri's new 15,000 square-foot-production kitchen in Toronto. The catering department is now based in the impressive commissary, which has the capacity to feed parties of 10 to 1,000 people in one night.
While he defines his broader cuisine style as modern Italian, and admits to his love of braising and slow cooking meals, Cammalleri is leading the way by staying ahead and fusing dishes with a variety of gastronomies. It's no wonder the chef and his blue-ribbon catering and event team are tantalizing palates with its eclectic and global approach. "I love mixing delicacies from various cuisines, like tuna carpaccio alongside butter chicken. I want people to get excited about food again."
www.pusateris.com
Corporate chef Tony Cammalleri lets us in on his favourite backyard party ideas, just in time for summer
CASUAL-TRENDY
Mojitos, margaritas and other specialty party drinks paired with sizzling tacos and fresh summer salads served up by bartenders and waiters stationed in your backyard
ELEVATED COMFORT
A range of craft beer alongside gourmet burgers and grilled spicy sausage
MODERN ELEGANCE
Amarone and Chianti wines complemented by juicy steak and lamb cuts; light spritzers and Negroni cocktails alongside elegant Italian hors d'oeuvres