Tom Mihalik: Clothes Make The Man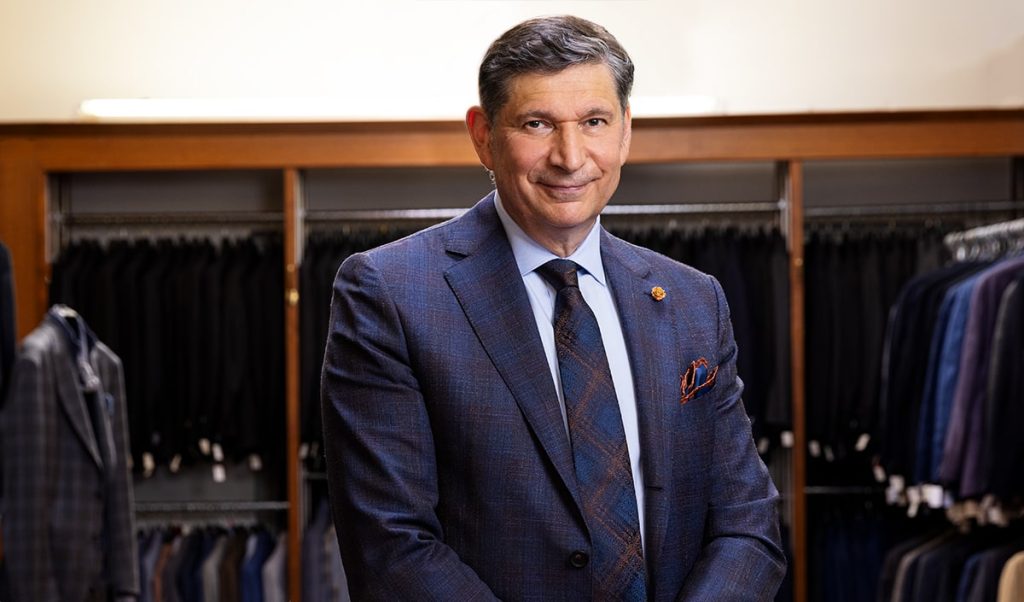 Tom Mihalik's Tom's Place stands atop men's apparel from its modest beginnings in Toronto's Kensington Market.
In almost every major metropolitan city, there exists a certain retail "legend." That special and distinctive man or woman, who personifies their business or industry, is known throughout the city, and possesses that larger-than-life personality trait that can best be described as being a "character." When delving a little deeper into these characters, you notice a common denominator — the innate ability to connect with people.
In Toronto, that legend is Tom Mihalik, owner of Tom's Place, which, for more than 50 years, has been selling menswear and business apparel at below-retail prices from its now more than 15,000-square-foot location in the heart of the city's Kensington Market neighbourhood. Simply put, Mihalik has a passion for clothes, and selling clothes, that is most likely unmatched anywhere.
"I just have always loved clothes; it's that simple," says Mihalik in a recent interview with Dolce. "Growing up in Hungary, we didn't have a lot of money, but my mother would always dress me to look good, as looking good was important, so it looked like I fit in. Clothes became a passion of mine, and I was always wearing dress pants, dress shirts and jackets."
Tom's father, William Mihalik, first came to Canada in 1956 after the Hungarian Revolution and, armed with a strong work ethic but very little money, he opened William's Bargain Store, selling used furniture and clothes in Kensington Market in 1958. However, it took 12 long years before he could send for the rest of his family to join him.
"I dreamed of a life here in Canada," says Mihalik. "My dad's store gave us an opportunity to live and work here, and it was much better with more freedom here. With hard work, you can do anything you want in Canada."
Mihalik started working at his father's store at just age 12, literally on the street outside William's Bargain Store. "The stores in Kensington Market are tiny, so most of the selling in the neighbourhood took place on the actual street, and sales and clothing were definitely in my blood," says Mihalik. "It was a very European atmosphere, and I loved it as it was so lively. Kensington has changed as most of those European store owners have gone, replaced by people from the West Indies, Africa and China, but they all love it and have great opportunities here. Kensington is a small city within a city."
He also loved living on neighbouring Spadina Avenue, surrounded by some of the finest tailors anywhere, who could make a made-to-measure suit by hand using the finest materials on the spot. "It also had some of the best eateries in the world, with the best bakers, butchers, cheese shops, all second to none," says Mihalik in recalling those early days. "In those days, people shopped every day, and all the food had to be fresh."
He also paid close attention to his father and how he treated his customers, always giving them a good deal, and, most importantly, how his dad treated people. "If my dad saw someone struggling or homeless, he sometimes would treat them to breakfast at the Crest Restaurant on Spadina," says Mihalik. "He would also tell some folks who were going through tough times to pay him for the clothes whenever they could."
That spirit of community has stayed with him, and, today, Tom's Place supports many local organizations, such as SickKids Foundation, St. Michael's Hospital Foundation, The Children's Breakfast Clubs, St. Stephen's Community House, the National Youth Orchestra, the Kensington Market Jazz Festival, many local sports teams and Jewish organizations.
"It's nicer to give than receive," says Mihalik. "The community has given us so much, and it's always important to give back; otherwise, we have no city, no province and no country. It's my duty to give back, and we've been doing it forever."
When his father retired, Mihalik took over the business in 1981 and moved to new premises on Baldwin Street with a new name: Tom's Place. Here his legend grew as he connected with people with engaging, lively conversation and by being visible. "My mother once took me outside and pointed to the sign and said, 'That's you. You can't stay in the back. Get out front.' And I do," says Mihalik. "I always want to make sure my customers see me and get to know me, as you've got to work for your customers."
With Toronto being Canada's economic capital, Mihalik decided to focus on business apparel and began to build a loyal clientele in the nearby financial district because of the discounts he offered. Proof that everyone loves a bargain, Tom's Place attracted the everyman, and the richest man, as Ken Thomson, then Canada's wealthiest person, was a regular customer.
"Ken was a kind, caring and loving man and even came to my 50th birthday party," says Mihalik. "One day, I got a note from him saying he thought the advertisement I was running in The Globe and Mail, his newspaper at the time, was too jumbled and cluttered. That it needed more white space to be better understood. I, of course, took his advice, but for Ken Thomson to take the time to care about my business like that says so much about the man."
Celebrities, such as Burt Reynolds, professional athletes and politicians have all made the pilgrimage to Tom's Place. "The mother of Toronto Mayor John Tory once phoned me to say I should be dressing the mayor because 'everyone goes to your place, and John is the mayor of everyone' — that was such a big compliment," recalls Mihalik.
"It's Nicer To Give Than Receive. The Community Has Given Us So Much, And It's Always Important To Give Back"
Mihalik's notoriety in Toronto is enhanced by his many radio commercials, always with a positive and optimistic commentary on the mood of the day. Many barely mention clothes at all, as he doesn't believe in doing a hard sell, and his loyal customer base is well aware of him.
"I always believed in our concept, and I was advertising even during the dark days of the pandemic to encourage everyone to stay strong, as this province and the city have been very important to me," says Mihalik. "While our business went south during the pandemic, we never gave up during the difficult times."
When Mihalik was a youngster growing up in Hungary, he was enamoured with the movies of the 1930s and 1940s, and by the suits of the actors being so impeccably tailored and stylish. He often wondered if someday he'd have the opportunity to dress some of the movie stars. As fate would have it, the giant television and movie production business in Toronto was allowed to operate during the pandemic, and many production companies turned to Tom's Place for their wardrobes — making a young man's dream come true.
Mihalik sees a mood change recently, and as more things in life open up, and hopefully stay open, he senses a pent-up demand to dress up again after 18 months of sweatpants, bathrobes and bunny slippers. "People want to go out, look good and go to functions again," says Mihalik. "Evening wear, such as black suits, are back again, and we've never sold as many tuxedos as we have in the last few months. You always want to look your best when you go somewhere special, and there is no doubt high-quality tailored clothing is back again."
Another factor of influence may be coming from the top — the absolute top. Mihalik believes President Joe Biden has brought back taste and style in men's clothing, with coloured shirts, patterned ties, pocket squares, pinstriped suits and Corneliani sports jackets.
"Biden has great taste," says Mihalik. "We carry his Hickey Freeman suits, one of the oldest suit makers in North America. He wears his clothing extremely well, and his shirts, jackets and pants are perfectly fitted. He mixes American know-how and Italian fashion very well, and he has definitely brought back style."
It is the quality of the well-fitted suits, all 100 per cent wool in every price range, that keeps customers coming back to Tom's Place all these years. "When the fabric is not good quality, you cannot make a good garment," says Mihalik, speaking of the quality he is known for. "We have served up to three or four generations, and I, now, have customers who are bringing in their sons or grandsons for suits, and there is no bigger satisfaction than that."
That concept of family is the foundation of Tom's Place, as Mihalik has now been joined in the business by his son, Tom Jr., and sister, Anett Alves.
"We are very much a family business, and it's great working with them both. We never have arguments," says Mihalik. "I think my dad would be very proud of my family and all the great things we have done, never forgetting where we came from and to work hard, believe in yourself and to not give up on your dream."
"My dream was to sell designer clothing in the early 1980s at discount prices, and we were the first to do that," says Mihalik. "We have people from all walks of life shopping here because of our quality and pricing and our vast selection of merchandise. We probably have more suits here than anywhere else in the world. We always wanted to be known as the place that sells suits."
Family, friends, relationships and clothing are what make up la dolce vita, or the sweet life, for Mihalik. With the addition of Italian food. "The best meals are Italian, with fresh and simple soups, pasta, breads and sauces," says Mihalik. "In order for you to have la dolce vita, you don't need money, you just need style and class, which is very much alive and well in Italy."
We would all consider ourselves most fortunate indeed to know a man such as Tom Mihalik and even more honoured to call him a friend. He may be a legendary retailer, known to everyone in town, but he is first and foremost a good and decent man, and there is no higher praise than that.