Fifteen Fifteen: Innovative 3-D Living In Vancouver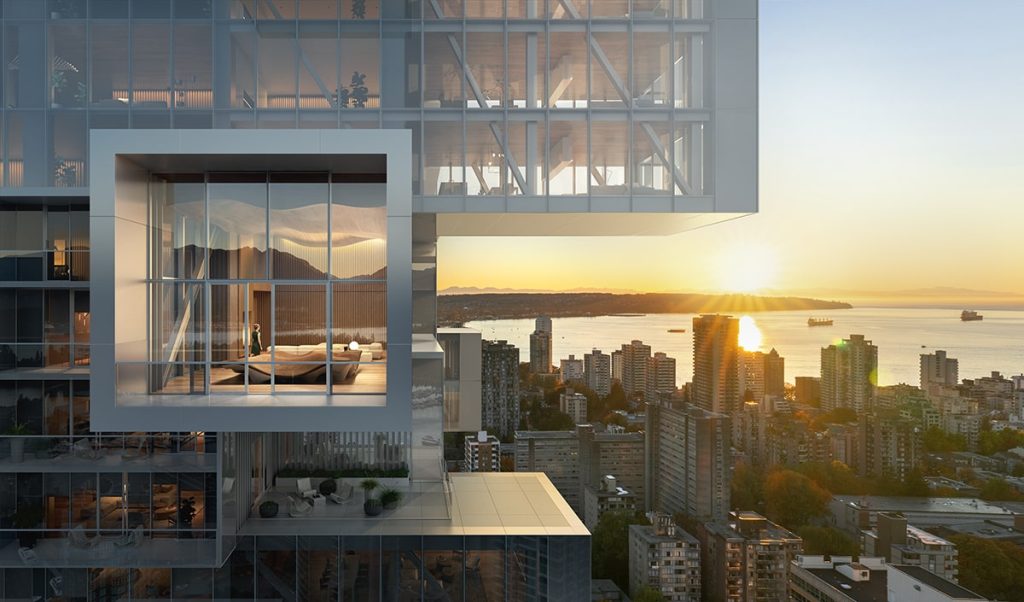 The distinctive design, with horizontal elements introduced into a vertical building, will make 1515 Alberni Street one of the landmark structures in perhaps the world's most beautiful natural urban setting.
While he certainly couldn't know it at the time, 18th-century English naval explorer George Vancouver was sailing one of the world's most naturally beautiful and scenic settings when he was exploring British Columbia's Burrard Inlet in 1792, the home of the city that now bears his name and Canada's third largest metropolitan area. In the next few years another beautiful element will be added with the construction of Fifteen Fifteen, a 42-storey luxury condominium set amongst the beauty of the city's Coal Harbour enclave between downtown and Stanley Park.
Fifteen Fifteen, located at 1515 Alberni St., will be one of those rare structures that catches both the eye and imagination as it features 18 "observatory homes," which extend out from the building as living pods in a cantilever design, which introduce horizontal elements to a vertical living environment.
Developed by Bosa Properties and Kingswood Properties, Fifteen Fifteen is designed by the distinguished international architecture firm Büru Ole Scheeren and represents the first North American design by the noted German architect Ole Scheeren, bringing imaginative thought to the challenge of capturing and embracing the views of Vancouver's natural beauty.
"For many years, I have explored the questions of how we want to live — in relation to our own private spaces as well as our communities, our cities and the environment — and what architecture means in this context," says Scheeren. "Born from an idea of three-dimensional living, Fifteen Fifteen's strong sculptural form introduces horizontality to an urban tower and is about connectivity — connecting people to each other and to their surroundings — and offers an interactive way of living."
Currently in preconstruction with residency expected in 2026-27, prices of the 202 luxury residences have yet to be determined. The project represents the most ambitious yet for private Vancouver-based and family-owned-and-operated Bosa Properties.
"My father immigrated to Canada from Italy in 1958 and eventually became a carpenter and then formed a construction company," says Colin Bosa, who joined his father's firm in the 1990s and is now CEO. "Three things drive us: As a family business, we really are all about relationships, and we see that with our trades and suppliers and our employees. As an organization, we also value opportunity as it brings growth for our company and our employees, and the third is to continually progress as an organization. Not just the company, but the buildings we build and just in looking at the quality and handcrafted nature of Fifteen Fifteen is setting a bar that makes it so exciting."
Fifteen Fifteen will feature elegant interiors emphasizing wood and other natural materials in luxury residences with a range of floor plans that maximize space for the efficiency of everyday living. Bosa has partnered with Bang & Olufsen to design leading-edge smart home technology that will feature technologies available not from today but in a few years' time upon the building's completion. The project also will include full concierge services and valet parking, as well as amenities that promote socially engaged lifestyles, such as a fitness studio, hospitality and entertainment spaces, a private dining room and an owner's lounge.
However, it is the building's striking and captivating design that has so intrigued urban enthusiasts and admirers of innovative architecture, making Fifteen Fifteen one of Vancouver's most eagerly awaited towers. The distinctive appearance is the reward that comes from Bosa Properties' due diligence in conducting an extensive international search to find just the right architect.
"We have a phenomenal site in downtown Vancouver, and there are not too many opportunities to design and build a project of this quality," says Bosa. "We did trips throughout Europe meeting different architects, and we were quite impressed with Ole's approach to design. And what he came up with for this project was quite unexpected and blew us away. When he came to Vancouver, he was struck by its natural beauty but also by the vertical silos of buildings. His notion of connecting to nature through his horizontal projections would be different, and that's where his idea of 3-D living came from — to open up the building to the city in a different way."
With its proximity between mountains and ocean, Vancouver has long been known as one of the world's most livable cities. In fact, The Economist Intelligence Unit acknowledged it as the first city ranked among the top 10 of the world's most liveable cities for 10 consecutive years. Because of its moderate climate and emphasis on the outdoors, in the past most people have chosen to live in Vancouver for its lifestyle. But Bosa says that is changing, as an influx of technology companies is resulting in high-tech jobs that are changing the economic make-up of the city.
"From a macro-economic and development standpoint, we all know what makes Vancouver great — the climate, the natural beauty and all the amenities the city has," he says. "But what we're seeing now is the creation of technology jobs, and not just the Amazons, but a lot of these jobs are homegrown and creating a lot of jobs, and that's relatively new to the city. Vancouver has become a great incubator for businesses which are new and growing, and that is happening at a pretty fast rate."
Fifteen Fifteen will be bringing elevated elegance to Vancouver's condominium lifestyle and will become a statement tower in a statement city of global stature and an embracing beacon to all who are lucky enough to call this residence, and this city, home.
www.bosaproperties.com
www.fifteen-fifteen.bosaproperties.com
@bosaproperties
Interview by Estelle Zentil