Friday Harbour: Where the Vacation Never Ends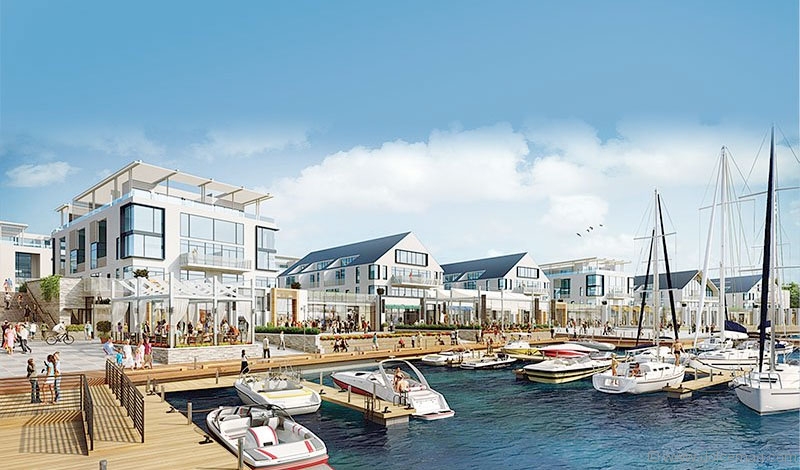 Everybody looks forward to Fridays — and when your weekend plans involve entertainment, dining, relaxation and recreation, Friday can't come soon enough. Inspired by this fact, and by the work hard, play hard mentality, an all-year-round resort community, appropriately named Friday Harbour, is getting a lot of people more than a little excited for their weekends.

Perhaps it's because of the location: 600 acres of pristine waterfront beauty on Big Bay Point in Innisfil, only 45 minutes away from the Greater Toronto Area. Or perhaps it's because of the scope of this condo resort: a marina with 1,000 boat slips, up to 2,000 residences when completed, an 18-hole championship golf course, 200 acres of nature preserve and countless entertainment options, ranging from a theatre, beach volleyball, farmers' markets and swimming pools to restaurants, bars and boutiques.
Perhaps the excitement surrounding this residential resort also comes from the uniqueness, the immeasurable and incredibly impressive factors that make it truly one of a kind. Friday Harbour, a project that's been over a decade in the making and a dream-turned-reality for its development team, is the first all-season resort of this scale to be directly accessible by four modes of transportation that's so close to the GTA. It's also the first to sculpt a 40-acre marina, moving almost 2 million cubic tons of dirt from the marina's excavation to the site of the golf course, transforming the landscape in the process. When completed, about 5,000 Friday Harbour residents, along with a quarter of a million area residents, will have access to an entire village and community that has been created by Friday Harbour's dream team. No wonder they've already sold about 150 homes, and expect to have over 250 sold by the end of 2014.
Of course a project of this magnitude — an incredible billion-and-a-half-dollar investment that will house over 80,000-square-feet of real estate when complete — doesn't happen overnight. Earl Rumm, president of Geranium Corporation and Friday Harbour's original visionary, grew up vacationing on Lake Simcoe, and later saw the need for a resort in the area. According to Rumm, there was "a great opportunity for people to have a true resort lifestyle, one that could sustain a community of people year-round." One that could provide them with everything they wanted and needed to enjoy the beauty and bounty of the environment. Over the years, he partnered with Optus Capital Corporation, a highly experienced real estate investment firm, the Pemberton Group, builders with over 50 years of residential experience, and ConDrain Group, specialists in infrastructure management. He then partnered with renowned architect/designer Taylor Hannah Architect Inc.
and Applied Technology & Management, world leaders in marina design, as well as Carrick Design Inc., golf course architects who've designed over 50 courses worldwide. While it's a "tremendous undertaking," says Rumm, "there's no other project like it in Canada, and we're having a lot of fun doing it."
They'll also be collaborating with the very best retail, dining and recreation specialists, ensuring everything is top-notch, showcasing the high level of quality that's so important to Rumm and the rest of the team. After all, every one of the partners will be purchasing a home at Friday Harbour and taking full advantage of its myriad amenities and implanting themselves in the lifestyle and community. "If our names are on it, and we're living and entertaining here," Rumm points out, "it all has to be the best." The aim is for homeowners and visitors to feel relaxed and away — despite the fact that they're so close to the GTA. Everything guests and residents can have access to in the heart of Toronto, they'll have at Friday Harbour, and more. They will have plenty of dining options, with the emphasis on "great quality, great service, and good prices," according to Rumm. They'll be able to stroll along the boardwalk and the restaurant- and shop-filled Marina Village, lounge on the beach, enjoy tennis in the morning, golf in the afternoon and live music in the evening. They'll have boating and swimming in the summer, ice fishing in the winter and a Lake Club with a wellness spa year-round. One of the best features is that residents will have nothing to do but enjoy it all. No work, no maintenance, no worries. "They don't have to run the show," say Rumm. "We'll do it for them."
With a wide range of residence styles, there will be something for everyone. The boardwalk residences in the heart of the Marina Village are situated above the shops, restaurants, galleries and local businesses, and range in size from 433-sq.-ft. studios to 1,766-sq.-ft. three-bedroom suites. The four-storey Harbour Flats nestled around the harbour range from one-bedroom 523-sq.-ft. homes to three-bedroom, 1,330-sq.-ft. of luxury. All will feature high ceilings, stainless steel appliances and washer/dryers, granite/quartz countertops, porcelain tiles and other high-end amenities. Prices for the units range from the low $200s to $1 million, and occupancy will begin in 2016.
Of course, purchasing one of these homes means more than just purchasing a place to sleep — it comes with an entire social life, nightlife and sense of community. There will be everything from doctors' offices and markets to conference centres and festivals. More than that, though, there will be a true sense of vibrancy and buzzing activity. Thousands of residents and visitors will keep the atmosphere exclusive yet comfortable, exciting yet relaxed. "Regardless of the home you purchase," Rumm emphasizes, "everybody will dine at the same restaurants, participate in the same activities. It's a real village, so different from when you have your own vacation home and have to make your own plans."
Those who live in or visit Friday Harbour won't be the only ones to benefit from it. Construction has already added hundreds of jobs and millions of dollars in revenue to the area, and will continue to do so on a larger scale — making Innisfil residents, including Mayor Barb Baguley, happy. In fact, Baguley "can't remember another project of this type ever on Lake Simcoe," and believes it will have a positive impact on the community. There's also the positive impact on the environment. Friday Harbour will exceed the Ontario Ministry of Natural Resources' requirements with extensive programs that improve water quality while creating new wildlife habitats
and protecting endangered species. Two hundred acres of nature preserve with seven kilometres of trails will simultaneously protect and preserve the land while offering hiking, snowshoeing, cross-country skiing and aimless meandering through the natural beauty of the landscape. Even the golf course, uniquely designed to be a haven of tranquility will be built to achieve Audobon International environmental standards. Finally, the completed marina will add four kilometres of new internal shoreline to the already idyllic location.
The beautiful thing about Friday Harbour, according to Rumm, is that while there are hundreds of activities, you can also just choose to relax and do nothing at all. You can rent a boat for the day, or just unwind with a good book. You can dine on excellent food with friends and family, or just enjoy the serenity of it all. You can relax knowing that everyone, from the concierge to the maintenance staff, is there to make your life easier and more enjoyable. It's like an eternal feeling of Friday — every day is one to look forward to.
www.fridayharbourresort.com