Dining with an Altitude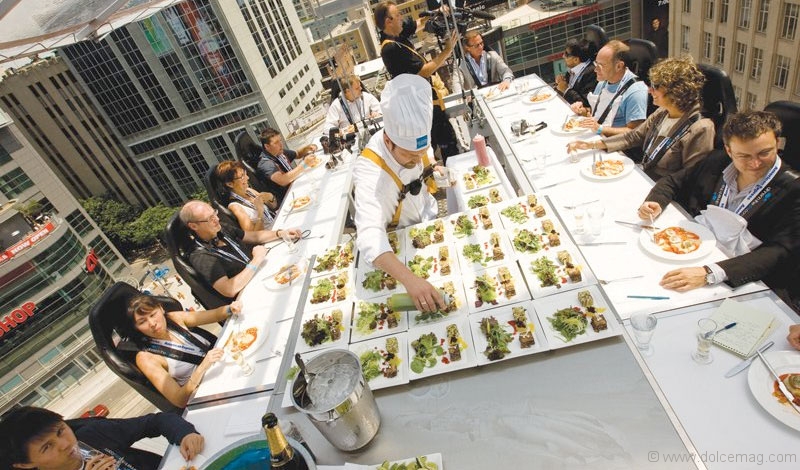 As you climb onto the platform, you feel the rush of a thousand tiny butterflies fluttering with exhilaration. Then, after a few clicks of your sturdy seatbelt, you're off, ascending skywards for an experience like no other. No, you're not testing out a new spaceship; you're about to enjoy a fabulous dinner … in the sky.
In a city like Toronto, it isn't too difficult to imagine enjoying a decadent gourmet meal surrounded by 20 of your business associates or closest friends and a small staff catering to your every whim. But experiencing all of this while soaring at an invigorating 50 metres above solid ground … now that's something you don't see everyday.
Hard to believe? For Dinner in the Sky, a revolutionary mobile dining experience, this dreamy alpine dinner is the name of the game. "It's is one of those bucket list things that you just need to do," says Jean-François Grenier, of the Montreal-based Altitude Concepts. Grenier and his company recently purchased the rights to Dinner in the Sky in Canada.
Featuring a 22-seat table, a five-person staff and a delicious meal prepared by a first-class chef, Dinner in the Sky is a once-in-a-lifetime experience, and the ultimate way to feast – no matter where you are. Perhaps what's most appealing about Dinner in the Sky is its ability to meet you anywhere in the world to help you host the perfect event.
But don't let the name fool you. You are not restricted to just dinner; you can also have breakfast, lunch or even a cocktail party.  In fact, at the Toronto launch last summer, guests enjoyed a lovely afternoon meal of Cornish hen roulade and scrumptious summer vegetables, with a host of luminaries present for the grand reveal, including Amex Canada Inc. president Denise Pickett and celebrity chefs Anthony Sedlak and Mark McEwan.
Although a fear of heights may keep the faint of heart away, safety is not a concern. Dinner in the Sky takes excellent safety precautions, strapping each of its guests into a solidly bolted-down racecar seat with a six-point seatbelt. "We took the most demanding safety standards in the world, which hail from Germany, and doubled them," says Grenier. Once you're all buckled up, the ascent begins, and yes, that's when you might feel a few butterflies. For those who wish to take their evening to new heights (no pun intended), the chairs swivel 180 degrees, giving you a breathtaking view of the cityscape, while your fearless feet dangle in oblivion. "It takes a few minutes to adjust to the new environment, but after a glass of champagne – or two – you really start to enjoy it," he laughs.
As the brainchild of Belgian entrepreneurs David Ghysels and Stefan Kerhofs, Dinner in the Sky is an extreme dining concept developed in 2006, and has already erected sites in seven countries, with Saskatoon and Toronto as its latest backdrops.
Providing the ultimate venue for an intimate dinner or business meeting, Dinner in the Sky makes quite the statement, attracting the attention of the stunned onlookers below. Which is precisely why many corporate companies are using this unique experience as a clever advertising tool. Dinner in the Sky mixes business with pleasure, offering the option of spreading your company name across a banner, visible from the ground, letting passers-by know where your company stands among the rest.
With the number of guests and 500 metres of ground space as your only guidelines, location, menu and occasion are entirely up to you. What's more, Dinner in the Sky isn't stationery. Suspended by a crane, you can hold your event virtually anywhere you desire – over a picturesque golf course, an F1 Grand Prix or even the edge of a cliff.
With the wind in your hair and the tickle of bubbly on your lips, Dinner in the Sky will have you on cloud nine!
www.dinnerinthesky.ca, www.altitude-concepts.com