Q & A with Greta Constantine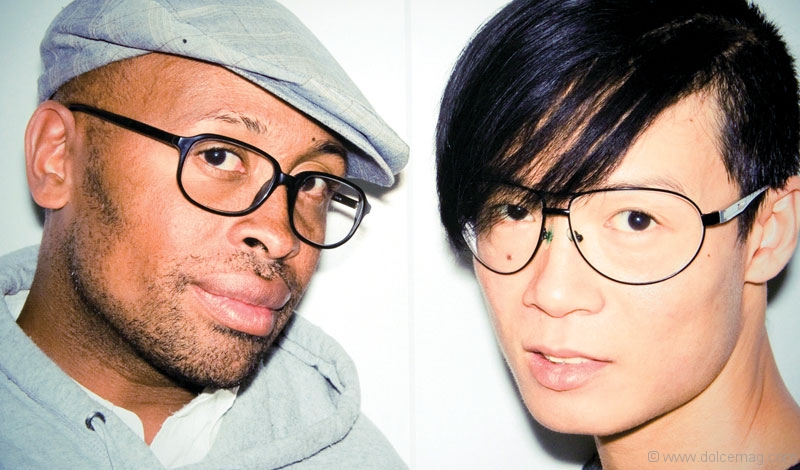 Photo Above: Greta Constantine design duo Kirk Pickersgill, left, and Stephen Wong, right.
Commandeering a buzzing crowd at Toronto Fashion Week with their forward-thinking feminine silhouettes and signature jersey fabric, the boys of Greta Constantine are relentlessly good at turning the heads of well-heeled socialites and fashion critics. In a Dolce Vita Magazine interview, Kirk Pickersgill and Stephen Wong draw the curtains on their claim to fame, and what we all should have in our closets.

DV: Describe the beginnings of designing a collection. Do you start with an idea, a piece of fabric, a colour?
Kirk: Our inspirations come about organically. Lately, though, we've simply gone straight to the drawing board, preparing sketches of what we feel is perfect for the season. When it comes to women's wear, you strike a balance between what you want women to wear and what women will wear. The greatest challenge in fashion is to balance the creative with the practical. A beautiful dress that one can't walk in will only do so well.
Stephen: Everyone from our design assistants, private clients and interns assist us in our direction. As a creative, you can never really turn off – inspiration is everywhere.

DV: What are the tools that help you to predict the fashion of tomorrow? Is it intuition, luck, the economy, research?
Kirk: To stay on top of what's going to happen next, it takes a little bit of everything. For the most part, it's intuitive.
Stephen: We stick to our gut. At the same time, we keep in mind what sells well in regards to fabrications, silhouettes and fits.
DV: How did you meet your business partner? What personal traits do you possess that complement his?
Stephen: We met while both living in the same building above a hardware store on Queen Street in Toronto. The Canadian fashion scene was very small at this time, and so we had similar group of friends. Funny enough, we didn't mesh right off the bat.
Kirk: Over the years, we became closer friends. But it wasn't until the mid-2000s that we started Greta Constantine. We had come to a point in our lives where it just made sense to finally act upon our dreams of starting our own fashion label after years of working towards another's vision.
DV: How do you keep things fresh?
Kirk: It's difficult to explain because the creative process is, to a certain extent, a mystery. I don't know where the ideas come from, but I'm happy that they do.
Stephen: The women in our lives. From family to those in the magazines; our assistants, clients – even a woman just walking down the street.
DV: Describe your upcoming collection
Kirk: This season, the women's wear collection is all about opulence – rich jewel tones and fabrications that we've begun experimenting with to add depth to the collection.
DV: What is your favourite piece, and why?
Stephen: It's hard to say what my favourite piece is until I've seen it come down the runway. The fashion show environment transforms the collection in a way that you need to experience.
DV: What is one piece of clothing a man and a woman should have in his/her closet?

Kirk: A maxi-length dress: elegant and effortless.
Stephen: Men need a skinny cut pant with an edge. It can be as simple as oversized or contrast pockets. Menswear is done best when staples are modified in a new, contemporary way.
DV: What vibe does Greta Constantine lend to the Torontonian wardrobe?
Stephen: The Greta Constantine mood is feminine, sexy and confident. Our women come from all walks-of-life, from those seeking the perfect pieces to take while travelling in the Caribbean, to those who need dresses that transform from boardroom to ballet. We keep their needs in mind in the design process.
Kirk: Toronto has a tendency to look to other fashion capitals for validation. It's important to realize that we will never have the history of a London, the American sensibilities of a New York, the ease of Paris. But that doesn't mean Toronto can't rival these other fashion capitals. We must embrace our strengths rather than try to hide our weaknesses if we want to grow.
DV: How does frequent travel boost your creativity level?
Stephen: Change is always good. However, we're very fortunate to live in Toronto because of our diversity. In the span of an afternoon walk, you can travel the world without even leaving the city.

DV: How do you strive to separate yourself from the rest, and what helps to keep you sane in the process?
Kirk: We don't make a concentrated effort to look different – it occurs naturally. Our esthetic is organically developed. We've been fortunate that our jersey dresses have developed a loyal clientele of women who seek to stand out in an understated way.
Stephen: We've been compared in the past to Halston because of our work with jerseys, but there's something identifiably Greta Constantine in our designs. I find there's a sex appeal, a youthful charge that permeates our looks that differentiates us.
DV: What fabric/design/print are you crazy about right now?
Kirk: For fall, we're introducing a double-knit fabrication in a variety of colours. It's a departure from our usual jersey, but we're taking advantage of the structure and bounce of it to complement our other creations.
Stephen: Combining fabrics. We tend to stray away from prints, so to add that depth to the collection, we're mixing our traditional jersey with other fabrications. The result is very exciting.
DV: What have other designers you've worked with or admired taught you about fashion?
Kirk: Cristóbal Balenciaga's silhouettes – it was all about clean lines and bold, powerful shapes.
Stephen: Hands down, Madame Grès. When everyone went left, she turned right.
DV: What past experience has helped shape you today?
Kirk: My days in Milan with Dean and Dan of DSquared2 and Neil Barrett refined my eye for detail. Everything matters in the construction of a garment – even the little details which you'd otherwise consider to be frivolous or needless.
DV: With one of you liking to work at night, and the other during the day, what are some ways in which you maintain sharp focus?
Stephen: While the overlap between our times in the studio is minimal, we've found a way to ensure that it just works. We're always communicating. Whether it's about the direction of the new collection, or ideas for an event we intend on showcasing, we constantly bounce ideas off one another.
Kirk: Another benefit of our schedule impacts our editing process. When one of us begins drafting a pattern or putting together sketches, the other has the fresh eye of the design to edit it best. Otherwise, when you're focused on something for too long, you tend to miss the most of obvious mistakes.
DV: Who is the Greta Constantine woman? / Who is the Ezra Constantine man?
Stephen: Greta Constantine and Ezra Constantine are collections built on the principle that fashion instill confidence in the wearer. Accordingly, our clients are, if nothing else, self-assured leaders.
DV: How has Greta Constantine captured the attention of fashionable women such as Suzanne Rogers?
Stephen: We create pieces that embrace the female form. They place emphasis on accentuating what makes a woman beautiful, rather than trying to hide flaws.
Kirk: In today's fashion, often the dress wears the woman. For us, the priority is the opposite, to have the woman wear the dress. That's why two women can be wearing the same Greta Constantine dress, yet because of their different body types, it'll appear considerably different.
DV: Are you in control of your time, or does time control you?
Kirk: Time controls us! When you love what you're doing, it never feels like you have enough of it.
Stephen: I think part of it, too, is the fact that nowadays, fashion designers are expected to generate so many collections per year. Right now, we're working on Greta Constantine, Ezra Constantine, and Greta Constantine PRIMER. That's six collections per year, of which we have both a fashion show and sales portion.
DV: What are your future aspirations?
Kirk: Growth! It may be a fragrance, accessories, or a children's collection, but we want to continue developing our brand. From our perspective, Greta Constantine is a lifestyle, not simply a fashion brand.
Stephen: For me, it's about always coming into the studio excited by what the new day, week, month or season has to offer.
DV: At the end of the day, do you worry about making a mistake, or do you possess confidence in every decision you make?
Kirk: When we first started, we did a bit. But very soon after, we realized that we spent more time concerned about what other people were thinking; we weren't content with what we were doing ourselves. Nowadays, we trust our viewpoints. If it means taking a risk, then we'll take the risk. It's certainly paid off so far.
Stephen: You can work your entire life trying to please others and still never achieve that goal. It's much easier to strive for a quality that [will make you] proud.