On Top of the Roof, on Top of the World with the Milanese Rooftop Revelry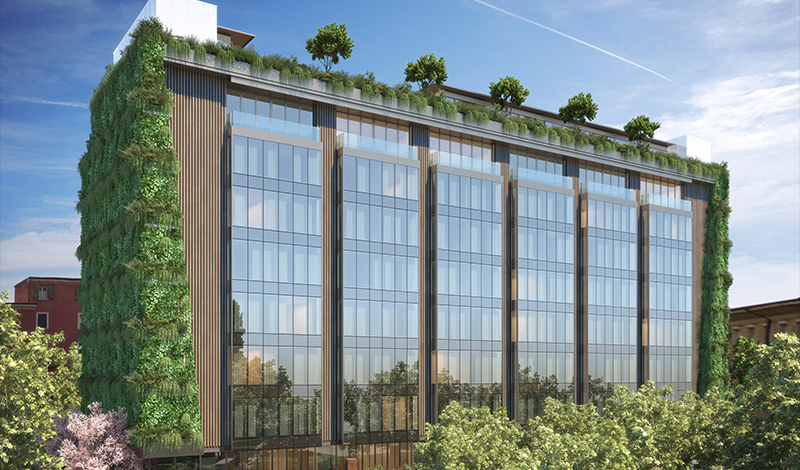 In the heart of the burgeoning neighbourhood of Milan known as Porta Volta is a towering 124-room building, bookended by an abundance of lush foliage. The glass-panelled windows start at the foundation of the structure and work their way up to the summit of the building, where they are greeted by more greenery — coniferous-like trees and plants, some dangling off the edge of the roof. At a distance, the building looks like (esthetically, at least) a futuristic sustainable model that would pique the interests of people such as David Suzuki and Al Gore.
However, the most fascinating feature of the building lies on top.
This building is a hotel, but not your ordinary lodging establishment. It's known as Hotel Viu Milan. But there's something else that's stirring up a lot of buzz since the place opened back in March. It's the only five-star hotel in Italy's fashion capital to have a rooftop pool — an awe-inspiring one, at that. The area where the pool resides has become known as the Milanese Rooftop Revelry.
Among the teak lounge furniture and budding Mediterranean olive trees, this breathtaking Arassociati Studio-designed terrace boasts a spacious rectangular pool, offering a refreshing, paradisiacal retreat within a major city. Hospitality company Design Hotels recently described it as "an urban oasis where guests can while away halcyon hours between dips in the pool and basking in the sun's warming rays from dawn till dusk."
And although this area is usually reserved for residents of the building, the hotel recently announced that it would be opening the rooftop terrace to the public every Thursday evening until September 28. From now until late September, there will be evening events on the terrace where guests can swim, eat, drink and dance under the stunning Milanese moonlit skyline. These intimate Thursday evening parties will take place from 7 p.m. until midnight, with the hopes of drawing in the creative and stylish crowds within the local neighbourhood. While the guests sip on their aperitivos under the terrace, accompanied by canapés, they will take in the sounds of soothing background music. Each party concludes with guests jumping in, or perhaps just dipping their feet into the pool, according to a recent press release.