The Queen of Brows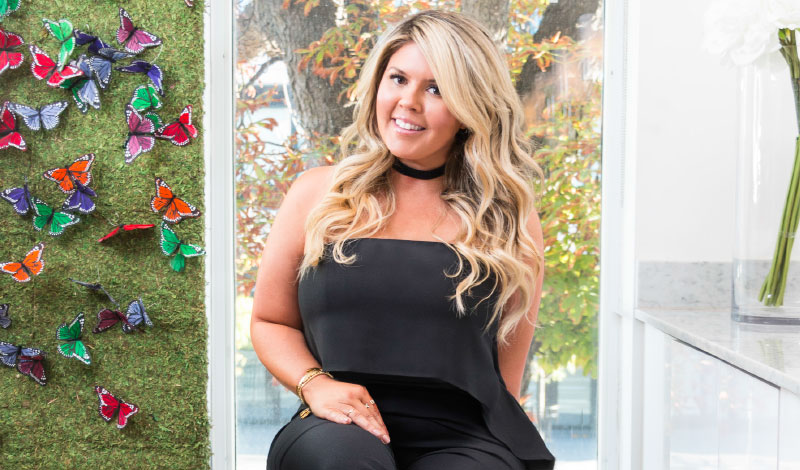 For LA-based makeup artist and brow specialist Kelley Baker, a brow can make or break your entire look. Dolce catches up at Toronto's LAC + BEAUTY with one of the most sought-after brow gurus in all of Los Angeles to chat about her success, her line of brow products and how social media has revolutionized the beauty industry.
How did you first get started in the beauty industry?
Well I started off as a makeup artist, that's my first love and my passion. I've done it since I was a little girl, always in my mom's purse grabbing anything I could. I decided to go to beauty school, kind of as a backup plan, and I learned how to do brows when I was in school. I got lucky, I started in Beverly HIlls and got thrown right into it.
What is it like to work with a roster of A-list celebrities?
I got lucky, when I first started out I was working in a salon in Beverly Hills that was already catering to celebrities. I had the chance to work with people like Mandy Moore, Kelly Rowland, Solange Knowles — right from the get-go. It's really fun to be able to meet the celebrities and be known for giving them the brow looks that everyone loves. I've worked with Shay Mitchell for four years, same with Zendaya, and their brows have totally changed since then! I love that they only trust me. They know from past experience that a bad brow can ruin your look — we've all been there.
Why do you think the eyebrow is such an important feature to perfect?
Well, it's the main focal point on your face, it's what stands out – making or breaking your look. I think one reason why it has become so popular is because we see it now on Instagram. Makeup in general has just become so popular and it's something that everyone is into. So now it's something you'll notice, when someone has a good brow or a bad brow.
What was your family and friends reaction when you wanted to become a brow expert?

My parents have always been supportive, maybe my mom more so than my dad. I've always done makeup so they were always supportive of that. However, in general everyone looked at me like "You do what?" When I would say I do brows, still to this day people are like, "What do you mean you do brows?" Who would have thought you could have your own business and product line based around an eyebrow? It definitely wasn't a plan, but it was something that I loved. It makes me happy.
What are your views on the recent trend of microblading?
The trends can be scary. I'm not personally into tattooing or microblading, but that's only because it's not regulated. Pretty much anyone can do it, which is really scary because it is a tattoo. A lot of times people think microblading is just temporary, but it is technically a tattoo on your face. Someone can take a two-day course and then all of a sudden become a "specialist".
How has social media played a role in your success?
Instagram particularly has made it so that you can put your work out there for people all over the world to see. It definitely, 100 per cent, has grown my business. I've met a lot of working makeup artists who work on celebrities who have then seen my work and called me to do their client's brows. It definitely is an awesome tool for people to use, and if they're not they definitely should.
As a professional makeup artist with credibility, what are your thoughts when you see people labelling themselves as experts because they have a substantial following on social media?
I do know that makeup artists and people who have been in the industry a long time can be annoyed that we have these bloggers and Instagrammers with the popularity, but at the same time that's also what made us more popular ourselves now. People get mad because it seems like they came out of nowhere, yes they kind of did, but for a lot of them it's their full-time job and they are working. I personally work with a lot of them and I don't have the time to do what they do, and they are beauty experts in their own right. There is a definitely a fine line, because a lot don't do makeup for a living but more so on themselves and the testing and reviewing of products.
Can you tell us a little bit about Kelley Baker Brows?
Kelley Baker Brows is my brow product line and I'm 100 per cent a part of everything that is in it — from design to testing and trying everything. If it's not perfect in my eyes then it won't ever be out in the market. My goal is that you yourself can take it home and do it. I feel like there are a lot of products out there that give so many options (colours etc.) and it gets confusing for people, so I try to make it nice and simple. I offer three shades of brow colour, blonde, brown and dark brown, and they come in powders, pencils or tinted brow gel. This way it's easy to match, because it's not like a hair colour where there are so many shades. It's a simple line, I don't need a million products to make a brow look good. I want it to be the same for you, without you having too many questions.
What are your favourite products from your line?
I have two. One is definitely my highlighter pencil (which my clients have nicknamed the "magic stick"), and the whole idea of it is to brighten and lift the brow. It's very creamy and easy for people to blend in themselves, giving the perfect finish whether you're just going to the gym or doing a full face of makeup. My other favourite is my brow defining pencil. It's a small, fine point micro-pencil, making it really easy to fill in the brows exactly where you want to.
What would your advice be for female entrepreneurs?
I would just say, keep going! A lot of times, even with myself, there's going to be something that happens to make you think you want to quit. But it's part of your journey and you just need to keep going. Every little step of every day is part of getting to the next phase.
What's next for you?
So many things! More products for one. It's turned into a professional brand, so now we're in about 250 salons. I'm also going to be doing more teaching. I've been pulled in the direction of teaching more artists, which is really cool because about 90 per cent of them are women. It's really cool to be able to teach women how to start their own business and how to build a career for themselves that will make them money and allow them to make their own hours. It's really empowering to be able to do that. A lot of people don't teach their secrets, but I'm a single mom so I think it's pretty cool that I can teach other women how to take care of themselves.