Edge Group of Companies: Designer-LED Appliances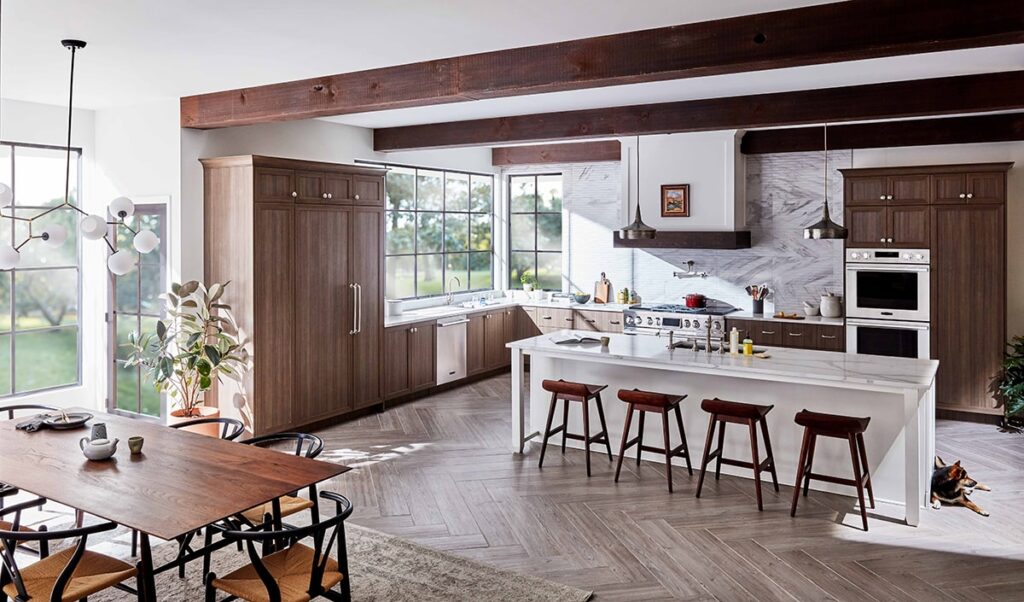 President of the Designer's Edge Group of Companies, Danielle Paul talks about the connection between design and function and her favourite Signature Kitchen Suite appliances.
Q: Can you tell me about your experience as an interior designer?
A: I am the president of the Designer's Edge Group of Companies and under that umbrella lies my Interior Design firm, as well as the Western division of Ateliers Jacobs specializing in custom kitchen and bathroom design and manufacturing.
Q: What would you say are the top trends in interior design right now?
A: I'm loving where we are and what's coming up for trends in 2023. Signature Kitchen Suite is a luxury line of appliances that come panel-ready, which aligns perfectly with the trend we are seeing. These fully customizable appliances are not only designed to seamlessly fit into the design of a kitchen but they are also equipped with the latest in kitchen technology innovation. The panel-ready Integrated Column Freezer and Integrated Column Refrigerator are both perfect examples of this. The refrigerator comes in a variety of sizes to meet design and storage needs and offers precise preservation that minimizes temperature fluctuations, which helps to maintain food freshness, making it both beautiful and functional.
Q: What are the appliances every home should have?
A: One appliance that I always recommend to my clients who like to entertain is a wine refrigerator. Signature Kitchen Suite has an Integrated Column Wine Refrigerator (which comes in 18- and 24-inch sizes and is also panel-ready!) and boasts some fantastic features, including independent temperature zones — meaning red, white or sparkling wine can be stored at their own recommended temperatures, ready to be served to guests regardless of their preference.
Q: What made you choose these Signature Kitchen appliances?
A: The Signature Kitchen Suite line of premium luxury appliances is this gorgeous intersection of purposeful design and leading-edge technology. As an interior designer, I find that it's not only important to have appliances that capture the eye, but also ones that are practical and innovative.
Q: What does "designer-led" mean to you?
A: For me, when I see the words "designer-led," I feel validated in my role as a designer. I am often the in-between for my clients and the appliances, and when I see a brand that is acknowledging my role in designing a client's home, I feel great about the work I do.
Q: How do you balance function vs. esthetics?
A: It's a very fine line and it's important to have a balance. Among many designers there is a common attitude toward small appliances — they are not very well-liked. While designers feel they cut into the design of a room, the client often needs them for the function of their kitchen. In these situations, I find it best to come to a sort of compromise.
Signature Kitchen Suite's Microwave Oven Drawer is a great example of this because it does this in a great balance for this exact scenario — the appliance is built alongside the cabinetry, flush against the wall, so it blends into the elegance of the rest of the kitchen space. It is also somewhat of an elevated microwave, with its ability to open with the gentle touch of a button and close with a slight nudge — cutting down on spills.