Making Dream Homes a Reality – JTF Homes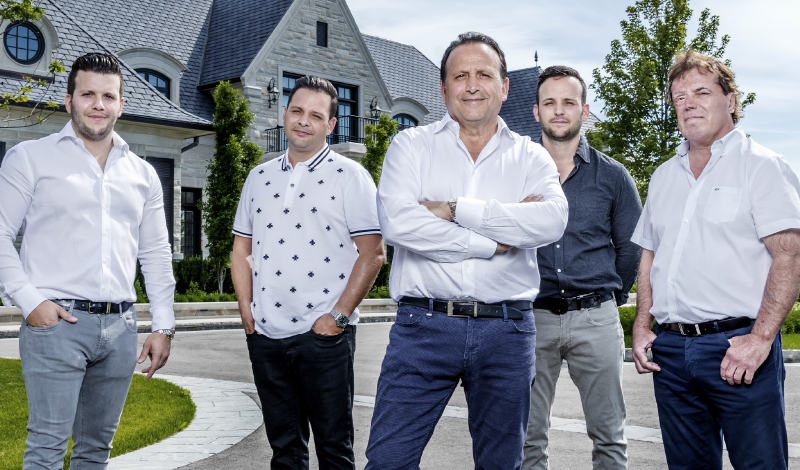 Meet the Toronto builders who are changing the game with an impressive portfolio and a gold-standard service philosophy. JTF Homes believes developing an honest relationship with each client sets the stage for a smooth, stress-free and successful project.
When longtime friends Frank Campoli and Tony Mocci started JTF Homes over 30 years ago, they could never have anticipated the kind of growth they would experience, quickly soaring to become one of the top home builders in the GTA.
Perhaps it's the undeniable sense of comfortability that comes with hiring a family-owned and operated brand like JTF Homes. It really is a family affair; the J in JTF is for Frank's wife, Josie. All three of Frank's sons — Nino, Mario and Christopher — help run the business and provide the same calibre of talent and passion as its founders (admittedly, with a new-school flair), and they pride themselves on nurturing lifelong friendships along the way.
Since 1985, the team at JTF Homes has built more than 200 custom homes ranging from 3,000 to upwards of 20,000 magnificent square feet across the city's most affluent neighbourhoods. A number of JTF Homes's projects have even been featured in various local media, as well as receiving praise from popular industry publications.
With an arsenal of talented architects, world-renowned designers and skilled tradespeople on its team, JTF Homes is the ultimate one-stop shop for the home of your dreams, and nothing is out of the realm of possibility.
"Challenges are what keep us sharp," says Frank. "People today have different tastes and needs, and we listen." From hockey arenas to horse stables to hydraulic lifts, the A-team turns your wishes into reality, creating truly bespoke homes.
Frank admits that referrals alone account for 99 per cent of JTF's business, thanks to satisfied clients who proudly refer the builders. The pair built their brand on one core foundational value: superior service.
"The attention to detail, the care and the patience we have for each of our projects is second to none in this industry," says Tony.
Through incredible service and a client-first approach, the duo has not only survived recessions and hardships, but thrived. "We always want our clients to feel like part of our family," says Frank. "When we're not having dinner with them, we're sharing a glass of wine and we're discussing things that are not always related to the scope of work. This is where I think we develop great relationships."
When Sean Boyd and his wife Peta were looking for someone to build their forever home, they did some research and scoured neighbourhoods like Forest Hill for names of top builders. It didn't take long for the two to realize that JTF Homes was the perfect fit.
"As soon as we met Frank and his family, we just said, 'These are honest guys,' and those were the types of individuals we'd love to do business with and work with to build our home," says Sean.
The Boyds dreamt of a large and accommodating home, one that would be suitable for entertaining family and friends, but was as humble as a smaller home. "This is a big home, but it feels comfortable, warm, inviting and that's all we were after," says Sean.
When the Boyds set foot into their completed home last October, they couldn't help but reflect on what a positive experience they had working with JTF Homes and how fortunate they were to have constant guidance and support — especially since Sean was often away on business and needed to place full trust in the team.
"It's funny," recalls Sean, "the only company that called us back that day within five minutes was JTF, and some of the biggest builders in Toronto have yet to return our phone call."
It's the small details that Frank insists clients remember, like picking up a phone call (no matter the time of day) or the courtesy of keeping a client's suburban street orderly during construction to avoid future tension with the neighbours.
"We always strive to exceed a client's expectations, and we want to make sure they get the service that they deserve, regardless of the size or value of a home," says Frank. "To us, every client that we serve is a top client; they're all A-level clients to us."
From inception to completion, Frank not only believes in maintaining 100 per cent involvement at each one of his jobsites, but also truly understanding clients and catering to their questions or concerns long after the project is complete.
"In 10 years I know if there is ever an issue, I just have to pick up the phone and [JTF Homes] will be here," says Peta. "They're not just there to build the home, pack up and go."
At any given time JTF Homes is capable of managing the construction of six to ten projects, but the team certainly won't exceed their capabilities if that means sacrificing quality. Frank and Tony are dedicated to their clients and continue to prove they're more than just the name on the door. "We don't take our roles lightly. We're there for our clients whenever they need us," says Tony. JTF Homes is committed to dispelling the fear and apprehension that many have when it comes to investing in a custom-built home.
As the brand grows, slowly transitioning into a new era of leadership, it maintains its philosophy of client care and continues to build a reputation focused on quality, durability and integrity.