Maximize Your Wealth through Real Estate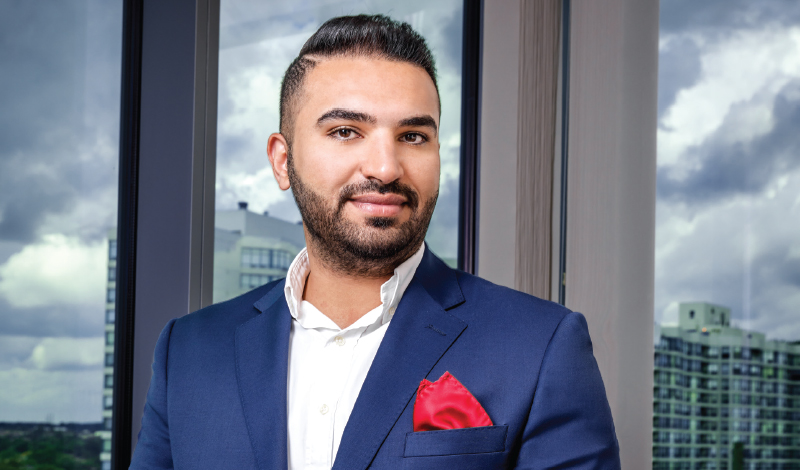 Royal LePage Signature Realty agent Hamed Amiran is not only driven to find his clients' dream homes, but also to help them pursue investments that align with their goals and increase their reward.
Hamed Amiran is likely one of the most hardworking realtors you'll come by in this city. Since emigrating from his native Dubai in 2013, Amiran has been determined to pursue his entrepreneurial dreams and make his mark here in Canada. Coming from a family of dedicated engineers and builders, Amiran knew he was destined to find success in the land of opportunity. He never took anything for granted and always had a tenacious spirit.
From his first job as a door-to-door energy salesman to becoming one of the top real estate agents in the GTA, Amiran is humbled by his success and continues to strive for more. "I'm aiming to become one of the top teams in Canada very soon," says Amiran, who has managed to increase his sales exponentially in only three short years.
It's Amiran's honest approach that lands him new, loyal clientele. Due to his calculated research and an organized and efficient approach, buyers and sellers alike see results. "I try my best to put myself in their situation and feel what they are feeling," says Amiran. "I always want to make sure that they are making the right decision, and I'll speak up if they're not."
His industry expertise is an invaluable asset to anyone looking to make a move in the current market. Amiran understands the recent apprehension to invest in property, but assures clients that he has done his homework and would never steer them into a decision they'll come to regret. He is continuously educating himself to be able to offer clients the best advice.
"Clients come to you for a reason; they have to know they are in good hands"
What's more, Amiran appreciates that his clients are busy balancing work and home life and, as a family man himself, is always conscious of saving them time by only showing listings that "tick all the boxes." Amiran has closed deals in a day, and alternatively, he has worked months to find the right buy for a client — he doesn't rush the process.
"The key to minimizing the time of the showings and maximizing their interest in the properties is knowing what they want and what they don't want," says Amiran. "I really get to know who they are."
But, Amiran admits, a man is only as strong as his team: "Clients come to you for a reason; they have to know they are in good hands." The realtor gushes about his A-list team of like-minded professionals who live and breathe the same philosophy of honesty and integrity.
The young entrepreneur has also built quite a reputable brand for himself and enjoys sharing encouraging words of wisdom across his social media platforms. With an ever-expanding following, Amiran is proud to say he's inspired others to pursue a similar path or reach for whatever goals they have set for themselves. "I always say you have to be fit for your job," says Amiran. "I found my perfect fit and I'm making it happen."
With many offices in the GTA, Amiran and team proudly service clients across the city, including those as far north as Barrie.
Photo by robin gartner