David Zwirner presents Black Mountain College: The Experimenters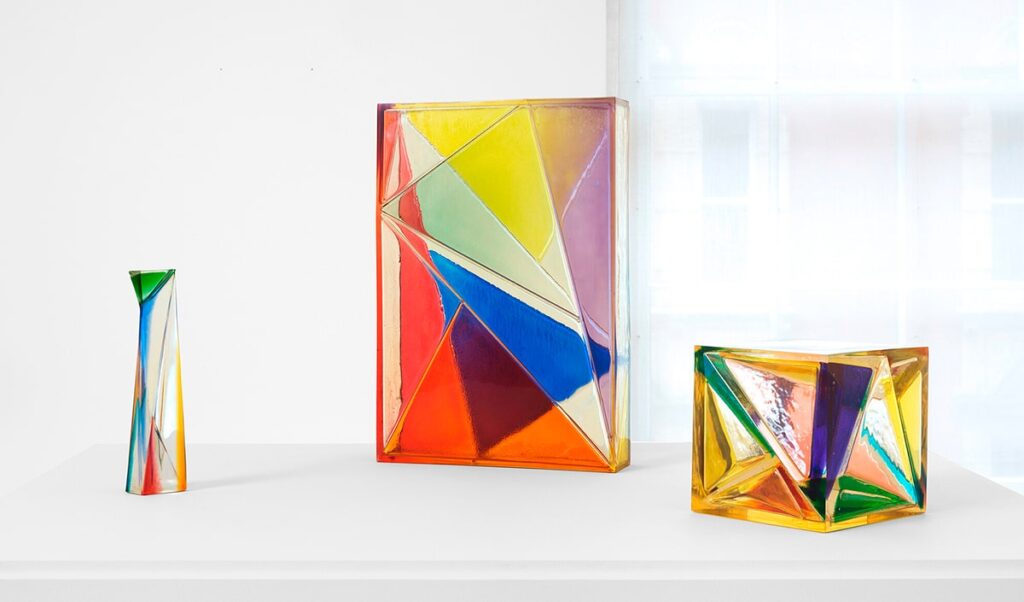 Contemporary art gallerist David Zwirner presents "Black Mountain College: The Experimenters" in London, beginning February 28 through April 15.
An exciting group exhibition, featuring art by trailblazers: Anni Albers, Josef Albers, Leo Amino, Ruth Asawa, Elaine de Kooning, Willem de Kooning, Buckminster Fuller, Sue Fuller, Sheila Hicks and Ray Johnson, is on view at David Zwirner gallery's London location. This group of talented artists studied and worked together at the private experimental liberal arts college, Black Mountain College in North Carolina. This exhibition examines the threads of creativity and creative exchange between the artists, students, teachers and colleagues, as well as how their experimental approach has helped to foster the creative work of legendary artists. This group of artists had groundbreaking careers beginning during the 1930s and '40s and spanning through decades with their influence.
The works in this collection encompass a wide variety of sizes, techniques and mediums, yet there are common threads of shared interests found in the works of these artists.
Black Mountain College shaped American art and art education and has become known for the incredible artists and art that it helped produce. Writer Amanda Fortini recounts the college as "the site of a genius cluster". This unassuming arts school took a unique approach to teaching and learning that helped foster prominent works. Art historian Eva Díaz observes in her seminal 2014 book, The Experimenters: Chance and Design at Black Mountain College "Black Mountain participants' ambitions transform habits of perception, systems of intention and patterns of tradition have essential implications for understanding not only modernist, but subsequent art practices."
German-born artist Josef Albers was a trailblazer in his field, bridging the gap between European and American modernism throughout his career. His influence has spanned decades, but his legendary work during his time at Black Mountain College has unmatched influence. With his wife, Anni, Josef Albers founded the art department at Black Mountain College, which was legendary even during its own time. Artist Ruth Asawa once recounted her teacher, Josef Albers, stating, during his introduction to his course on Basic Design: "Open your eyes and see. My aim is to make you see more than you want to. I am here to destroy all your prejudices. If you already have a style, don't bring it with you. It will only be in the way."
The exhibition focuses on Albers' breakthrough series, Variant/Adobe, which was inspired by the art, architecture and landscape that he observed during his visits to Mexico and the American Southwest. It follows his exhibit, "Josef Albers: Homage to the Square", a 2022–2023 solo exhibition of his work at the Josef Albers Museum Quadrat Bottrop, Germany. "Paintings Titled Variants" is presented in tandem with "Black Mountain College: The Experimenters". Carrying on with his work in Homage to the Square, the "Variant/Adobe" follows a serialized format, where he experimented with perceptual effects and chromatic combinations. He began his work on this series in 1947 while he was a teacher at Black Mountain College. This initiated a new style and phase of his works.
"With this new series … Josef put aside the linear elements of his paintings and narrowed the medium down to the material of pure paint. He took up the challenge of discovering how paint behaves when subjected to similar restrictions to those that exist in weaving, where it is physically impossible to mix colors, and color change can only be achieved by the illusion created when two or more juxtaposed threads interact in the viewer's eye." — Brenda Danilowitz, Chief Curator of The Josef and Anni Albers Foundation.
Since May 2016, The Josef and Anni Albers Foundation has been exclusively represented by David Zwirner. Many of their works have been presented all over the world, including New York, London and China.