Bridge Of Weir Leather Interiors In The Most Exceptional Classic Cars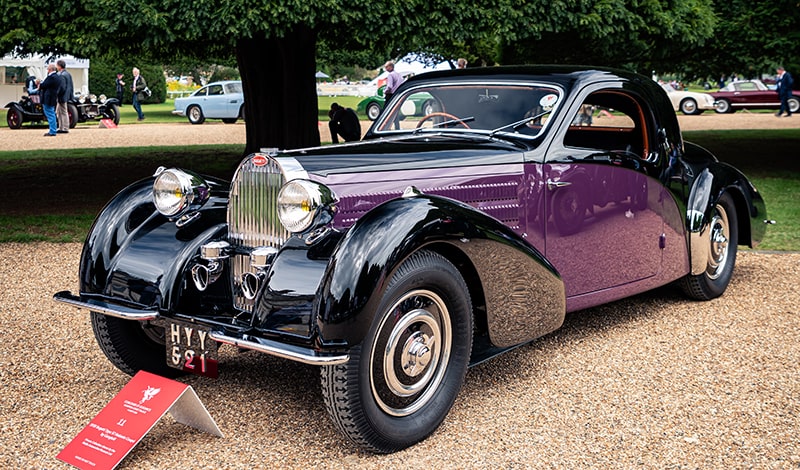 Exclusive Bugatti and Aston Martin featured at prestigious Concours of Elegance.
There are many elements by which one can identify the world's finest automobiles, but perhaps real leather interiors are the most distinguishing feature, which determines the highest in quality of handcrafted bespoke design and detailing.
Since 1905, the Bridge of Weir Leather Company of Scotland has been one of the world's most admired leather manufacturers, recognized for its innovation in technology and quality of leather material used in icons as diverse as the Ford Model T, the Eames Lounge Chair and the Concorde.
Earlier this fall, the Bridge of Weir "icons" display at the Concours of Elegance featured some of the world's most exceptional supercars and classic cars, showcasing the distinctive craftsmanship and quality of Bridge of Weir's leather. Begun in 17th-century France to showcase ornate carriages, the annual "Competition of Elegance" is where the world's most prestigious vehicles are displayed and judged.
This year, Bridge of Weir initiated The Design Award, honouring a one-of-one 1938 Bugatti Type 57 Atalante Coupe by Gangloff, which exemplifies remarkable exterior and interior design. The competition also featured the stunning debut of a one-off Aston Martin Victor. Bridge of Weir was proud to have supported the famous British carmaker by being responsible for the hides used for its luxurious forest green leather interior.
For more than a century, Bridge of Weir Leather Company has continuously evolved, using the latest technology to produce the world's lowest carbon leather. Only the finest hides sourced from the best heritage breeds are used, along with the purest of water, which, combined with generations of hand-finished craftsmanship, produce the world's finest Scottish leather.
The excellence of Bridge of Weir leather used in the interiors of these world-famous automobiles is a comforting reassurance that, whatever is ahead of us, high quality and craftsmanship will always matter.