The Bounce in Your Step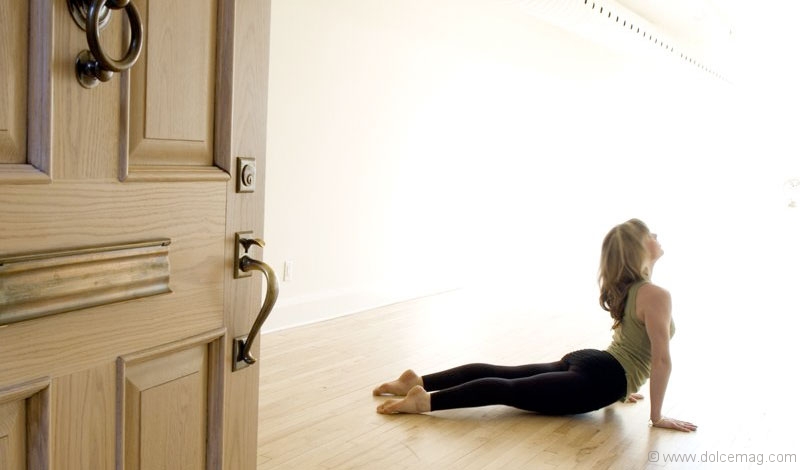 Don't just rejuvenate your looks, revitalize your well-being!
If the daily stresses of a demanding lifestyle and poor dieting habits have caught up to you, a retreat to the spa or a session of hot yoga will help you reconnect with mind, body and spirit. By finding the ideal outlet that suits your way of life, you can let go of the stress and anxiety that can build from a hectic and demanding lifestyle.
It may be cliché but your body is your temple. Studies show that exercising and meditation can have an uplifting result in hormonal metabolism and mood changes. Giving your body a break, and/or challenging yourself with exercise and meditation has the ability to change your physical well-being, as well as your psychological and mental mind-set. Essentially, when we leave behind the strain of a heavy workload, irritating errands and toxic relationships, regaining a sense of self is easy.
Golden Door
Slip into serenity at Golden Door spa, rated the No.1 stand-alone spa in the U.S. by the 2007 Zagat Survey. Each week, 40 guests are instantly introduced to tranquility while following a program of daily massage, meditation, beauty treatments, stretching and exercise. Daily massage and treatments, including two herbal wraps and manicures, are also included. With a wide range of activities such as hiking, yoga, pilates, cooking classes, dance, Tai Chi, archery and meditation, as well as specialized evening presentations, Golden Door guests leave feeling refreshed and at ease. www.goldendoor.com
The Chopra Center for Wellbeing • Carlsbad, California
Founded by Deepak Chopra, M.D., and David Simon, M.D., The Chopra Center is the only wellness establishment in the world that combines a renowned medical staff, authentic Ayurvedic treatments, and master instruction in yoga, meditation, and mind-body healing. Millions of people from around the world have already experienced the joy of physical and emotional health, spiritual awakening and personal empowerment. www.chopra.com
889 Yonge
Embrace the environment and self-connection with Christine and Emily, the sisters and founders of 889 Yonge. The birth of a yoga studio, holistic spa, lifestyle boutique and holistic medicine practice all rolled up into one is yours to discover in the heart of Toronto. www.889yonge.com
Spa Halekulani
Dive into the healing waters of Spa Halekulani facing the crystal waters of Gray's Beach. As you adore yourself in the heavenly journey of Halekulani's full relaxative body and facial packages, maximize your stay by advancing to one of its seven royal suites. www.halekulani.com
Ten Spa
Unwind yourself and relax your body, mind and soul by escaping to Ten Spa. This luxury health spa located on the 10th floor of The Fort Garry Hotel in Winnipeg applies traditional European practices into its relaxation services. The Hamam treatments at Ten Spa function to relax and detoxify the body, while simultaneously cleansing and activating the skin's metabolism for a healthy, glowing visage. Ten Spa offers a full complement of therapeutic and remunerative facial and body care treatments. Their treatments include the Hamam treatment, mud baths, facials, skin, hair and body care treatments, and relaxing massages. www.tenspa.ca
Six Senses Resorts & Spas
With its philosophy that the body is the temple of the soul, Six Senses Spa wonderfully combines the elements of Feng Shui, international holistic practices, herbal steaming and a diverse range of soothing treatments to nurse the body and encourage a healthy soul. Look forward to the awakening of the body and pure rejuvenation of the psyche with Six Senses Spa's unique blend of aromatherapy oils, holistic massages and relaxation maximizing treatments. www.sixsenses.com
Iyashi Bedrock Spa
Detoxify and de-stress with the first Ganbanyoku (rock bathing) spa in North America. Clients relax on flat granite-inlaid black silica stones imported from Japan, while the black silica emits heat therapy and negative ions, improving your immune system, metabolism and circulation. www.iyashibedrockspa.com
Faena Hotel and Universe
Unlike your ordinary luxury spa, the five-star Faena Hotel and Universe in Buenos Aires offers a wide range of activities and a variety of treatments, including pranic healing, a revolutionary and comprehensive system of natural curative techniques. Faena also welcomes you to find balance with its yoga, Tai Chi, pilates, meditation and tango lessons; strength in its fitness centre; and serenity in its facial and relaxation treatments. www.faenahotelanduniverse.com