Rihanna Purchases The 'mansion In The Sky' Penthouse In Los Angeles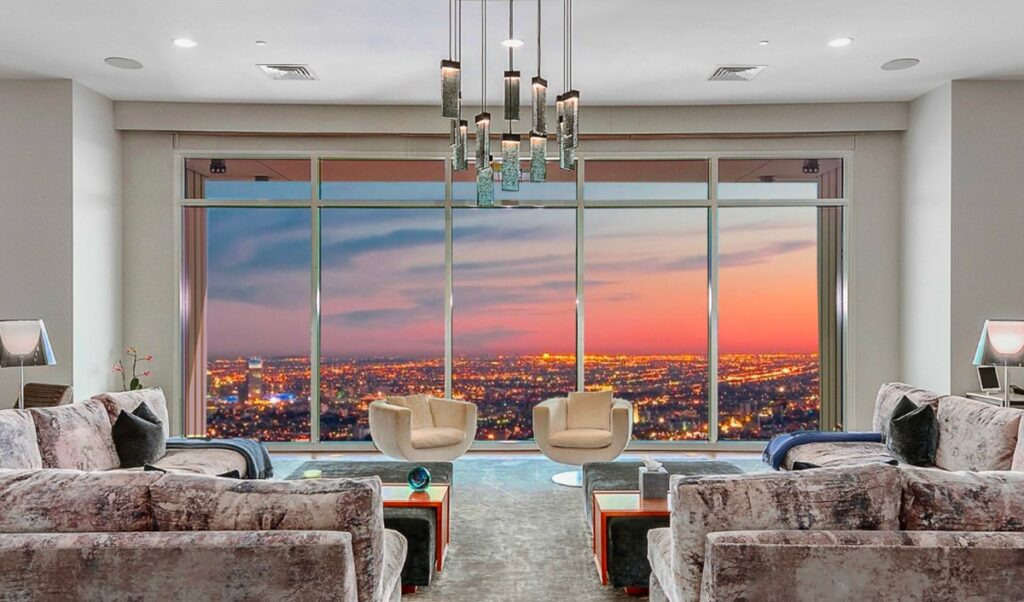 The Barbadian singer, actress, businesswoman and mother is making room for her growing family with A$AP Rocky after recently purchasing the extravagant penthouse for US$21 million.
Rihanna reportedly purchased the penthouse from Nick Molnar, the Australian co-founder of "Afterpay". Molnar listed the condo for US$28 million after two years of ownership. Before that, he bought the penthouse for US21.6 million from Friends star Matthew Perry.
Rihanna's new 9,290-square-foot residence, which spans the entire 40th floor, features panoramic views over Los Angeles, which overlooks the city, ocean and mountains. During the day, the penthouse is visually stunning and, with its lights, it sparkles at night.
The inside of the circular-shaped residence will leave you speechless. It contains enormous rooms: a living room with two fireplaces and a huge master suite with multiple living spaces.
Anyone who looks out through the soaring floor-to-ceiling windows will feel like an angel in 'The City of Angeles'. There are four expansive bedrooms and eight baths, a game room and a state-of-the-art home theatre.
The top-of-the-line kitchen has island seating, as well as a table for casual dining. There is a separate dining room with glass walls allowing the guests to see views of the city from all angles. In addition, the four terraces are perfect for entertaining, dining and enjoying the California sun.
The 42-story condominium, known as "The Century", was designed by Robert A. M. Stern Architects in 2010 and has been a celebrity hot spot with owners, such as Candy Spelling, widow of filmmaker Aaron Spelling, who bought the top two floors; Paula Abdul; and Elizabeth Berkley. Many more have flocked to the building, such as Denzel Washington, a Saudi princess and a Russian billionaire.
The property consists of four acres of lush private gardens with extravagant amenities, such as a 75-foot-long swimming pool with private cabanas, private elevators and multiple layers of anti paparazzi security, such as 24-hour security, doorman, concierge services and valet. There is also a screening room, yoga and Pilates studios and a wine-storage facility.
The building is known to the rich and famous for being a "paparazzi-proof" or "stalker-proof" getaway. Its sky-high units and circular shape make it difficult for prying eyes from neighbouring buildings to creep directly in. Rihanna has had problems in the past with unwanted company.
During her stay at her former Pacific Palisades mega-mansion, it was reported that multiple trespassers were spotted on her property within the first few months of her settling in. After delivering a powerful halftime show performance at Superbowl LVII and expecting her second child, this is the perfect place for Rihanna and A$AP Rocky to kickback and call home.