Ignacio Nacho Figueras: Passion & Polo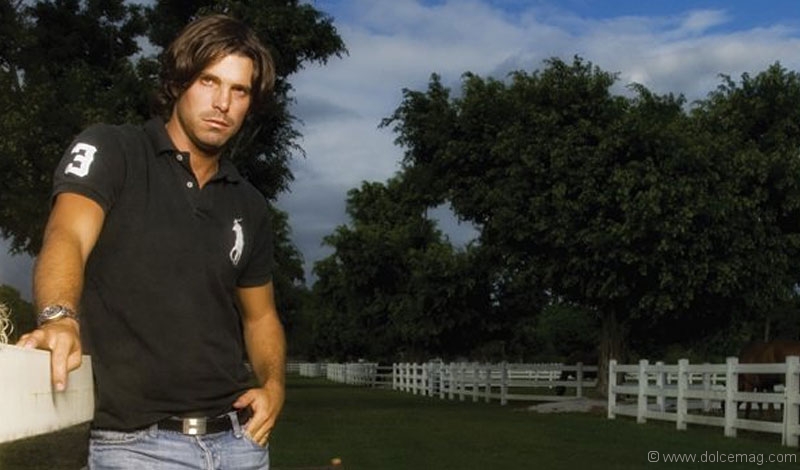 Consequentialism is the philosophy that Ignacio (Nacho) Figueras has adopted in order to achieve his goal of selling polo to the world. He has used his sex appeal and his status as a Ralph Lauren model to gain new fans and support his dream. Every sport has done it – even curling. It's quite interesting that a sport where men ride horses galloping at 35 miles per hour while thrashing a ball with a 50-inch mallet isn't seen on television. Professional darts competitions are less than exhilarating, how about bowling? – dreadful for the eyes, yet when it comes to televised sports, polo's fast-paced fury is nothing more than a possibility. Figueras wants to change all that. The high-flying sport is sprinkled with celebrity spectators at nearly every major event, society has a fixation with everything celebrity, add Vanity Fair's second-most handsome man of 2009, and you've got yourself one hell of a product.
In this world, it's easy being sleazy, especially when you're as handsome and talented as Figueras. So we honour this man of honour, because they say you don't truly know what la dolce vita really means until you've worked hard enough to earn it. Nacho has done that, and he's not impressed. He'll stay unimpressed until the average consumer can turn on the television and watch some polo.
The general assumption would be that this Argentinean Adonis with a lover's heart carries some sort of humble morale with him wherever he goes. Women are not his vice. He is not Tiger Woods. He uses his fame to promote his game. Don't be jealous – let him inspire you. After hearing him explain his passion for polo, any inherent envy will become an ephemeral emotion.
Charlie Rose wasn't convinced. In a 2005 interview he tested his loyalty to this sport. "Because of your attractiveness, people identify you with movie stars Tom Cruise, Brad Pitt … is your future in something other than playing polo?" His demeanour relaxed and sincere, Figueras is very honest and a special young man. This is what came out: "My thing is being a polo player. I love playing polo, and that's what I'm always going to be. With all the attention I'm getting from Ralph Lauren, I want to popularize polo. Not for me, for the sport."
Beyond the glory of playing such a dynamic game, he has accumulated multiple scars from uncontrolled wooden mallets and balls: a 25-stitched cut above his right eye; a broken collarbone after his horse collided with another horse, sending him to the ground (riders often fall once, even three times during a match). Everything he does, as he told Rose, and plans on doing – whether it's a future Hollywood movie or another championship trophy – is all in the name of polo. "My purpose in life is to make polo a big sport. If it's a polo movie and my wife doesn't get too jealous, I would love to do it." He would love to do it, and we would love to see his dreams come true. If so, polo will be popular, and Figueras will be remembered as a legend in a legendary sport that dates back to 3000 BC.
The island of focus that he lives on is surrounded by a world of temptations, like few before him, and hopefully more to come in the future. His passion is what keeps him honest, his passion is polo, and his dream is to make it a marquee sport, enjoyed by the masses, not just by the elite.
The world might be interested in uncovering the man behind the pretty face, but Figueras considers this a waste of time. What he wants is the world to discover polo, the kind of polo that would be recognized as a major sport, in major markets, all across the world (unless you live on a mountain – that's just not fair for the team at the bottom).
All this passion for polo started with horses. Figueras grew up with horses – a commonality for many Argentines. By eight he developed an interest in polo. After developing a bond for horses, polo came naturally for the competitive young muchacho. When Figueras was 12, his uncle bought him a Ralph Lauren polo shirt – it was his favourite. At the time, they were both completely unaware that one day Figueras would not only be able to afford his own polo shirts in whatever colour he wanted, but he would get them for free. His love for the leisurely pastime on the plains of Argentina took him all the way to New York. It was there that the 17-year-old Figueras began his polo career.
At 23, Ralph Lauren offered Figueras the opportunity to model for his polo-inspired brand. "I wanna be the polo player that represents Ralph Lauren. It all makes a lot of sense," he said during the interview with Rose.
With this perfect match between polo player and model for Polo Ralph Lauren, Figueras began solidifying the belief that would serve as the foundation for his future goals. The global exposure he got from modelling made him a star, and since then, he has used himself as a spotlight for the sport of polo. At first, he was a model for the Black Label line and in May 2009, he was named the international face of Polo Fragrances. His efforts to become the unofficial royal ambassador of the game continue to open new doors – and take him to places, introduce him to people – he never thought possible.
He has been interviewed by Oprah; he has sat across the table with Charlie Rose, and when he speaks with intent, when he uses the words 'love' and 'passion,' he's talking polo. His wife is his life, his kids are his legacy, but when he is in front of the camera, he is on a mission, a mission to prove that polo is more than an elite and snobbish pastime for the rich and famous to gather and socialize. Figueras is trying to sell it for what it is – a sport, and a good one at that. As he explained to Rose, "You don't need to be rich to play [or enjoy] polo. If it's in you, if you really have passion, there's nothing that can stop you from enjoying it."
Some people have it all and they keep going, keep climbing, keep riding, reading, learning, yearning, driving, flying, creating, inventing, acting, drawing, etc. These people have trouble explaining how the word 'plateau' relates to their incredibly ambitious lives. Figueras is definitely part of this ambitious crowd. He dominates the sport of polo, he's a model, a husband, a father, a spokesman, and he is willing to do what it takes to give polo the attention he feels it deserves. He won't stop until polo stops being referred to as "the sport of kings" and starts being referred to as the sport of the people.