Grace Coddington: Model, author and the creative heartbeat of Vogue magazine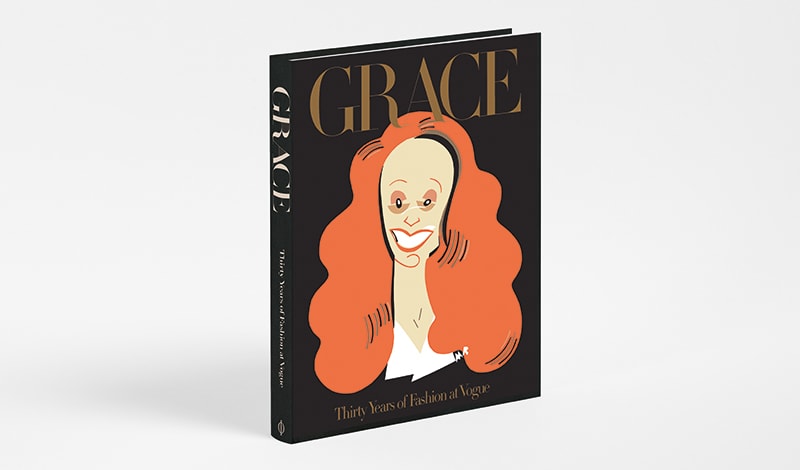 Defying both tragedy and naysayers, who told her that she didn't have what it took to be a fashion model, Grace Coddington, now 77, is and will always be the epitome of fashion, courage and heart.
Who would have thought that the remote island of Anglesey, situated on the foamy north coast of Wales, would spawn a fashion figurehead the likes of Grace Coddington? Born Pamela Rosalind Grace Coddington in 1941, this unforgettable icon — more familiarly known as Grace — is the definition of creative innovation.
Throughout her childhood and most of her teenage years, Coddington's family managed the Trearddur Bay Hotel, a 42-room guest house surrounded by cliffs and rocks. True to its rustic setting, the hotel had no television, room service or ensuite toilets. White china chamber pots were tucked away under each bed, and the upscale rooms enjoyed the luxury of in-room wash basins. Coddington loved to sail the Argo, her sailboat, and play table tennis with the guests, most of whom she beat handily. (Later, she would take inspiration from children's books by Lewis Carroll in some of her favourite fashion shoots.)
As a teen, Coddington dreamed of a more glamourous life by perusing the pages of the traditional British weeklies, as well as her sister's copies of Vogue magazine. Vogue's avant-garde images appealed to Coddington. She was enthralled with movie stars such as James Dean, whom she watched at the local theatre in the neighbouring town of Holyhead.
"[Coddington is the] "heart and soul of Vogue, its guardian at the gate, its beacon of excellence." — Anna Wintour
Eventually, Coddington felt like rough-and-tumble Anglesey was closing in on her, so she set off to London's West End to take a two-week course at Cherry Marshall modelling school. In 1959, the aspiring model moved to the Notting Hill district of London, where she waited tables. That same year — ignoring a tutor's pronouncement that she didn't have what it takes to be a model — Coddington entered a modelling competition in British Vogue and ended up winning the "Young Idea" category. Some of her tests shots were taken by none other than Antony Armstrong-Jones, the future Lord Snowdon and future husband of Princess Margaret.
Coddington was on her way. She graced a series of high-end covers, including Vogue (U.K.), Harper's Bazaar (U.K.), Elle (France) and Queen. She met with Eileen Ford, the guru of modelling agencies (although that meeting did not go well — Ford plucked out all of Coddington's eyebrows); modelled for Mary Quant, the era's toast of the town; and became the inspiration for newly minted hairdresser Vidal Sassoon.
A trés chic fashion model and long-time creative director of both the British and American editions of Vogue, Coddington is famous for her ever-changing look. She's been Debutante Grace, Go-Go Grace, Jet-Set Grace and freckled Flower Child Grace, to name but a few of her looks. The chameleonic Coddington has consistently been a mirror reflecting the styles of the day. In her early 20s, she was in a serious car accident that sliced off her left eyelid. A model's face is her stock in trade, so many thought she would never work again. But then, poignantly, Grace the Phoenix emerged. After two years and five plastic surgeries, she went on to become one of the most definitive faces of the trendsetting '60s.
When Coddington was 27, she was told by an ill-humoured fashion editor that she was too old to model anymore. Coddington agreed. Innovative and intrepid, she met with Vogue editor Beatrix Miller, who gave her a job as junior fashion editor at the paltry annual sum of £1,100. But Coddington was undeterred and, in fact, was quickly recognized for her ability to intuit coming fashion trends before they happened. She rose from the rank of junior editor to fashion director of British Vogue, before taking the role of creative director of American Vogue under the wing of famously larger-than-life editor-in-chief Anna Wintour. On the occasion of Coddington's 70th birthday, Wintour credited her with being the "heart and soul of Vogue, its guardian at the gate, its beacon of excellence."
Coddington's photo shoots have been described as "transforming static studio portraiture into modern vivid tableau and turning location shoots into cinematic narratives" (Grace: Thirty Years of Fashion at Vogue). She travelled the world, creating glossy photo spreads that graced multiple full pages in Vogue. Collaborating with A-list photographers, including Norman Parkinson (it is said that he discovered Coddington), Arthur Elgort, Mario Testino and the inimitable Annie Leibovitz, upped Coddington's game. Together with photographer Bruce Weber, she developed a unique pastoral photographic style steeped in Aestheticism and authenticity. Another photographer, John Cowan, gave her the nickname "The Cod" to match supermodel Jean Shrimpton's nickname "The Shrimp."
There have been numerous art exhibitions honouring Coddington's work, including Short Stories: Celebrating 25 Years of Vogue Fashion by Grace Coddington, at L.A.'s Fahey/Klein Gallery in 1994. In 2002, Coddington, along with Karl Lagerfeld, was awarded a lifetime achievement award by the Council of Fashion Designers of America.
Even now, at 77 years of age, Coddington remains a paragon of creative innovation. She launched her eponymous perfume, Grace by Grace Coddington, in collaboration with Comme des Garçons. The fragrance is inspired by her love of English roses, and the bottle stopper is shaped in the likeness of a cat's head — a whimsical nod to her passion for felines. Coddington believes that cats can feel their owners' emotions, and she regularly consults with a cat psychic. The former and current owner of several cats, Coddington's home is known as "Cat Central" to her New York friends. And in 2006, Coddington and her partner, Didier Malige, compiled her many sketches of her cats into a book, The Catwalk Cats.
Coddington writes four stories annually for American Vogue, and in September 2018, she hosted a new six-episode original series, Face to Grace, on the video network Made to Measure. And although Coddington was dead set against being profiled in the influential 2009 documentary The September Issue (about the production of the September 2007 issue of American Vogue), fashionistas can look forward to eventually seeing her story on the big screen. Coddington's Grace: A Memoir (written with Michael Roberts in 2012) was optioned for film in 2015 by well-known independent company A24. She's come full circle from the days of travelling to Holyhead to swoon over movie stars — fittingly, it's life imitating art, imitating life.