Kelly Rosen: Southern Belle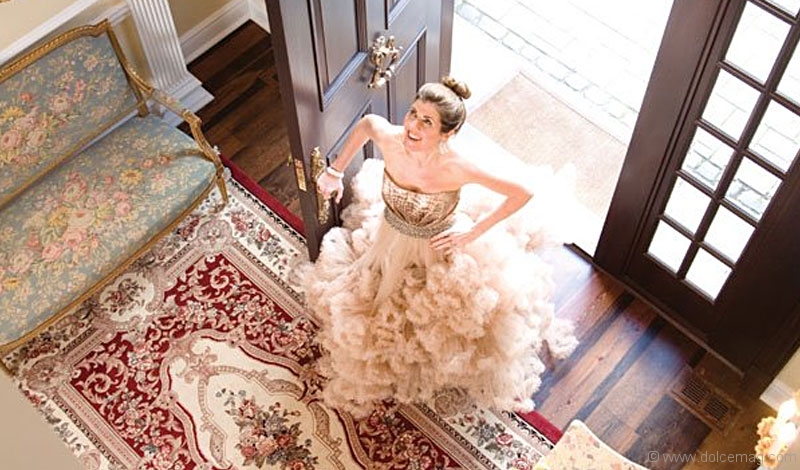 As if sliding across the keys of a piano, Kelly Rosen's fingers caress a billowy black and ivory Zuhair Murad dress. She tugs and twists its diaphanous tulle into a state of perfection. "This is probably one of my all-time favourite gowns," says the Georgia-born belle. While there are dozens of distinctive pieces that pervade her see-through custom cabinets, this one reveals the most about Rosen. "It's the first gown I really just went nuts over," she says. More than anything, it uncovers a poetic play of desire that led to fashion happenstance on a bitter winter day in 2010.
The encounter took place at a Yorkville boutique where she was being fitted for a New Year's Eve ball gown she had pre-ordered. Suddenly her eyes met with the florally embellished Murad masterpiece. After being told it was the last one and that it was already spoken for, she insisted on slipping into it anyway. Love is a hackneyed word in the fashion sphere, but if there's an adjective of slightly less value, that's what knocked Rosen off her feet. The Beirut-based label's couture conversation piece was ordered in immediately, but it didn't arrive without a fight. "That was when they had that big volcanic ash cloud in Europe and it was literally stuck in London," says Rosen of the dress that arrived against all odds.
The Murad affair chronicles Rosen's infatuation with fashion. "I can tell you Kelly was the belle of the ball in that dress," says her husband Simon Rosen. A reigning reservoir of gems, jewels, silk and tulle, originally slated to be a master bedroom, is now the stage for a couture collection of clothes and accessories worthy of a Christie's auction. Her snow-white shelves brim with Kelly's and Birkin's; her shoe racks house hundreds of sky-high Atwood's, Louboutin's and Manolo's; her gowns are the materialized dreams of unrivalled fashion masters from Pavoni and Pucci to Chanel and Gucci. Calling the 1,400-square-foot space a closet is a fabrication. "I don't know that I have a great fashion sense," says a modest Rosen, and like Alex Katz acting like a paintbrush's acquaintance, the modish matriarch of a blended family of five kids gives us the first glimpse of her southern, self-effacing charm.
With her hair pinned back, she strides into the ensuite bathroom and perches herself on a tall chair ready to be primped for an imminent photo shoot. It's there that the affable brunette urges the newly engaged makeup artist, whom she just met, to slip on a pair of her YSL heels to prep for her big day. The shoes fit. "This is the best day ever," says the bride-to-be. "You know what else is really comfortable — and he's the new wedding shoe this year? — the Manolo's," says Rosen, pointing to another pair. A gilded, floor-to-ceiling mirror leaning against the wall captures the unfeigned exchange. There's a distinct crack on its top-left corner that shatters a tired fallacy. Rosen's reflection is far from unlucky.
She recalls a trunk show she attended with Simon, whom she met in 2007 while he was on a business trip in Georgia. "We were in New York City, walking through the [Chanel] store. I think I was trying a few things on just off the racks and a model walked by and he went, 'I want my wife to try that on!'" she says. "That was the first trunk show I had ever ordered something from, it was exciting." President and owner of a successful Ontario-based meat company, the Kiton-inclined industrialist is also known for his polished profile, which was showcased in Harry magazine's spring 2012 issue. "From rocker chic to princess, I love all her looks," he says, also crediting her for the traditional design of their home.
While she's regularly invited to attend runway shows around the world — including Chanel's fall preview in Paris last year — Rosen admits that 90 per cent of her pieces are purchased in Canada, primarily from Holt Renfrew's flagship on Bloor Street and George C. in Yorkville. "I usually know what Kelly likes and dislikes. I enjoy picking items that go a little bit outside the box," says her Holt Renfrew stylist Patrice Favreau. "She's charming, full of life and has great energy."
Lisa Corbo, the ebullient co-owner of George C., known around Toronto's social circuits for her fashionable fall fundraiser, Lunch with Margaret and George, refers to Rosen as her rock. "When I told her that I planned on doing this annual event, she was the first there to support me," she says. In addition to rallying awareness and funds for Princess Margaret Hospital in her role as a committee member, Rosen and her husband support numerous health-related causes through the family's newly established foundation. "We've been blessed. And it's just — it's the right thing to do," says Rosen.
"I love my life. I feel very spoiled, very blessed. But I could go back and do everything I used to. It's my husband that makes it the sweet life — and the kids. It's not the stuff, it's the people."
Photography by Jesse Milns