Stephanie Winston Wolkoff: Running the Runway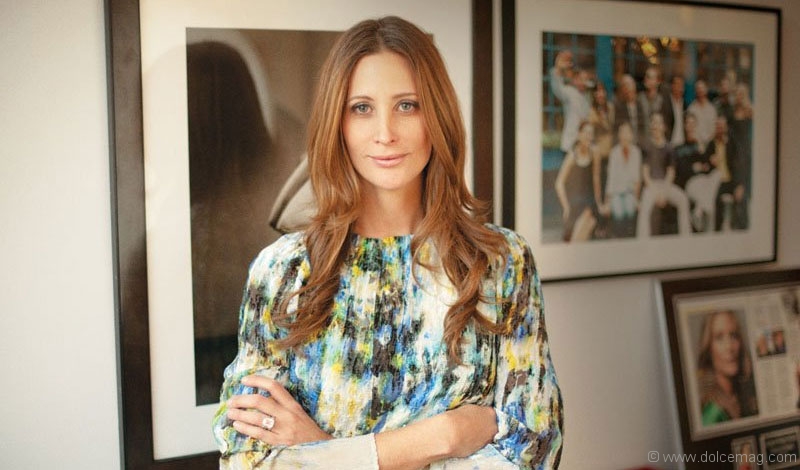 Stephanie Winston Wolkoff is the definition of a woman who does it all. An unparalleled determination and passionate persona makes her the go-to girl in the fashion world. Unlike most success stories in the industry, Wolkoff didn't eat, sleep and breathe fashion from a young age. "Having two older brothers, I was very much a tomboy," she says. Today, at 41, she exudes that same confidence that allows her to play among one of the toughest crowds.
Fanatical fashion designers and magazine editors make up Wolkoff's address book, making her a well-connected face in the industry. Her career began to blossom when she landed a public relations role at the royal fortress of fashion — Vogue magazine. Two years later she became the director of special events, working alongside editor-in-chief Anna Wintour to organize some of the most-anticipated annual events. The Costume Institute gala at the Metropolitan Museum of Art is a notable one, garnering style-savvy celebrities for a glamorous evening. "Working for the East Coast Oscars of the fashion world was such an incredible experience," says Wolkoff, whose father, Bruce Winston, is the son of jeweler-to-the-stars Harry Winston. "I had a complete, open, hands-on approach with the greatest mentor (in my opinion) within the industry. Anna [Wintour] really enabled me to take things to the next level."
In November 2009, Wolkoff gained a level of autonomy when she became the founding fashion director of Lincoln Center for the Performing Arts, where she managed the repositioning of New York City's Mercedes-Benz Fashion Week. Moving the biannual event from Bryant Park to Damrosch Park was an intricate process, but one that Wolkoff mastered. With back-to-back meetings in the days leading up to fashion week, she continues to be the liaison between magazine editors and emerging designers. "For me, it was about making the designers and the industry feel like they were really being taken care of." Working with Vogue on Fashion's Night Out and Elle on Elle Fashion Next, to name a few, this powerhouse is the chosen one for some of the most prominent events in fashion.
"One other big thing I learned from Anna is that relationships are everything." Simple yet critical, this piece of advice is something that has helped Wolkoff get to where she is today. Maintaining relationships that are based on professionalism, loyalty and honesty has earned her the respect of her peers. "People say when one door closes another opens, but for me it's a continuum of opening doors. You don't want to close any."
Building a world of fashion outside of the Lincoln Center, Wolkoff also helped bridge the gap between designers and consumers. "Another big thing for me was, how do you open up those big velvet ropes?" Giving everyday fashion lovers a front-row experience, Wolkoff answered her own question and started an initiative with IMG and Lincoln Center that allowed the public to view runway shows on a big screen outside of the Metropolitan Opera House during Mercedes-Benz Fashion Week. Creating an exciting and inclusive fashion scene, Wolkoff is a positive role model for young adults who are hoping some day to step into the industry. She encourages hard work and discourages the romantic portrait that so many people have painted in their minds. "It isn't about glamour at all," she says. "It's about rolling up your sleeves and doing whatever it takes to accomplish the task at hand."
It is this matter-of-fact mindset that carried Wolkoff into her next venture and helped change the false notion that the sartorial world is all play and no work. On June 1, 2012, she launched SWW Creative, an independent agency that helps build partnerships in the areas of fashion, beauty and entertainment. Running her own business, executive-producing the 9th Annual Style Awards and working her magic on many aspects of Mercedes-Benz Fashion Week, you'll be surprised to know that Wolkoff's duties don't end there. She is also a doting mother of three.
"Fashion week started and it was also the first week of school. Everything was happening at the same time, but I still did [school] drop-offs every day." Working around the clock, sleep is a foreign word to this mother, wife and businesswoman. "There's no such thing as 9 to 5, or even 9 to 1 a.m.," she confesses. "The month leading up to [fashion week], I'll run home and be with the kids and put them to bed and then start working again." Marrying what she calls "the most incredible, supportive husband," and choosing staff with the same steadfast vision are two decisions that have helped Wolkoff achieve her goals. Despite her busy schedule, it is clear that what is most important to her is family.
Having a son with fatal food allergies has presented challenges but also inspired Wolkoff to support the Food Allergy Initiative (FAI). Her unwavering love for her children and passion for charitable work has led her to host numerous luncheons and galas, and to co-create the Winston Wolkoff Foundation for food allergies at the Jaffe Food Allergy Institute at Mount Sinai Medical Center in New York. "I have to say I couldn't imagine doing anything else, because I work with so many different worlds. I work with the fashion world, the entertainment world, beauty, and then with all of my charities," she says. "I feel like my fingers touch a little bit of everything."
Photography by Hannah Thomson