Lacoste introduces a new concept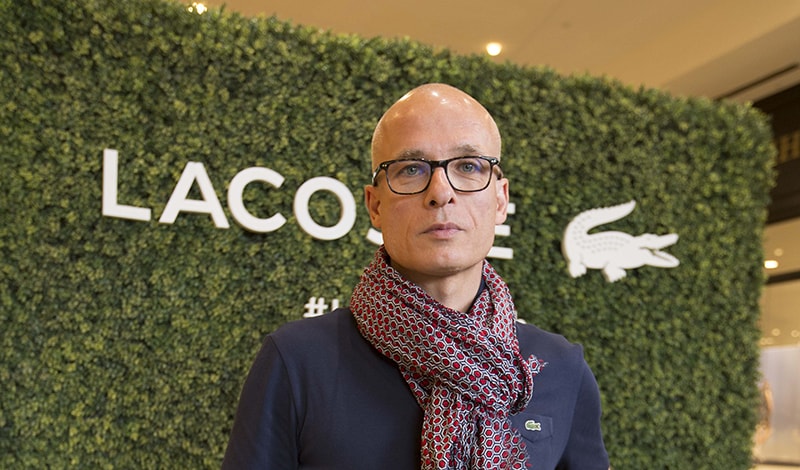 Embodying elegance and beauty in premium casual wear, Lacoste celebrates 85 years in Canada with its new concept store in Toronto's Yorkdale Shopping Centre.
Sometimes the biggest things in life have the simplest, most humble beginnings. Take the polo shirt, for example, invented in 1933 by French tennis star René Lacoste when he cut the sleeves off a long-sleeved shirt, revolutionizing the game of tennis forever.
In the 1920s, Lacoste ruled the sport. He was Borg, Federer and Nadal rolled into one, commanding the game unlike any player before him. He won three French Opens, two Wimbledon Championships and two US Opens between 1925 and 1929. That's seven Grand Slam titles in five years.
An American journalist named him "The Crocodile" for his tenacity on the court and the way he completely dominated his opponents. Lacoste paid homage to this by putting the symbol of a crocodile on his tennis shirt, starting a fad his legion of adoring fans wanted to emulate. Lacoste knew he was onto something. He gradually departed competitive tennis and founded his Lacoste clothing line in 1933.
Lacoste probably never imagined this simple start would lead to the worldwide success his brand enjoys today. Lacoste has sold more than 50 million products, is available in 120 countries, and now two Lacoste items are sold every second around the world. From a single tennis shirt in 1929, Lacoste now offers a complete range of products beyond its Classic Fit Polo, including premium casual apparel, leather goods, fragrances, footwear, eyewear, watches and undergarments. Sales in 2016 exceeded two billion euros.
"It is very important to develop the right product for the right consumer," says Grégoire Brasset, vice-president of Lacoste Canada. "So when we are working we can say this product is for Canada and this product is for the Canadian consumer. We need to have the right answer for the consumer and the right consumer experience to meet our fans' desires and understand what they want from Lacoste."
It was with this spirit of success and global swagger that Lacoste recently celebrated its 85th anniversary in Canada with the gala opening of its new concept store at Yorkdale Shopping Centre in Toronto. This brand-new boutique is the first of its kind in Canada and is a tribute to Lacoste's French heritage and elegance while simultaneously staying true to its authentic sporting roots, providing products for women, men and children — that are proudly manufactured in a responsible and ethical manner.
Using the latest technology in its innovative layout and design, the Yorkdale Lacoste boutique provides a customer-centric digital experience. Marking this special event was a surprise appearance by Canadian R&B duo DVSN, signed to Drake's label, OVO Sound.
"We are refocusing the brand on its roots, and the Canadian team is doing a great job," says Brasset, who also attended the opening. "This project at Yorkdale is a new concept which is very important to us, and we feel it's the point for a new story for Lacoste in Canada."
The milestone anniversary event was upbeat, just like René Lacoste and the company he built. Optimism and elegance are Lacoste's core values, promoted with a sense of passion and enthusiasm it shares with its customers and partners — a faith in the future, captured by the beauty and freedom of its products.
René Lacoste was known as The Crocodile for his playing style in tennis, but off the court, he was also known as a man of style and sophistication. No doubt the man would be proud that today, the company bearing his name embodies all aspects of his character.