Luxury Timepieces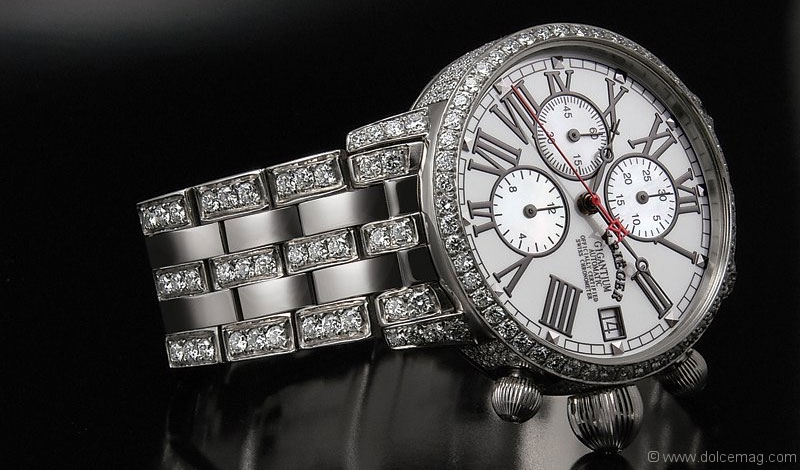 Timing is everything. This common expression is often uttered in reference to the laws of attraction, a wrong turn in day-to-day life or even a successful result. If this phrase holds true, how important is it to keep track of the present time so that the dynamics of life can easily fall into place according to right timing?
Technological advancements make it possible to wipe that bead of sweat off your forehead. Luxury watch companies such as Omega, De Grisogono, Krieger, and Longines have perfected time-telling to an art. Reliability, elegance and sophistication are the key elements ticking away on these gold-and silver-plated numbers.
Krieger introduces its Chronograph ICE, a prestigious timepiece plated on stainless steel, and lined with three parallel trails of diamonds on the band. The gorgeous Chrono is a versatile accessory for the masculine big spender or the feminine fashionista.
On top of fashion is durability, another key factor in a timepiece. Renowned as the leading water-resistant watchmaker, Bell & Ross has introduced the BR 01 Tourbillon Pink Gold and Titanium with manual winding and optimal accuracy. The subtly flashy piece is in contrast to the Doppio Tre N02 by De Grisgono, a classic rhodium guilloche top dial with sapphire glass and a polished butterfly buckle.
If bigger is better in your books, then the Sinn Spezialuhren zu Frankfurt am Main's Model 303 Silver Ty is just the accessory for you. Made with satinized stainless steel, and encircled with a Tachymeter scale, the Sinn Driver's Chrono is the perfect wristwatch. Its rapid measurements determine speed based on time, so you're never running late.
For a lightweight classic, Longines captures the traditional watch perfected with L420 quartz movement and a sophisticated lining of scratch-resistant sapphire crystals. Tweaking the technical aspects of the original Longines design, the La Grande Classique encapsulates the old world with new technology. Slimmer and sleeker, the timeless La Grande Classique will never go out of style.
Another classic beauty is the Omega DeVille collection. It presents the X2 Co-Axial chronograph, with column wheel mechanism to maximize precision, stability and resilience of movement. Blending all elements of a flawless timepiece, bad timing and overdue schedules don't stand a chance against these watchful timepieces.
1. Krieger Chronograph ICE $75,000, www.kriegerwatch.com
2. Bell & Ross BR 01 Tourbillon pink gold and titanium $10,900, www.bellross.com
3. Speizaluhren zu Frankfurt am Main's Sinn 303 Silver Ty model $1,830, www.sinnwatch.com
4. Omega X2 Big Date from the DeVille Collection $8,500, www.omegawatches.com
5. Longines La Grande Classique $3,650, www.longines.com
6. De Grisogono Fuso Quadrato $23,200, www.degrisogono.com