Michael Allen: The Sneakerhead Designing Individuality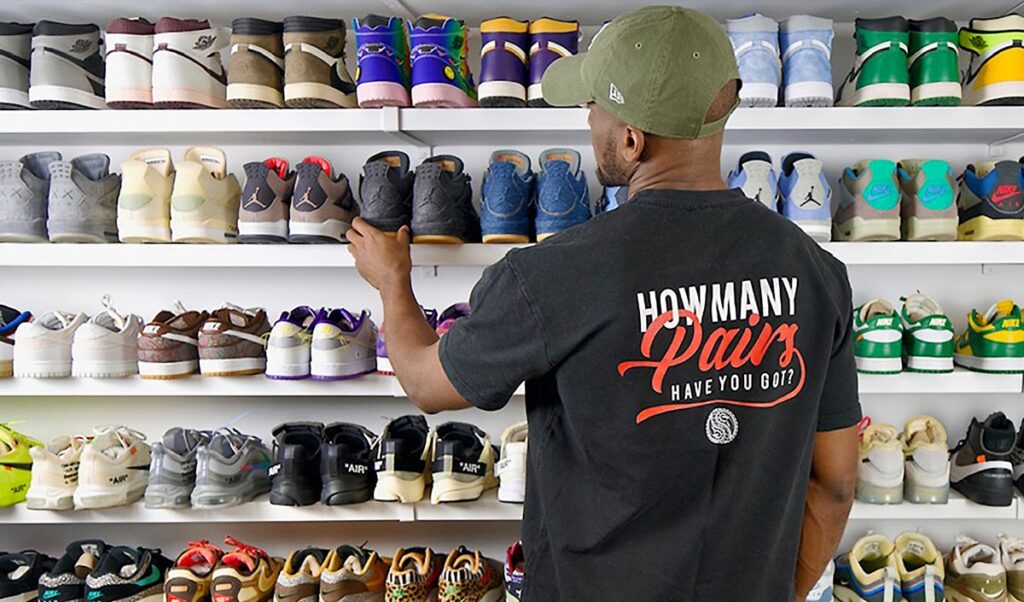 Michael Allen opens up on what sparked the idea to launch his Pairs brand and offers us a virtual invitation to explore his sneaker collection.
The sneaker market is thriving. Not only does Statista state that the worldwide sneaker market is worth US$86.58 billion, but it's expected to grow annually by 5.34 per cent. It's a market that transcends borders, bringing the worlds of design, innovation and music together, and has sneakerheads queuing outside stores or entering raffles in the hopes of getting their hands on the latest drops.
Michael Allen, known as mikepairs to his thousands of Instagram followers, is a U.K.-based sneaker collector and founder of Pairs, and knows the sneaker market well. When we speak with him, he's sitting in front of a wall that's covered in shelf after shelf of sneakers co-ordinated by colour and design. "This room is a locked room," he says.
"There's nothing in here apart from sneakers. The only person who comes in here is me. My only real concern is dust. I have an air purifier that I'll turn on for four hours, and I have a new duster, which is basically a wind machine that I use to blow down the sneakers."
As someone who enjoys the thrill of chasing sneakers as much as owning them, Allen is a true sneakerhead, and his collection spans both recent and past pairs from some of the business's biggest names.
When asked what his ideal sneaker design would look like, you can sense his passion, and he often goes back and forth to his wall to showcase the shoes on-camera. "I could go down the route of Jordan 1 and Nike, because that's my favourite silhouette in the sneaker niche in terms of everyday wear," he says. "I could go down the route of New Balance because I really like their materials and how much detail they put into each of their shoes. Or, if I was to go down the high- end sneaker route, it would probably be Louis Vuitton." He also notes how he's a huge fan of the LVMH portfolio, specifically Fendi and Loewe.
But for all the pieces Allen has in his collection, he's reluctant to share which he considers the grail. And because each comes with its own story or anecdote, they're all worthy of their place on the shelf. Where one pair was obtained via the Nike SNKRS app on his birthday after losing every raffle, another starts with a story of queuing outside a store at 5 a.m. alongside hundreds of others doing the same.
"I thought, 'where's the individuality? Where's the style? We can't have the same trousers for all these different shoes.'"
Allen also funnels his love for sneakers into his company, Pairs. Created toward the end of 2019, it was born from a frustration of having a growing collection of shoes with no perfect-fitting bottoms to match.
"I was on the train to an event, and I was looking around, and everyone had the same trousers on," he says. "I thought, 'Where's the individuality? Where's the style? We can't have the same trousers for all these different shoes. We need something different.'" So Allen decided to do something about it.
He found a pair of pants he liked, sourced a fabric and went to his local market, where he asked someone to sew the fabric into the pair of pants he wanted. From there, he took the pair, shared images to his Instagram followers, and it wasn't long before people started asking where they were from.
Today, the brand's grown from strength to strength and stocks a range that includes patterned pairs and straight-leg pants, as well as the introduction of hoodies, shirts and accessories, all proudly made in the U.K. With plans to continue growing both his brand and his sneaker collection, Allen's momentum is growing, but when asked how he'd define the sweet life, his answer is a lot closer to home.
"Living a happy life with your family. Family is very important to me. I just want to live a stress- free life. I want a bungalow in the middle of a nice village with a community, with my family, and to be happy and peaceful. That would be a good life, whether I have sneakers or not."