William Banks-Blaney: Fabric of Time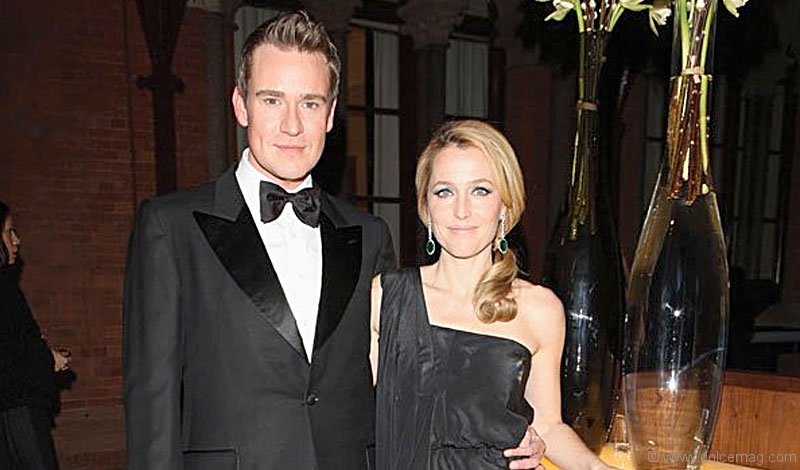 Before his 40-hour skip across the pond to catch friend Rachel Zoe's show at New York Fashion Week, William Banks-Blaney was dressing dozens of celebrities in vintage couture frocks at the Elle Style Awards, the BAFTA Awards and the preceding WilliamVintage Dinner, a sumptuous black-tie affair he and actress Gillian Anderson co-hosted at the St. Pancras Renaissance Hotel in London, England. "It's not normally quite this chaotic, but it's a good sign," says Banks-Blaney, down with the inevitable fashion flu, a common setback in an industry where fashion professionals work in close proximity. Fortunately for him, there's respite from the frenzy on the horizon, but not before a reception at 10 Downing Street for the opening of London Fashion Week. "I'm going to the country this evening after tonight's party and I'm going to sleep for three days," he jests.
Dubbed "The Vintage King" by Vogue UK, Banks-Blaney is the British-accented founder of WilliamVintage, a dress boutique in the London area of Marylebone. Maintaining a curated, covetable collection that spans superlative fashion decades, fine vintage and couture pieces anywhere from Christian Dior and Ossie Clark to Courrèges and Jean Dessès are all handpicked by Banks-Blaney, who scours the world for rare finds in the most unlikely of places. "I was in a little store in Florida about a year ago that really didn't have anything, and as I was leaving I was like, 'Are you sure you haven't got anything out back?' I just felt in my bones there was going to be something and in the end she said, 'Oh I've got an old cape,' and she brought this thing out from the backroom of the shop and unfolded it and unfolded it and unfolded it and it was actually the Dior floor-length, red silk velvet 1954 haute couture opera cape, an amazing piece that was about to be cut into cushions. I managed to save that."
Viewing fashion as a branch of art, Banks-Blaney's training in art history at the University of Buckingham is as integral to his position as a leading vintage hunter as his confidence that pieces will wind up in his possession. On his last shopping trip, which took him to New York, Palm Beach, Atlanta, Nashville and back to the Big Apple, Banks-Blaney's instincts were embedded in his knowledge of the past that shaped the cities in which he perused. "I'll often find an antique fair or consignment store and just ask people, particularly if it's a new city, but there's often different locations you can go for different pieces. For example, Chicago had a huge development in wealth in the 1920s and the 1930s, so you can find fantastic art deco pieces there," says Banks-Blaney, who began to admire art, antiques and architecture as a child before becoming an interior designer for David Linley. While travelling across the world for home décor pieces, Banks-Blaney's attention would redirect itself to the charm of vintage pieces, which he collected and brought back home for friends and clients. After hosting successful private sales, the opening of WilliamVintage in 2010 was an organic extension of his environment.
Providing an edited array of some of the world's finest vintage couture at his boutique, women no longer have to rifle through racks of clothes (a common happenstance in the vintage market) to own a winning piece of history.
Apart from the timeless quality that vintage dresses bring to the boudoir, Banks-Blaney notes that women are taking home pieces with a savvy eye to the future. "I have a couple of clients that say, 'Well, my husband buys contemporary art, my husband invests in wine, and I'm investing in very good quality vintage clothing.' They know that if they buy a dress from us it's a very good example of a designer's work or just a very good piece — rather than buying pieces from a contemporary collection that in the short term, are of far less value," says the dapper frock seller, who lists Mary Katrantzou, Erdem, Roksanda Ilincic and the early work of Alexander McQueen as prospective purveyors of vintage collector items.
The recently appointed fashion patron for Oxfam, who will edit the charity's collections, immediately recalls the moment when vintage was revived and brought to the forefront of fashion. As one of the world's most bankable stars stepped up to the podium at the 73rd annual Academy Awards, wearing a demure couture black column gown with white piping, the dress not only encapsulated old-fashioned Hollywood glamour, but also became a fixture in the red carpet hall of fame. "Twenty years ago, it was so niche and so unknown, and then in 2001, when Julia Roberts wore vintage Valentino to the Oscars, I think that put it on the world stage, and it opened up to a whole new audience. It could be something beautiful and really wonderful to wear."