Mary Beth Shimmon's inspired interior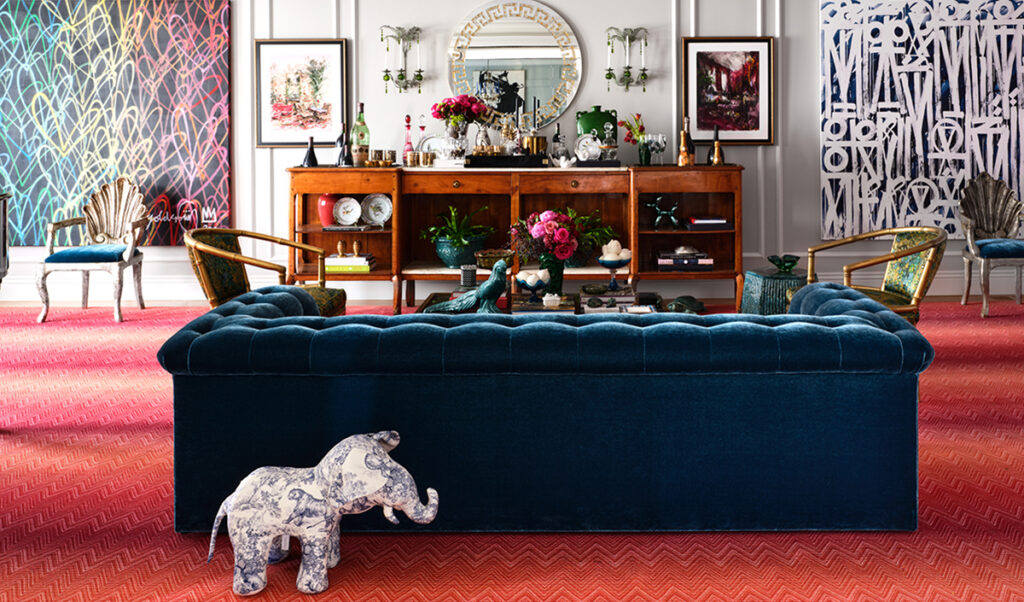 Fashionista Mary Beth Shimmon unveils a five-storey home saturated with colours in San Francisco's Russian Hill neighbourhood.
San Francisco is a city of many hills, some say up to 44, but only seven can claim to be the original hills of San Francisco. Among them is Russian Hill, named after the many Russian naval and merchant ships that frequently visited the city throughout the 19th century. The steep slopes of this neighbourhood were made world-famous by movies like Bullit and 48 Hours. The trendy neighbourhood is home to fashionista Mary Beth Shimmon and her husband David.
Although she has made a career for herself in the financial side of the technology industry, Shimmon is very attuned to the City by the Bay's sense of style — Haute Living magazine has described her as one "of San Francisco's most fashionable females about town."
"'Love' is the word that encapsulates my own style," she explains. "I buy only things that I love and I usually plan to keep them forever — because, after all, I bought them because I love them. Sometimes I think that I should focus on a particular direction of style, but I never do, because the things I love cover the spectrum, from classic to avant-garde and across every decade. For me, fashion is about being innovative and making it your own. I like to mix everything together to express my own personality." San Francisco isn't always thought of as a fashion mecca, but Mary Beth Shimmon feels very strongly about the city's sense of style. "Although I don't think there is a 'San Francisco look' like I think there is in New York or L.A., my opinion is that San Franciscans care very much about style," she explains. "That doesn't necessarily mean that everyone follows the latest fashion trends, but they are concerned with expressing themselves through their style."
In a city obsessed with the latest technology, a passion for fashion and design can almost function as an antidote to the stress of day-to-day life. "I don't know if it is despite or because of my work being very left-brained that I am so interested in the right-brained world of design," Shimmon reflects. "One of my favourite things to do is spend time with my collection of fashion, interiors and art magazines and books. Immersing myself in these creative areas allows me to dream and escape and brings balance and calm. I believe that art has the power to do this in everyone. Each of my friends has a unique style, none of us the same, and we always appreciate an opportunity to show it."
This passion for style also extends to Shimmon's home, which she has recently renovated. "We had purchased the home and completed a needed renovation, but I was not yet ready to furnish it because I wasn't sure in which direction I wanted to go," she explains. "I felt like I needed to have a clear idea of the look and style that I wanted before we hired a designer. So I was stuck and doing nothing."
"Since the idea of a cocktail in the living room was integral to our vision, one of the first pieces that we acquired was Lauren Bacall and Humphrey Bogart's bar from their New York city apartment, which designer Jonathan Rachman had purchased at the auction of her estate."
Mary Beth Shimmon quickly set her sights on San Francisco-based interior designer Jonathan Rachman. Rachman has an interesting life story. Born in Indonesia, he studied in Switzerland and then moved to America. He started making flower arrangements for celebrities like Madonna and Marc Jacobs and then transitioned to interior design. His first-ever coffee table book, Currently Classic, was published at the end of last year by Flammarion, and features his work for Mary Beth Shimmon.
"Jonathan and I were friends when I attended a book-signing event that he hosted at his San Francisco studio for Dean Rhys Morgan and his book on the talented interiors illustrator Jeremiah Goodman, titled Jeremiah: Inspired Interiors," Shimmon explains. "I'm obsessed with the way Jeremiah Goodman used his unique style of painting to convey the essence and personality of a room rather than merely detail its contents. You imagine how you would feel in the space. Dean had brought several of Jeremiah's original pieces with him to San Francisco and I was immediately drawn to the illustration of Carolina Herrera's New York drawing room. It was saturated with red, cranberry and magenta, and although it was sumptuous, it didn't feel stuffy. I felt that being enveloped in that room would call for a cocktail. On that evening, Jonathan helped me realize that the essence of a room rather than specific details is what we needed to get started on the décor for our house. He began by creating a custom de Gournay chinoiserie wallpaper in Schiaparelli pink, the first to have an ombré background, and perfect for a lover of fashion."
This shared esthetic vision became the bedrock of Rachman's work on the Shimmon residence, a five-storey single dwelling. "Jeremiah Goodman's illustration of the Herrera's drawing room became the vision for our living room — the colours and the mood," says Shimmon. "After designing the wallpaper Jonathan developed a floor plan, and we then began to look for pieces that we liked. A lot came via Chairish, and we also used things that we already owned that we still liked. The less waste the better. Although the pieces are a variety of periods and styles, Jonathan was able to masterfully and magically pull them together to create a room that is beautiful and functional. It turns out that Jonathan's method of interior design is similar to mine for fashion — to buy what you love and put it together in a unique way that expresses your personality. Oh, and of course Jeremiah Goodman's Herrera drawing-room piece ended up in the room as well."
The living room is definitely the pièce de résistance of the Shimmon home. Its vast floor plan seems made to entertain guests. Mary Beth Shimmon agrees. "Since the idea of a cocktail in the room was integral to the vision, one of the first pieces that we acquired was Lauren Bacall and Humphrey Bogart's bar from their New York City apartment, which Jonathan had acquired at the auction of her estate," she explains. "Having a lot of seating is important for entertaining, so we have several occasional chairs around the room that can be pulled in. We love last-minute get-togethers and we recently had an impromptu whiskey tasting — we had all of the whiskeys and the vintage barware options right there in that bar."
Key to the living room's character are the multiple art pieces on the wall. "Art is a passion to us, and my husband David is constantly looking and learning about artists and their work," says Shimmon. "There are so many channels to discover art, which include galleries, auctions, exhibitions and shows, studios, museums, memoirs and articles — and we source pieces through all of them. Pieces pictured in Jonathan's book represent such a wide range. Some are directly from relationships with artists and studios such as statement-making James Goldcrown, Wes Lang, and the graffiti artist RETNA. Others come from galleries, such as Pat Steir's waterfall, Richard Prince's photographs and Santiago Parra's black and white abstract painting. The pieces from early 20th-century artists Albert Marquet and Édouard Vuillard caught our eye as being representative of the history and feeling of the era and came from auction, as did the Ellsworth Kelly drawing, which David got for me as a birthday gift, as Kelly is one of my favourites. Each piece is something that we love on its own and we appreciate the work and journey of each artist. We are fortunate that Jonathan has the talent to weave everything together."
Mary Beth Shimmon's passion for style and design was recognized by one of the leading authorities in the field: her moment of glory was attending a 2019 Vogue breakfast hosted by Anna Wintour. She was hand-picked to represent the Bay Area at the breakfast, sitting next to Wintour. Wearing Dior, Shimmon chatted with Wintour about the arts, particularly museum fashion exhibits. The conversation also touched upon LGBTQ equality, global warming, art, plays and politics — no topic was overlooked. "The breakfast that I attended in Anna Wintour's office reflected that Vogue magazine has become a broader-based publication that focuses on current social and political topics in addition to fashion, and they are interested in talking to their readers about a variety of areas," Shimmon remembers. "Anna's first question to me was 'What issues are you interested in?' Having said that, of course everyone that attended loved fashion."