A Gift From The Angels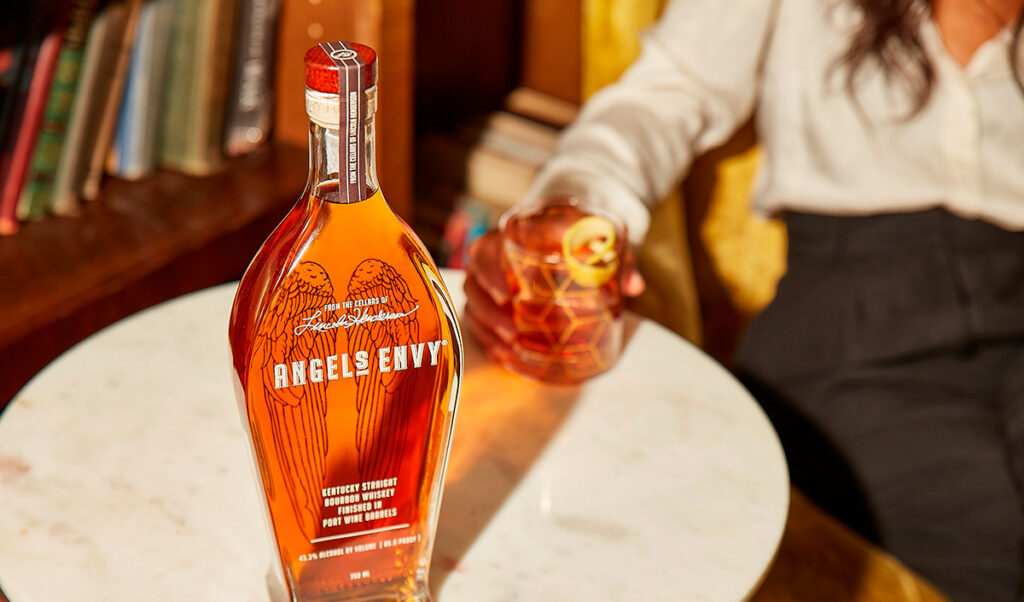 It's that time of year — holiday parties are in full swing, and we've got just the spirit to get you in the spirit. There's no better winter warmer than whiskey, and Angel's Envy Kentucky Straight Bourbon is the ideal premium libation to enjoy or gift this festive season.
Angel's Envy is the #1 Ultra-Premium bourbon in the U.S. making this high-quality expression highly sought-after by whiskey enthusiasts and casual whiskey drinkers alike. The Kentucky Straight Bourbon has been warmly welcomed since hitting the Canadian market earlier this year with an increasingly high demand for the expression.
Angel's Envy is a small family brand founded in 2010 that is rooted in 200 years of bourbon heritage. Born in Louisville, Kentucky, the heart of bourbon country, they are more than your traditional distillers. With three generations of Hendersons working together to create Angel's Envy, this collaboration between legendary Master Distiller Lincoln Henderson, son Wes, and grandson Kyle has resulted in a truly exceptional product. Lincoln had dreamed of creating a bourbon finished in Port barrels, and even came out of retirement to work on this passion product. An acclaimed distiller, in 2001, he was inducted into the Kentucky Bourbon Hall of Fame, and, in 2003, received the Malt Advocate Lifetime Achievement Award for his decades of influential and important work. To add to the family's extensive list of achievements and awards, Wes Henderson was also inducted into the Kentucky Bourbon Hall of Fame in 2019.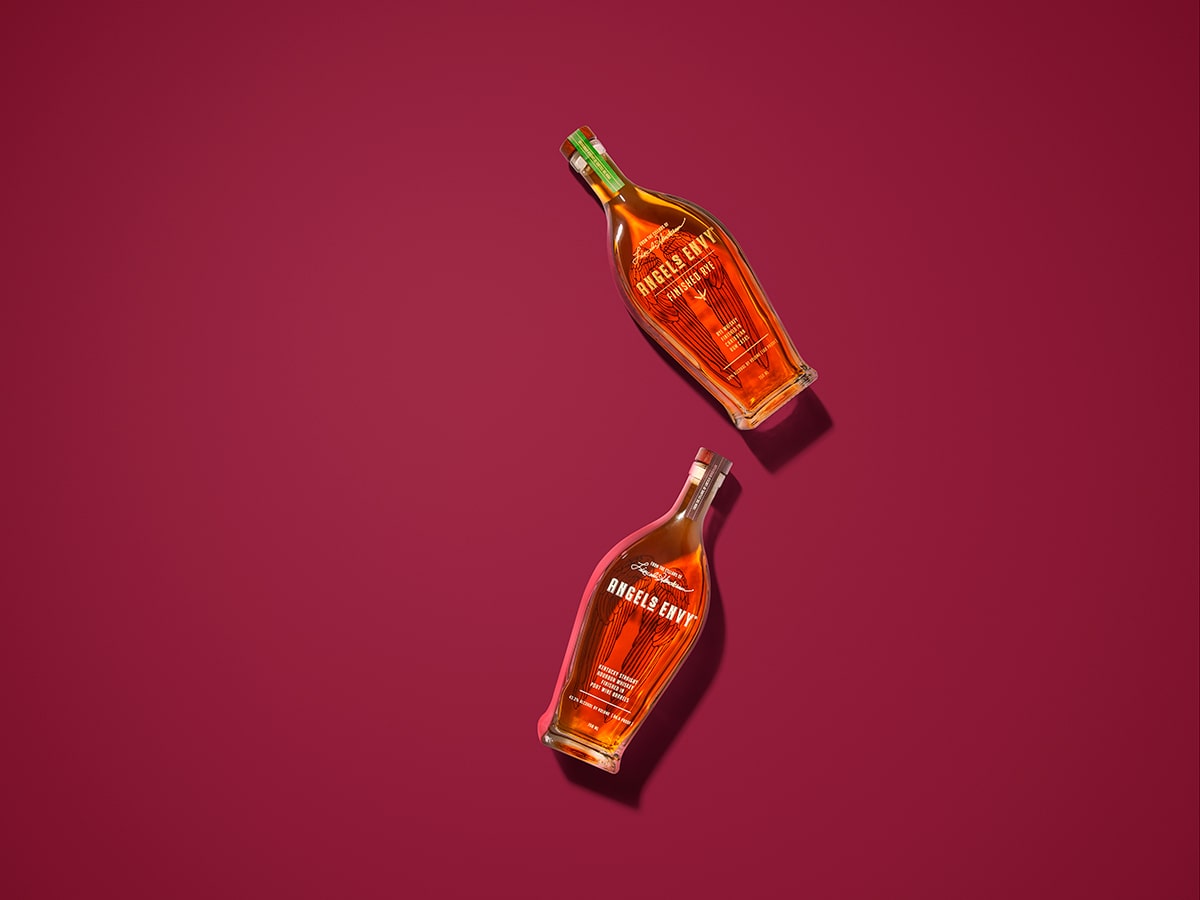 The team at Angel's Envy possesses a deep respect and passion for the craft, meticulously creating quality American whiskey and Kentucky Straight Bourbon. Angel's Envy is creating hand-finished small-batch spirits that are an advancement on classic tradition. The brand has always tried to honour the beloved traditions of American whiskey, while looking ahead toward innovations that will move the industry forward and being trailblazers of the craft.
Though we're sure whiskey lovers consider Angel's Envy the nectar of the gods, that's not where the name comes from. The brand is named after the term "Angel's Share", which is what they call the 5% of spirit lost per year during the barrel-aging process. After Lincoln tasted the brand's finished whiskey, he joked that they'd gotten a better deal than the angels, and thus the name Angel's Envy was born.
A quick bourbon 101, for those who are new to the category; Bourbon is a traditional all-American spirit made from over 51% corn and aged for a minimum of three years in charred new American Oak. What sets Angel's Envy apart is its secondary finishing process. Each whiskey is finished in secondary barrels to add a unique and distinct layer of flavour and complexity, which produces a premium bourbon that has a nuanced and balanced flavour profile that both the avid bourbon drinker and newcomer alike can enjoy.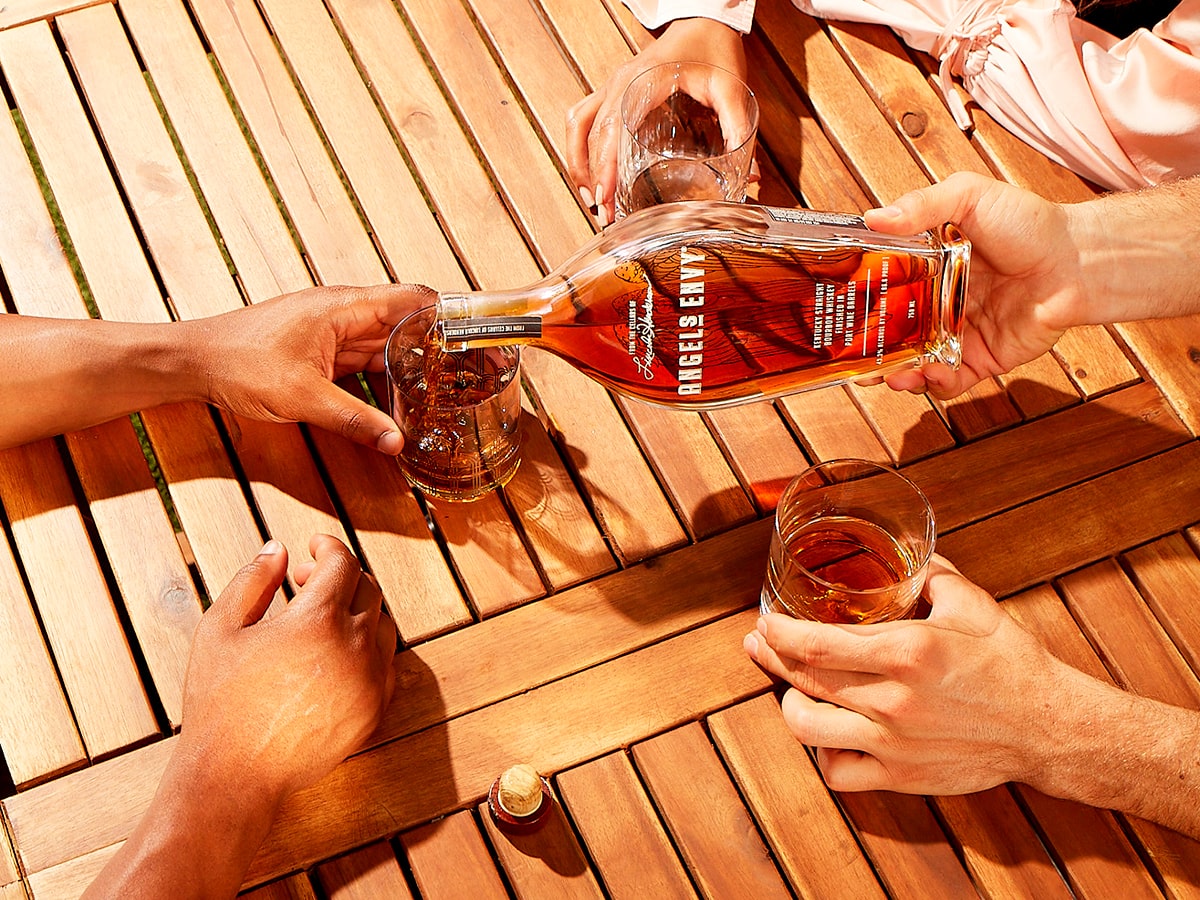 The unique process used at Angel's Envy begins with a Kentucky Straight bourbon, which is aged four to six years in brand new white oak barrels. Then comes the secondary finish of six months, which is spent in French Oak Port casks imported from Portugal's Douro region. This method and usage of French Oak Port casks lends the whiskey a subtle fruity sweetness and complex layer of flavour.
Angel's Envy is one of very few bourbons that is finished in an oak cask that is not American Oak. The use of port casks is a unique double-maturation process that offers a distinct and superior taste. The Henderson family had a vision to become the first bourbon distillery using the technique of second-barrel finishing, which is used in producing scotch whiskey. Angel's Envy was among the first American whiskey producers to produce a whiskey using a secondary finishing process and continues to be a leader in this space today.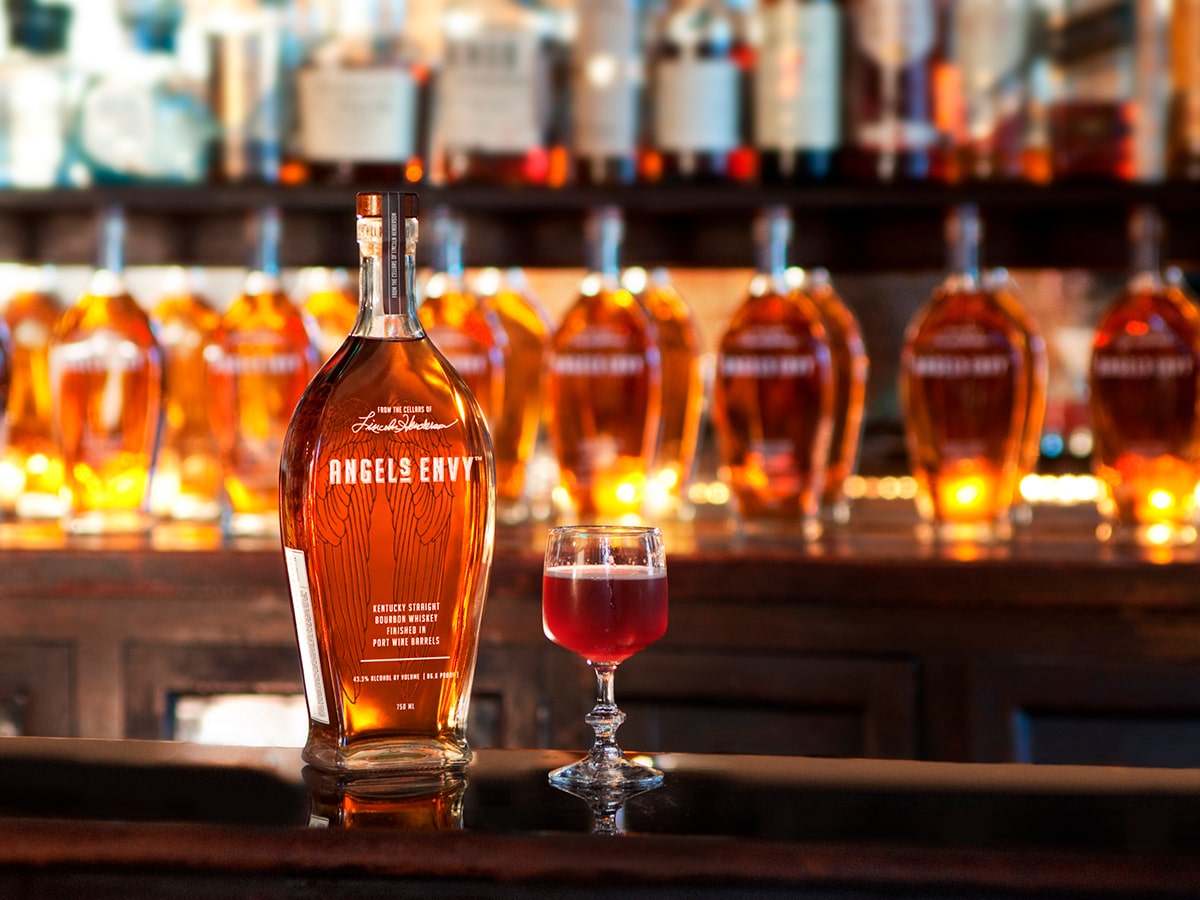 Angel's Envy has been recognized for the distinct flavour profile of its Kentucky Straight Bourbon, which recently won Gold at the San Francisco World Spirits Competition. It was also awarded a 98-point ranking from Wine Enthusiast, a 93-point ranking from Whiskey Advocate and a five-star rating and highest recommendation from F. Paul Pacult's Spirit Journal. As shown by its many accolades, the brand has pushed the boundaries in this space.
The complexity of the premium spirit allows for a versatile serve. Angel's Envy can be sipped neat or on the rocks but is rich and flavourful enough to mix into your favourite cocktail for an upgrade on the classics. Angel's Envy is an essential this time of year, perfectly enjoyed by a warm fire or served to family and friends at a holiday party. Make holiday cocktails, such as the classic Manhattan, Old Fashioned, Holiday Eggnog or unique drinks, such as the Hot-Buttered Rum or Nutcracker cocktails, with this special spirit. Visit the Angel's Envy website for recipes and pairings that will impress this holiday season.
Elevate your gift-giving this year, after all, it's the holidays so why not make them memorable? With a name like Angel's Envy, it's perfect for the festive season … not to mention the stunning bottle, which takes inspiration from historical American whiskeys and offers an elegant yet modern design that sits beautifully on any bar cart.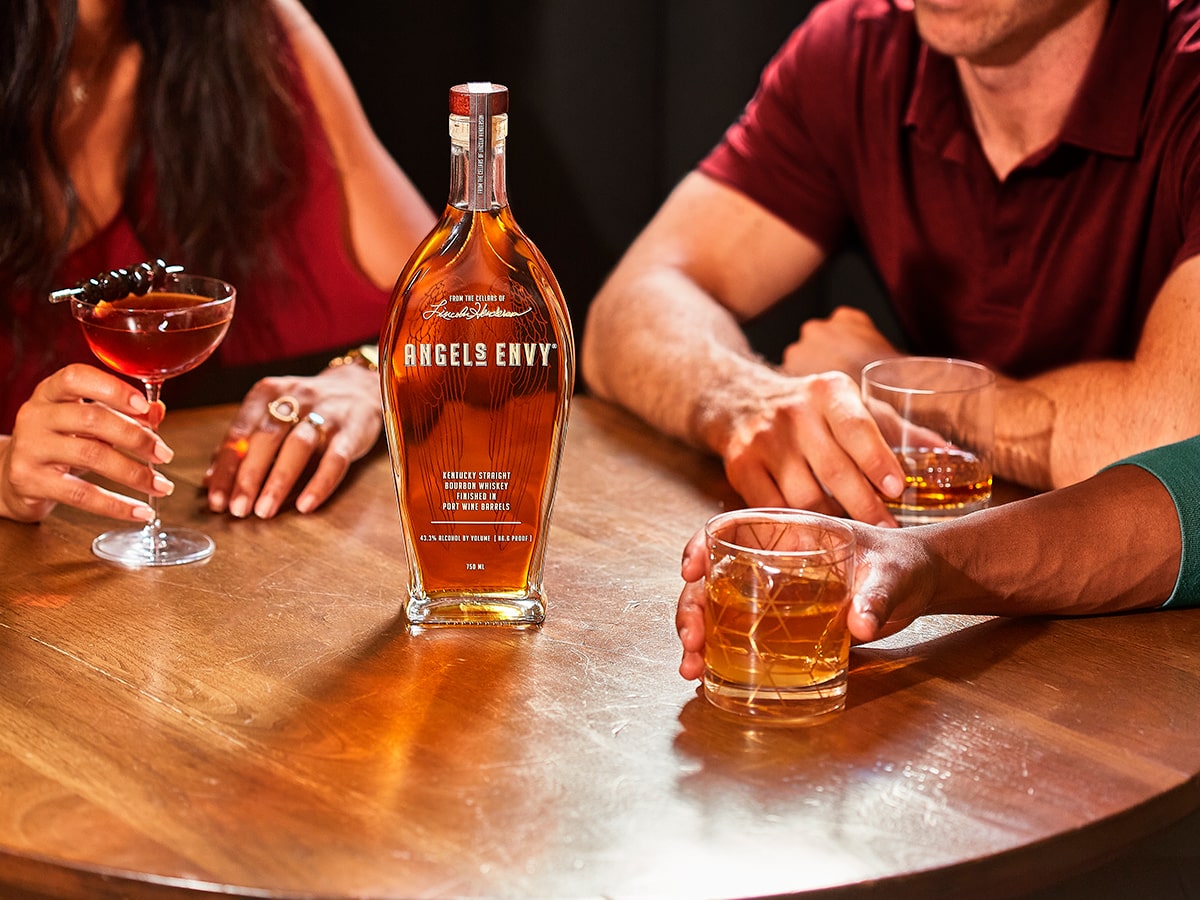 This year, make the holidays extra special by choosing Angel's Envy for festive hosting and luxury spirit gifting. Start a new tradition by including Angel's Envy in your holidays this year and for years to come.
Angel's Envy Kentucky Straight Bourbon can be purchased at retailers across Canada for $79.95 (price may vary per province). Angel's Envy Kentucky Straight Bourbon Whiskey Finished in Port Wine Barrels is 86.6 proof (43.3% ABV). It offers smelling notes of vanilla, raisins, maple syrup and toasted nuts. Its taste offers notes of vanilla, ripe fruits, maple syrup, toast and bitter chocolate before it finishes off with a clean yet lingering sweetness and a hint of Madeira that slowly fades.