Neighbour to the Queen – No. 1 Palace Street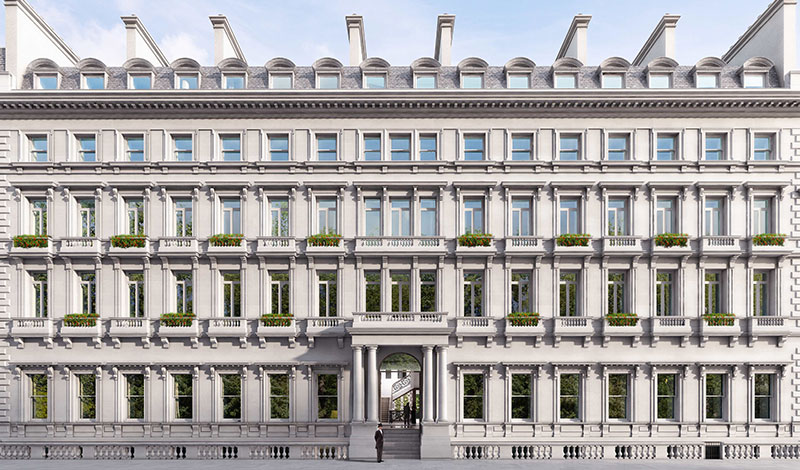 Luxury designer's new project No. 1 Palace Street will offer the finest in luxury suites and lifestyle, while giving you a chance to be a neighbour to the Queen herself.
Opposite to Buckingham Palace stands a new structure. At an impressive 300,000 square feet, No. 1 Palace Street is located in the heart of St. James, one of London's most sought-after neighbourhoods. Created by London's leading luxury property developer, Northacre, No. 1 Palace Street offers the unique opportunity to be a neighbour to the Queen. No. 1 Palace Street is the only residential property in London that grants a view onto the Buckingham Palace gardens.
Residents will not only have beautiful, stylish homes, but will own a piece of history. Built in 1861, the Grade II listed wing of the building was a major landmark hotel of the Victorian period. The "Palace Hotel" hosted distinguished guests of Queen Victoria. The building's historic relationship to the palace is reinforced by the design that mirrors the footprint of Buckingham Palace.
Contrary to most contemporary developments, each apartment is custom designed with different layouts and interiors by Northacre's interior design division, N Studio. Northacre's design director Orlando Rodriquez and architectural firm Squire and Partners have carefully considered the interior architecture and design to complement the varying architectural styles of the building. In combining the best of old and new, the development represents an impressive blend of traditional and contemporary design. No. 1 Palace Street showcases five different iconic architectural styles that span 1860s Italianate Renaissance, 1880s French Renaissance, 1880s French beaux-arts, 1890s Queen Anne and contemporary.
Not only does No. 1 Palace Street offer a beautiful, historic home, but a luxurious lifestyle in tow. The property will house over 10,000 sq. ft. of lifestyle facilities including a 6,500-sq.-ft. "haven of well-being" for residents' personal use. The haven will include an expansive gym, personal training suites, treatment rooms and a 20-metre private pool flooded with natural light. In addition, a private garden square in the heart of No. 1 Palace Street offers a cinema room, a library and an accompanying entertainment suite. Regardless of whether residents occupy a one-bedroom apartment or the penthouse, all No. 1 denizens will enjoy personal catering services from the development's integral restaurant and use of the vast entertaining space.
The 72-apartment, state-of-the-art complex is sure to entice the most discerning of buyers when it is completed in 2019.
photos courtesy of northacre london