Yachtzoo: Harbouring Luxurious Getaways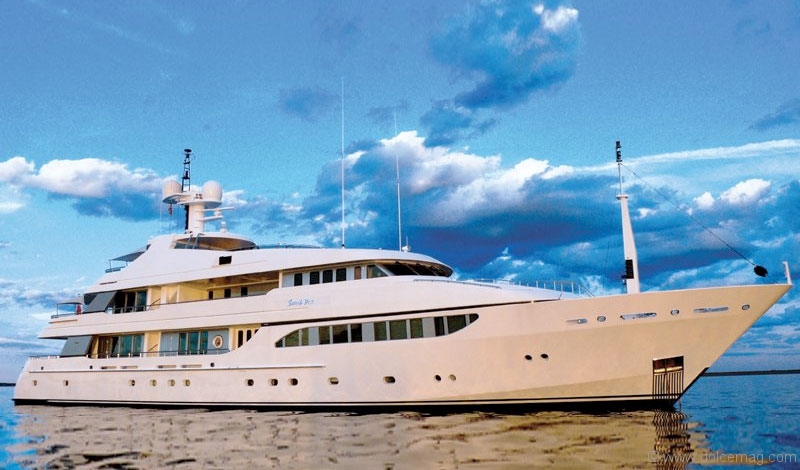 Imagine a six-star getaway with every pleasure meticulously bestowed with the utmost care as your palate is sensationalized with gourmet cuisine. Private assistants go to the greatest lengths for your comfort and entertainment. And nearby, a breathtaking, changing coastline captures your soul with blissful amazement. It's an experience known by the fortuned few who have sailed the seas on a Yachtzoo vessel.
The boutique yachting company, originally founded in Monaco, offers yacht brokerage, construction consulting, and chartering for a seafaring sweet life. It recently opened its doors in Fort Lauderdale to service and support prestigious clients in the Americas. "We will put them on their dream yacht and ensure that every one of their indulgences is catered to," says managing partner and yacht captain Neil Emmott. "We take the time to do a thorough interview, establish what their preferences are, and make sure that's perfectly matched by the vessel we put them on." Since its beginning, Yachtzoo has dazzled its clientele, – including businesspeople, celebrities, and royalty – by earning the company a cosecutive list of seagoing straight-As.
Even landlubbers would melt with tranquil ease aboard any of Yachtzoo's luxurious ships. "I would probably say the cherry on the cake is a boat called Sweet Pea," Emmott says. "It's got an exceptional pedigree from the shipyard that it comes from," he says about Feadship, a manufacturer that's become synonymous with prestige and quality in the boating world. The 165-foot-long yacht can accommodate 12 guests, 10 crew, and is outfitted with an outdoor hot tub, restaurant-style kitchen, and a series of lavishly decorated full-size cabins.
But what really sweetens the Yachtzoo experience is a treasure chest full of posh services, planned and executed with precision. Guests can savour whatever their minds can fathom, since the on-board executive chef will prepare any delicacy known to man. "You get it when you want it, exactly how you like it," Emmott says. "And if your preferences are spot-on, you get the exact bottle of wine at the specific temperature with whatever meal you choose." The company will also bring aboard bands, and famous entertainers organize festival excursions, locate seaside biking trails, and host themed evenings like a full-scale murder mystery. For an added touch, stopping off at an uninhabited island can be arranged. "We'll set up the beach for a picnic and a game of volleyball or a romantic candlelight dinner."
For adventurers seeking an extravagant marine escape, the sky is the limit. Yachtzoo takes its guests to the depths and beyond, scouting places like Costa Smeralda, the Galápagos Islands, and the Great Barrier Reef, adding to a sensationally unexplored experience. "There's something so magical about being on these boats," Emmott says. "Seeing people really realize their hopes for a vacation onboard a yacht is the sweetest part to me."
T: 954.767.1035
www.yacht-zoo.com