The Art of Cooking – Maia du Plessis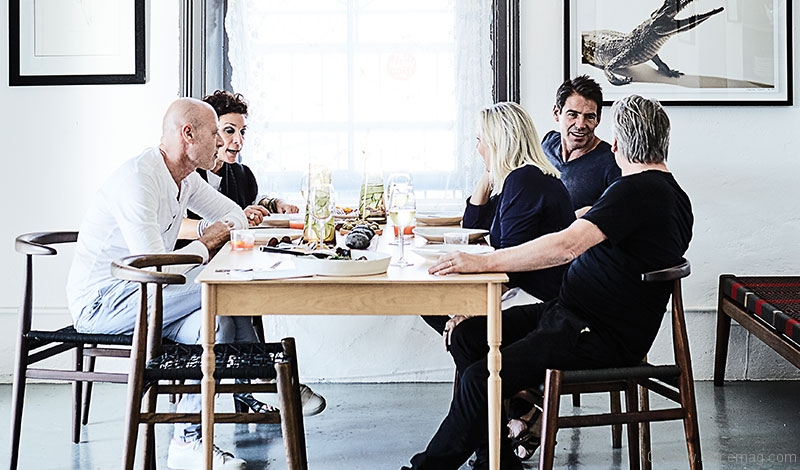 An artist's studio in Cape Town's creative hub of Woodstock is also home to Maia du Plessis's cooking studio, where she dreams up Mediterranean-inspired dishes in a space infused with local artworks.
'I don't call myself a chef because I don't have any formal training,' says Maia du Plessis, who offers supper club and winetasting experiences from her Woodstock space. 'It wasn't really a plan to go into catering, but I was raised by a Greek mother, so I have certainly grown up surrounded and inspired by food. We grew up eating dishes ladled with garlic and ate food my friends had never heard of, which was certainly unusual for 70s South Africa,' laughs Maia.
Maia's love of fashion found her 'falling' into fashion styling and then food styling, and she spent her early working years assisting food stylist Marine Williams. 'I was exposed to many styles of food, but I also learnt tricks like how to build a rig to get a shot of milk pouring into cereal and how to use mashed potato instead of ice cream because it doesn't melt,' she recalls. After a move to New York in the Nineties, Maia found herself living with expats from South Africa who all had an interest in food, and weekends were spent cooking and discovering new tastes.
Having emerged from the chaotic early years of raising twins, Maia's love of food led her into menu development and consulting. But when her husband Otto du Plessis, a sculptor and foundry man, bought the downtown studio in 2014, Maia's dream of creating a space for people to experience food was born.
The studio, which is now home to her catering company Provisions, it turns out, is a true family affair. Otto's studio flanks her kitchen and is a hive of creativity. Her brother-in-law, artist Jop Kunneke, works from another space, as do artists Charles Haupt, Stanislaw Trzebinski and a moveable feast of others.
'They know not to steal anything from my fridge, but they're constantly swiping my mixing jars and tools,' she laughs. Her children Bay and Riley (10) are frequent visitors after school, where they potter around with their father next door.
A petite, esoteric beauty, it's clear that Maia's kitchen is the heart of this surprising collection of artists and people, and while she nourishes them (she does admit to cooking them lunch regularly), they feed her love of art with exposure to their creations, which are hung on the walls of her kitchen and dining area.
'I've always loved the idea of creating a space where people can enjoy food and experience art in a space that is not a gallery,' says Maia. 'I host people for lunches, dinners, brainstorming sessions, or whatever they need, and I want them to know that each time they return they will see something new, so the art is always changing and the space is always evolving.'
Of the décor, Maia says the space differs from her personal style 'which tends to be more cluttered'. The furniture is also sourced from local designers, such as Gregor Jenkin, renowned for his contemporary pieces that give a nod to South Africa's European and Boer heritages. The aura is clean and comfortable, with a palette of cool greys and toned down white shades, with touches such as a lace throw on the window adding Maia's undeniable feminine edge.
While Maia insists she is not a foodie( and hates the word), her pantry implies otherwise. Her shelves are packed with bottles of olives (store bought!) that Maia infuses with rosemary, garlic and other spices, and homemade preserved lemons to make her own. The free-range eggs she uses are sourced from Hartenberg wine estate where she curates their menu and trains their restaurant kitchen staff, and her olive oils and many other ingredients are speckled with names of Greek producers she hunts out in South African supermarkets. 'They just taste better,' she says.
Maia says she loves creating menus for her restaurant clients, and her work with local wine estates has ignited a new passion for wine and food pairing. But for her Provisions clients, she prefers an open brief. 'I might have an idea for a menu and then change my mind on a whim. It evolves in my head and I'll wake up in the morning just knowing what I want to create,' she says. It's these ever-changing food experiences, and stimulating environment that continues to draw people to her table.
---
Spinach Ricotta Malfatti
Serves 6-8
500g baby spinach leaves, washed and dried
250g ricotta cheese
40g cake flour
1 large egg, beaten
125g Parmesan cheese, (or grana Padano or other hard cheese), grated, plus extra for serving
Salt and pepper
200g semolina flour
100g butter, to serve
Fresh sage, to serve (about 20 leaves)
Half a lemon
Cook the spinach in a large, deep pan over a medium heat for 2-3 minutes until wilted. Drain and squeeze out all the water. Set aside to cool.
In a large bowl, mix together the ricotta cheese and flour.
Stir in the spinach, egg, grated cheese, and seasoning. Stir well until mixed.
On a surface floured with half the semolina, roll the malfatti mix into about 25 balls the size of a teaspoon.
Bring a pan of water to the boil, add the malfatti and simmer for 2-3 minutes – they will float to the surface when cooked. Drain and keep warm in the pan.
Meanwhile, in a small frying pan, melt the butter and gently cook the sage leaves until crispy and the butter is brown, and squeeze in lemon juice.
Place the malfatti onto plates, pour the sauce over them, and sprinkle with the extra Parmesan cheese.
Styling by Sven Alberding
photographs by warren heath