Dr. Peter Adamson: Global Humanitarian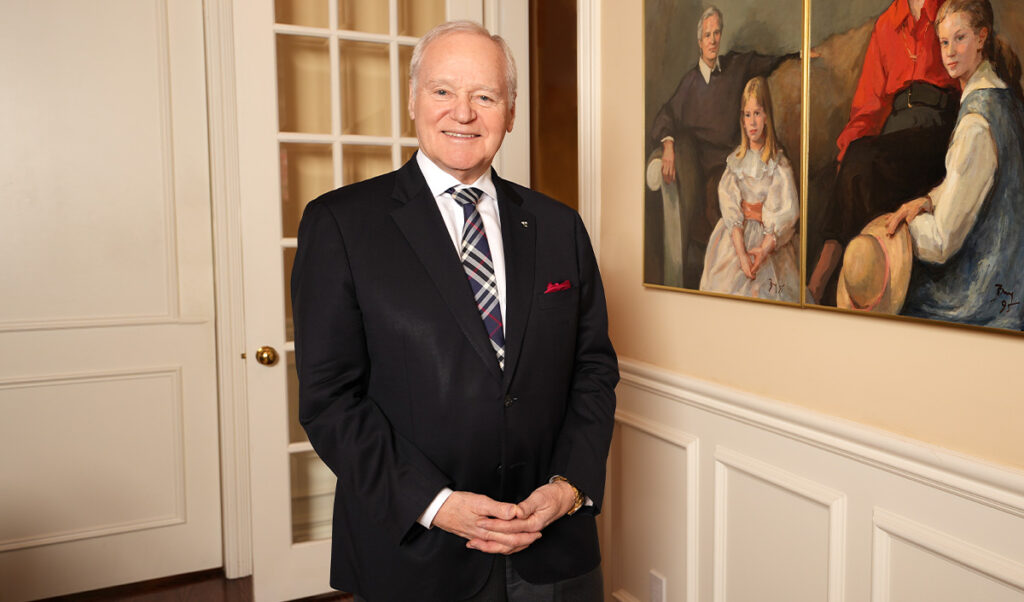 Renowned surgeon Dr. Peter Adamson is making a worldwide difference with his Face the Future Foundation.
The true humanitarian is someone who uses their specialized skills and abilities to improve the lives of others, and in doing so, makes our world a better place. That defines the life work of Dr. Peter Adamson, one of the outstanding plastic surgeons surgeons in the world and founder and president of Face the Future Foundation in Canada, leading international missions to treat children and older patients with complex head and neck deformities and disease.
Since its founding in 1996, Face the Future has conducted 51 missions to countries including Rwanda, Nepal, Ethiopia and Ukraine, transforming the lives of disadvantaged children and young adults, conducting an average of 200 life-changing procedures every year, many of them on children with highly complex facial deformities, while training doctors in those countries to build local capacity for advanced facial reconstructive plastic surgery. It is a testament to Dr. Adamson's personal character and interest in medicine that has him now changing lives and changing futures.
"My years in family medicine helped me understand and appreciate people holistically, to not just focus on surgery but to understand the patient, because, at the end of the day, it's all about the care of the patient," says Dr. Adamson in a recent interview with Dolce. "And dealing with a person's face, head and neck is, in many ways, the most intimate type of surgery, because you're not only making objective changes, but it's psychological because everyone wants their inner spirit reflected in the face. That really attracted me, along with the creativity of facial surgery because every person is different."
In 1994, The Bonum Centre in Russia reached out to North American specialists to exchange medical knowledge that would address a growing number of children with complex congenital deformities, cancerous tumours and injuries. Then an Associate Professor of Medicine at the University of Toronto and already an internationally recognized head and neck surgeon, Dr. Adamson was one of those who volunteered to help. He was deeply moved by the conditions the medical teams faced and saw how the children received the best surgical care possible. He also saw first-hand the hope that medical care brought to their lives.
"Many of the patients we see only come to us because they need something, and that is usually facial reconstructive surgery," says Dr. Adamson. "I understand the importance of one's appearance, as it's not vanity; it's a part of your soul and your spirit. It's who you are for the world to see, and we all want to be comfortable with that. In many countries in the world, still, people with facial deformities are often ostracized. Some of the children aren't allowed to go to school, or if a child has a facial deformity, there must be something evil, or bad about the parents that this happened to their child. So, these procedures are critically important — they don't just help the patient, but they can very much also help the family. The courage and resilience of these people is incredible."
Dr. Adamson founded the Face the Future Foundation in 1996 with a very generous donation from an anonymous donor and made it his life's calling to lead teams of world-renowned medical volunteers from Canada, the United States and Europe on humanitarian medical missions to developing countries, and he is currently exploring new missions in Ghana and Mozambique. His foundation and the medical professionals who volunteer all reflect Dr. Adamson's core values of building good relationships that are mutually beneficial and uncovering what he feels are "unique abilities."
"I UNDERSTAND THE IMPORTANCE OF ONE'S APPEARANCE AS IT'S NOT VANITY; IT'S A PART OF YOUR SOUL AND YOUR SPIRIT."
"Everyone has a unique ability, and one of the goals in life is to determine what your unique ability is — what you are passionate about and what you have some excellence at," he observes. "If you can find and determine your unique ability, then you're really going to be able to realize your life goals and expectations, and I've always tried, in all aspects of my life, to help people identify their unique ability, because then you build great teams with good relationships."
Face the Future's medical volunteers are renowned experts in each of their medical specialties and come from some of the leading universities and medical institutions in Canada, the United States and Europe. The volunteers, who include facial plastic, plastic, oculoplastic, maxillofacial and pediatric surgeons, anaesthesiologists and nurses, donate their time and often pay their own expenses or donate equipment and supplies.
Perhaps most important is how Face the Future leaves a lasting impact in the cities and countries where they work. The medical teams provide hands-on teaching to surgeons, nurses and anesthesiologists. They help to build capacity, knowledge and skills in the local hospitals and have been able to improve sustainability and dramatically improve the quality of local health services.
This, of course, all costs money, and donations are used for airfare for the volunteer medical teams, shipping of medical equipment, food for young patients and ancillary costs such as interpreters, licences and visas.
Dr. Adamson has measured growth goals for Face the Future and knows those goals can be achieved due in part to what he is observing among the younger health-care professionals who are taking on such rewarding work. "As I move into my senior years, it's really wonderful to me to work with so many people who are younger in our foundation. They inspire me with their enthusiasm, and so many have humanitarian feelings and characteristics," he says. "It makes me feel really good because I know the world will be in a better place because of them. It's incredible how talented some of these young people are."
All of us at some point have envisioned how we can make this a better world. Do we have the skills, abilities and wherewithal to really effect change? Dr. Adamson asked himself that same question and his answer was yes. He saw a need and he answered the opportunity to make an impact to change lives for the better … to change futures and to provide hope — one child at a time.
A humble yet distinguished Canadian, Dr. Peter Adamson is leading this team of global humanitarians volunteering their surgical expertise, treatment and care to patients worldwide to ensure their light, faces and smiles will always shine bright. Bright lights that, in their small way, make our world a better place.
www.facethefuturefoundation.ca
INTERVIEW BY MARC CASTALDO