Design & Culture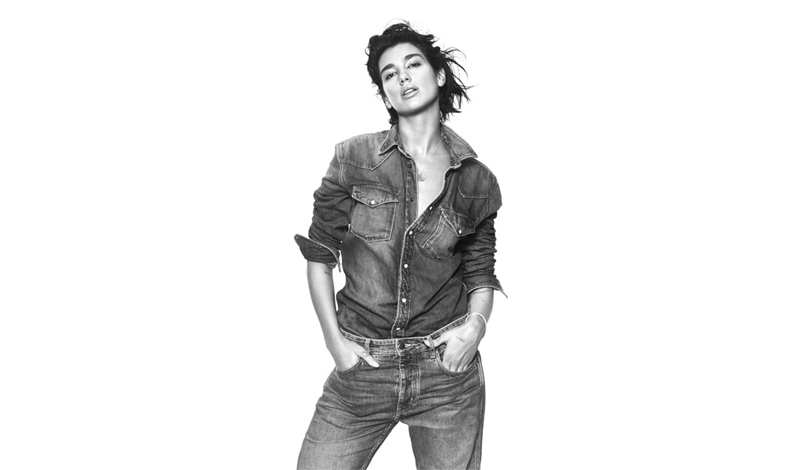 From a golden sauna in an Arctic climate to the newest style ambassador for Pepe Jeans, these are the faces and places to see for award-winning sustainability; a bold statement for the world's marine life; elegant, chic fashion; and pretty flowers.
Pepe Jeans — Dua Lipa
Dua Lipa is the new brand ambassador for Pepe Jeans London. The 23-year-old musical artist and style icon will be seen in the spring/summer 2019 campaign for one of the first British brands to bring a distinctive style to denim. A take on strength, natural beauty and timeless denims, the collection featuring Lipa is a celebration of the heritage of Pepe Jeans.
---
A'Design Award — The Solar Egg
Winner of an A'Design Award, the Solar Egg is a public sauna in Kiruna, Sweden, that is constructed with stainless golden mirror sheeting. The egg's interior is made of wood, with the wall panels and floor decking made out of pine. The bench is made of aspen. In the centre of the egg stands the wood-heated, heart-shaped sauna stove made of iron and stone.
---
Sohotel
Sohotel is the oldest operating hotel in New York City. Dating back to 1805, the hotel's architecture has preserved its rich history while incorporating modern touches. A neighbourhood in its own right, Sohotel is nestled in the Bowery, where you can snap a photo in front of CBGB, splurge on designer shoes and grab a bite at one of the amazing eateries.
---
Spencer Hart
Nick Hart began his career working in a tailor shop at the age of 14. His design esthetic was cultivated from his admiration for the pared-down minimalism of bebop musicians. Representing his less-is- more approach, his clothes are international, refined and timeless. Hart makes his style personal and effortless with a custom-made clothing service via his "science of style" process.
---
Royal Alberta Museum
The Royal Alberta Museum (RAM), the largest museum in Western Canada, takes a modern approach to attracting museum-goers by artfully weaving a narrative between nature and architecture, sustainably creating a space for lovers of history and culture to learn about Alberta for generations to come. RAM is a place to explore and connect — to Alberta, to ideas and to people.
---
A'Design Award − PIXIO Magnetic Construction Set
Created by Ivan Khalus and Oleh Berezovskyi, the PIXIO Magnetic Construction Set is pixel versatility in real life. Winner of an A'Design Award, the toy consists of eight-millimetre cubes with magnets in 16 beautiful colours. PIXIO's creators mimicked the old-school style of second- and third-generation consoles, and every user can become a pixel artist using PIXIO blocks.
---
Putnam & Putnam
Michael and Darroch Putnam founded their floristry studio in 2014 and have quickly become New York City's go-to florists for fashion shows, weddings, installations, parties and editorial shoots. Their work has been featured in Vogue, Harper's Bazaar, Martha Stewart Living and Elle Decor. They have collaborated with many clients, including Dior, Cartier, The Wall Street Journal and Bergdorf Goodman.
---
Linda Bergroth and Zero Waste Bistro
Linda Bergroth, a Paris-based designer for Zero Waste Bistro and winner of a Sustainability Award at the 2019 Frame Awards, believes that every design project should be about sustainability. Bergroth's projects range from industrial design to interior architecture. The bistro space was crafted entirely of recycled and recyclable materials, using sustainable design pieces — classic Finnish furniture and tableware that will last from generation to generation.
---
Black Star Car Wash
Black Star Car Wash, an underground area below the city of Moscow, Russia, overcame its architectural challenges through transformation and refraction of simple geometry of space, creating a memorable setting that visually expands the enclosed location. Designers wanted to show how usual forms of space can transform using flat geometry and colour, influencing perception.
---
The 13
The 13 is a luxury, 200-room, all- villa hotel in Macau, featuring villas that range from 2,000 square feet to 30,000 square feet. Guests access their accommodation via elevators opening directly into a private elevator lobby, like a New York penthouse. Every villa is supported by a 24-hour butler service, and The 13's fleet of 30 Rolls-Royce Phantoms represents the single largest order in Rolls-Royce history.
---
Dan Lenard Sailing Voyage
Dan Lenard, co-founder of renowned yacht design firm Nuvolari Lenard, embarked on a solo transatlantic crossing in January 2019, from Cadiz, Spain, to promote the beauty of pure sailing and as a call for action for marine preservation. After 42 days at sea, Lenard completed his voyage in Ft. Lauderdale, Fla. The second part of the Vela-Code begins with involving the yachting industry in ocean conservancy.
---
A'Design Award — Knitted
Winner of an A'Design Award, Knitted is a series of lightings that combines technology with tradition. Knitting acrylic threads in fixed patterns with wool crochet creates a three-dimensional sheet of fabric that serves as a lighting fixture. The project is a collaboration between designers Ariel Zuckerman and Oded Sapir, with the aid of textile designer Adva Bruner.