Objects of Desire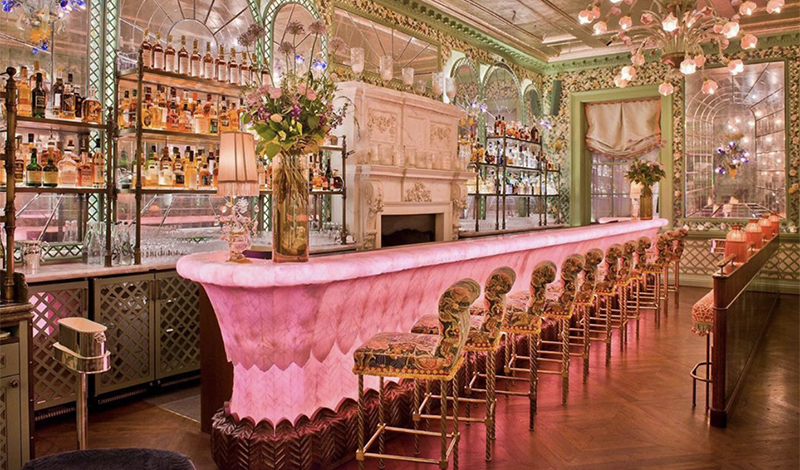 From furniture to fashion, across London and Toronto, explore the conversation pieces you need this season.
1. PINK ONYX BACKLIT BAR: Situated in the etherial escape of private members, club Annabel's in London, this pink onyx, backlit bar lives in the Rose Room, surrounded by bespoke tulip and iris chandeliers.
---
2. ELISABETTA FRANCHI FW19: With designs worn by the likes of Angelina Jolie, Emily Blunt and Kate Hudson, Bologna-born designer Elisabetta Franchi's striking pieces work to a "Made In Italy" mantra.
---
3. ENLIGHTENMENT: Through a process of Japanese joinery and origami, Toronto based emerging visual artist Andrew Ooi creates sculptural paper pieces focused on the power of pattern.
---
4. ELLIPTICAL KINETIC PAINTING: Francis Celentano's painting, brought to life in 1967, is an abstract, acrylic that celebrates the op art, or optical art movement, coined in the 1960s.
---
5. RADIANT CUT DIAMOND RING: Designed by Mark Lash, this ring pays testament to diamonds, with, a cut diamond set upon a diamond surround and band.
---
6. PAPILLON CABINET: French cabinetmaker Jean-Luc Le Mounier builds butterflies into this cabinet, which opens with black straw marquetry wings set upon expertly hinged doors to shelves and hidden compartments.
---
7. WRAPPED HEART BROOCH: As one of Verdura's most recognized designs, the Wrapped Heart Brooch dates back to 1941, when American actor Tyrone Power commissioned a cabochon ruby heart tied in gold for his wife at Christmas.
---
8. GARAGE LIVING: Blue can conjure up a sense of calm and relaxation. It can stir our spirit, creating renewed energy. Inspired by a weekend getaway surrounded by water, docks and spectacular skies, the Garage Living Harbor Blue Designer Series unites a curated palette of ultra-premium décor finishes to evoke the ultimate feeling of freedom and tranquility. Garage Living creates luxury garage interiors with style, custom details, and function in mind.
---
9. TRUE THINLINE LES COULEURS LE CORBUSIER: Swiss watch brand Rado's latest collection pays tribute to renowned architect Le Corbusier with hightech ceramic watches created in the architect's nine Architectural Polychromy colours.
---
10. NACHTMANN ASPEN DECANTER SET: This stylish cut crystal set, with vertical cuts around the perimeter of the glass, comes complete with a decanter and six glasses.
---
11. UPCYCLED VINTAGE GOLD SKULL TEACUP: Melody Rose London's upcycled skull teacup, made in very limited numbers or as one off pieces, takes an original vintage ceramic and incorporates the macabre image with a kiln fi red at more than 800 degrees.
---
12. LAVISH DESIGN: Based in Toronto, Lavish Design's team of design, architecture, project-management and engineering experts creates bespoke spaces centred on sustainability.
---
13. MASON DINING CHAIR: Made with velvet fabric, walnut wood and polished brass, the Mason Dining Chair from Mezzo Collection adds a contemporary touch to any dining room.