Remembering Nelson Mandela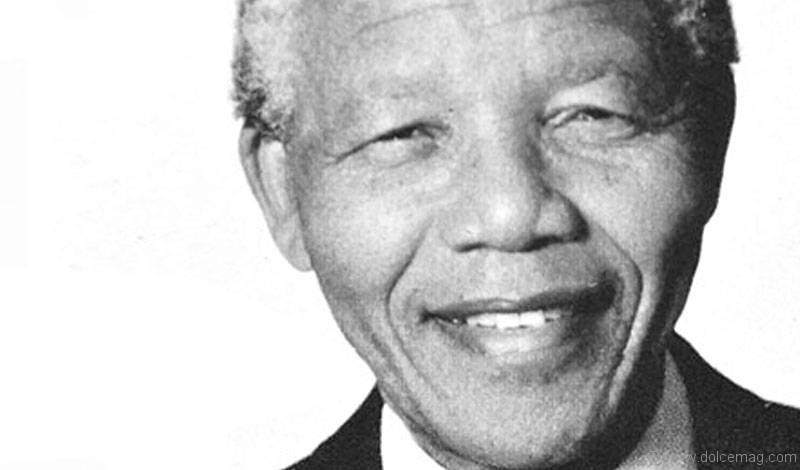 "What counts in life is not the mere fact that we have lived. It is what difference we have made to the lives of others that will determine the significance of the life we lead"
–— Nelson Mandela in Nelson Mandela By Himself: The Authorised Book of Quotations
Anti-apartheid leader, first black president of South Africa and overall history mover and maker, Nelson Mandela has died at the age of 95. He is survived by his children Pumla Makaziew, Zenani and Zindziswa Mandela, his 17 grandchildren and 14 great-grandchildren, and his wife Graça Machel, who stood by Mandela's bedside throughout his illness and final days. A symbol for peace and respected the world over, Mandela's admirable efforts continued long after his presidency, having devoted much of his time to charitable contributions with a focus on combating poverty and HIV/AIDS through his work with the Nelson Mandela Foundation. He also maintained a strong international presence as an advocate for peace, reconciliation and social justice. Each year on his birthday, also known as Nelson Mandela International Day, the world celebrates by dedicating the day to promoting community service. What he's been able to accomplish in his long life, others cannot achieve in even half that time. Mandela said it best when he reflected on the definition of life after death in his book From Nelson Mandela By Himself: The Authorised Book of Quotations: "When a man has done what he considers to be his duty to his people and his country, he can rest in peace. I believe I have made that effort and that is, therefore, why I will sleep for the eternity."
Born on July 18, 1918, in the village of Mvezo, South Africa, Nelson Rolihlahla Mandela attended South African Native College (University of Fort Hare) where he studied law and later passed the qualification exam to become a lawyer. Little did he or anyone else know that he would go on to transform a divided South Africa and significantly change the country's history. In 1944, he joined the African National Congress (ANC), a black liberation group, and took on various leadership positions. His work at ANC ultimately helped oppose the apartheid policies of the National Party of South Africa, the ruling party that governed relations between South Africa's white minority and non-white majority from 1948 to 1994. The National Party was known for imposing apartheid, a system of racial segregation enforced through legislation by the party's governments that led to political and economic discrimination. In 1950, apartheid's laws forced blacks and people of mixed race to live and work in restricted areas and banned them from owning land outside of those areas. Their education was minimal, and they were allowed to learn only enough to perform basic labour in white-run industries. They were prohibited from socializing with whites, did not have a voice in government and could not travel outside designated areas without government approval. Blacks, who made up 70 per cent of the population, were essentially prisoners in their own country, facing arrest for even inviting whites into their homes without consent.
In 1952, Mandela and fellow ANC leader Oliver Tambo established South Africa's first black law practice, which specialized in cases that resulted from post-1948 apartheid legislation. In addition to the practice, Mandela helped to launch a campaign against South Africa's pass laws, which required non-whites to carry documents known as "pass books" authorizing their presence in areas that the government classified as restricted. Mandela's campaign helped to create non-violent measures of protest against the discriminatory laws. In 1955 Mandela would take another stance in creating equal rights by drafting the Freedom Charter, a document calling for non-racial social democracy in South Africa. "Father of a nation; father of peace and reconciliation; one of the greatest father figures in the world today" is how Craig Kielburger, co-founder of the international charity Free the Children, describes Mandela, whom he had the opportunity to meet once in an experience he calls "humbling."
Unfortunately, his role as an anti-apartheid activist made Mandela a target. During a time of political and racial unrest in South Africa, secret police spied on black activists leading to arrests, beatings and even murders. In 1956, Mandela was charged with high treason but charges were dropped. In 1962, he was arrested and convicted of sabotage and sentenced to five years in prison. Two years later he was charged again and sentenced to life imprisonment in what is known as the infamous Rivonia Trial. He would spend the next 27 years in prison. His sentence was, for the most part, an unlawful act of the ruling party intended to persecute and harass anti-apartheid activists. Mandela was released from prison in 1990 after the international movement known as the "Free Nelson Mandela" campaign lobbied 10 years for his freedom.
Following his release from prison, Mandela demonstrated his power as a leader and an activist even further, taking a divided South Africa from apartheid to an all-race democracy. He became the deputy president of ANC and, in 1991, became president of the party. His negotiations with President F.W. de Klerk between 1990 and 1993 to eradicate apartheid earned him the Nobel Peace Prize in 1993 and led to the multi-racial elections of 1994, which was won by the African National Congress. In 1994, Mandela was elected as the first black president of South Africa, serving from 1994 to 1999, during which time he formed a Government of National Unity. Mandela also established a new constitution and commenced the Truth and Reconciliation Commission that investigated past human rights abuses and introduced policies to encourage land reform, fight poverty and improve health care.
There are several universal life lessons we can take from Mandela through the work he's accomplished and the messages he has conveyed. Perhaps the most pivotal lesson is how to pardon others and move forward for the betterment of humankind. "It's incredible to see what has been achieved because of Nelson Mandela. He taught his nation and the world that forgiveness and reconciliation are always possible. That there is no gulf so deep, no difference so broad, nor any feud so bitter, that it cannot be transcended if you have the will and the courage," says Craig Kielburger.
Being in the public eye inevitably means that one's personal life is also in the spotlight, and Mandela was no exception. He was married three times and had six children. He married his first wife, Evelyn Ntoko Mase, in 1944. Together they had four children: sons Madiba Thembekile and Makgatho Lewanika, and daughters Makaziwe Mandela and Pumla Makaziwe. The only surviving child from this marriage is Pumla, born in 1954. Makaziwe died as an infant at only nine months; Madiba Thembekile died in a car accident in 1969 at age 24; and Makgatho Lewanika died in 2005 from an AIDS-related illness. Mandela and Evelyn divorced in 1958; she died in April of 2004. On June 14, 1958, Mandela married his second wife, Winifred (Winnie) Nomzamo Zanyiwe Madikizela. Together they had two children, daughters Zenani Dlamini and Zindziswa Mandela. Winnie and Mandela divorced in 1996. On July 18, 1998, at 80 years old, he married his third wife, Graça Machel.
Sadly, Mandela's final days were accompanied by an ongoing family feud over the burial spot of his deceased children. In 2011, Mandela's grandson, Mandla Mandela, moved the bodies to his village of Mvezo, which is Mandela's birthplace. On July 4, 2013, the bodies of his three children were returned to their original resting place following a court order and action by 15 of Mandela's family members who insisted that Mandela's grandson move the bodies back to their initial burial site. The reburial took place in Qunu, where Mandela was raised.
As the world reflects on a man who made it his life mission to create and sustain peace, we should all stop and ask, How do we continue to honour such a legacy in the future? The best way is through our own individual actions says Craig Kielburger. "If you are audience to a divisive or racist comment whether on the street or on Facebook, find the courage to challenge it. Not with anger and insults of your own, but with reason and compassion." Learning from Mandela's numerous challenges and triumphs is perhaps the best example of how to overcome extreme prejudice and be a symbol of good in a world often plagued by bad.