Cipriani Residences Miami: Sky High Style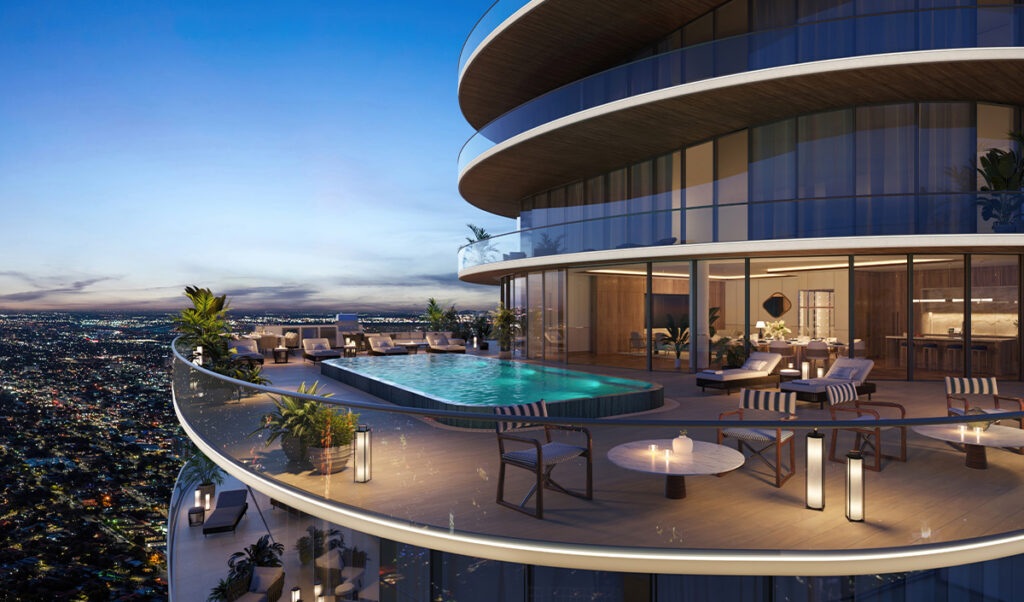 The Canaletto Collection of private residences atop Cipriani Residences Miami is the pinnacle of luxury, design and exclusivity.
Legend has it that as a then relatively unknown artist, Michelangelo received a commission from Pope Julius II to paint the frescoes at the Sistine Chapel when armed with only a pencil, he drew a perfect circle freehand for His Holiness. Both men appreciated perfection in design.
Both men would also no doubt be very pleased with the perfection in design offered by the Canaletto Collection, an exclusive assemblage of 68 ultra-luxury residences and six penthouses on the top 18 floors of the 80-storey Cipriani Residences Miami, rising above the city's Brickell neighbourhood and Biscayne Bay, and including Penthouse 1, the first of six penthouses, which has set a new price-per-square-foot record in the area, and has sold for a listing price of US$3,333 (C$4,500) per square foot.
Cipriani Residences Miami represents the Cipriani brand's first-ever ground-up development in the United States. For this project it is partnering with Mast Capital, a real estate investment company that has integrated development and asset management teams; its custom finish and furniture packages are by 1508 London, an internationally renowned design firm that takes its name from the year Michelangelo drew that famous circle for Pope Julius II. "We are thrilled to introduce the Canaletto Collection, an exclusive number of homes atop the building offering ultimate privacy, inspiring views and custom 1508-designed furniture packages to create a living experience like no other," says Camilo Miguel Jr., CEO and Founder of Mast Capital. "The luxury of living in a building of this calibre, in conjunction with the exclusive finishes, concierge and other services offered make this one-of-a-kind collection the most aspirational residences in the Brickell area."
The penthouses within the Canaletto Collection will epitomize the highest calibre of design associated with the famous Italian Cipriani brand, with Penthouse 1 among the first to be released, priced at US$16.2 million (C$22 million). This penthouse features 454 square metres of interior living space in addition to 403 square metres of outdoor terrace. The home features four bedrooms, five and a half bathrooms and includes a summer kitchen and infinity-edge swimming pool. Pricing for the penthouses starts at US$9.5 million (C$12.9 million) and the combined indoor-outdoor square footage of the penthouses begins at 4,771 square feet (443 square metres).
The Canaletto Collection will be the crown jewel of Cipriani Residences Miami, offering a boutique experience to residents that includes priority access to the tower's private speakeasy on the 37th floor, inspired by the original Harry's Bar in Venice, and all dining spaces. The collection will also feature direct elevator entry, and with only a limited number of residences per floor, the collection will no doubt appeal to discreet residents who prioritize privacy.
The two-to-five-bedroom residences of the Canaletto Collection boast thoughtful, streamlined design customizations, from whole-home automation systems to book-matched marble in the primary bathrooms. The upgraded finishes throughout uphold the prestigious esthetic of the Cipriani brand.
Giuseppe Cipriani certainly had no grand vision of creating a global luxury brand when he opened his modest Harry's Bar in Venice on May 13, 1931. At just 50 square metres on the first floor of an abandoned rope warehouse at a dead end off Piazza San Marco, it appeared to most to be a typically cozy Venetian restaurant. But with his hard work and attention to detail, its relaxed atmosphere, great food and warm service, Cipriani made it one of the most famous restaurants in the world, attracting royalty, Hollywood legends and artists. Now an official Italian national landmark, it is often copied, but never duplicated.
Today, Cipriani has developed into an international hospitality brand, with restaurants, landmark event spaces, luxury hotels, private membership clubs and stunning residences in Europe, the Middle East, Asia and North America.
The Canaletto Collection of distinctive private residences atop the Cipriani Residences Miami continues that time-honoured Italian tradition of luxury design, service and exclusivity.