Manal Boutros Tours the Luxurious Aquabella Condos at Bayside Toronto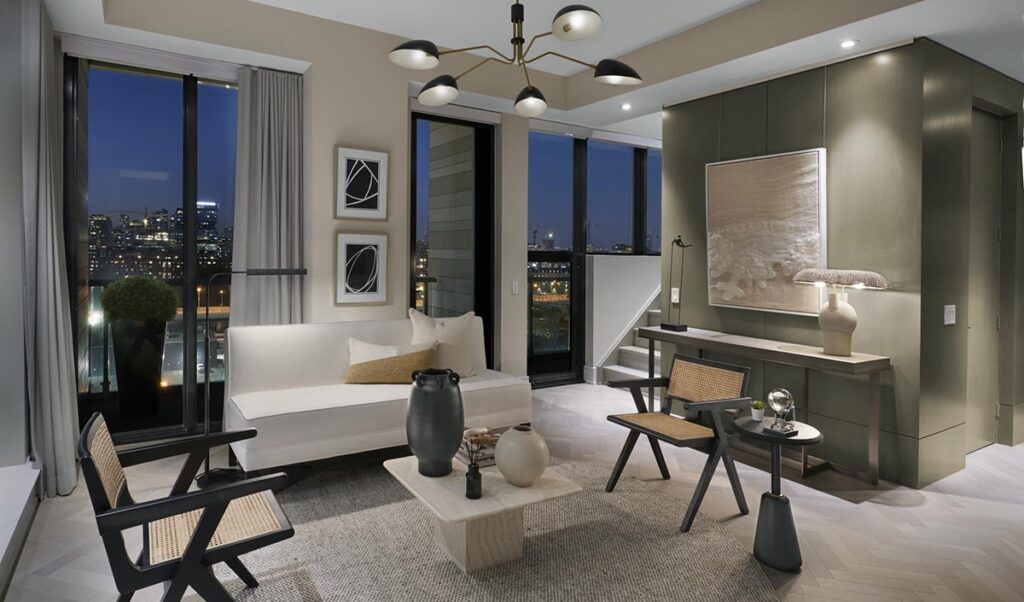 Manal Boutros has dedicated the past 20 years to working in the real estate industry. In that time, she has had an award-winning career that includes earning a coveted spot among the Top 100 Elite Women in Real Estate in 2016, being a member of the No. 1 Team in Sales Achievement in 2017 and receiving the Award of Excellence at Royal LePage.
A pre-construction specialist, Manal is currently a real estate sales representative with RE/MAX Aboutowne Realty Corp., in Oakville, Ont.
Manal was introduced to the real estate industry when she was encouraged to pursue it by her peers. Still navigating the city as a newcomer at the time, Manal admits she did not know what real estate was. Nevertheless, she gave it a chance and has not looked back since.
"I love it. I love every second of it," she says. "What I love about this career is that it connects you with people … It's not only about finding them a home or selling a house or finding property. It's not about that. You become a part of their family and have a feeling of responsibility to someone who wants to find a home or needs to find a house or even rent a place. Even if it's a basement apartment, whatever it is, someone needs to find shelter. This is what really keeps me going in this amazing industry."
Manal is currently teamed up with Tridel, arguably the most prominent condominium developers in Toronto. Her goal is to make the Aquabella at Bayside Toronto home to those who desire astonishing architecture, downtown living, unobstructed scenic views of open skies and waters, and a variety of nearby establishments where shopping, dining and drinking is the plan.
Toronto has continued to flourish and has gained a reputation for being one of the most bustling, lavish, and multicultural cities in the world. Millions of people have grown fond of the downtown lifestyle.
The Aquabella at Bayside Toronto is located at Queens Quay West in the East Bayfront neighbourhood. The Aquabella is truly one of the most breath-taking condos developed from top to bottom, inside and out. It is Tridel's most recent completed community at Bayside. With 174 units spread out over 12 floors, its unique design follows the contours of the lake, complemented with grand terraces and balconies.
Manal was invited by Tara Stone, sales manager and representative at Del Realty Inc. Brokerage, to tour the Penthouse 12 suite and was amazed at what she saw. The Penthouse 12 is a two-storey suite that has a private ensuite elevator, panelled interior walls, and beautiful expanded floor- to-ceiling windows that illuminate the space with plenty of natural light.
"I'm speechless. It's worth every penny," says Manal while taking in the view of Lake Ontario. "Luxury by the water. You can't go wrong."
The luxurious Penthouse 12 suite is currently listed at C$6,450,000. It contains a fully equipped kitchen and laundry room, three bedrooms, three bathrooms, three walk-in closets, six balconies surrounded by scenic views, and a grand terrace for those perfect spring and summer outdoor get-togethers.
Aside from its scenic downtown location, what makes the Aquabella truly special is its many amenities that can accommodate every desire and festivity. Hosting family and friends will be a stress-free occasion whether it is pool side under the cabanas or in the party room. For alone time you can choose to unwind in the yoga studio or squeeze a workout in at the fully equipped gym. Even after those long days when you just want to stay in and watch a movie, you are seconds away from a private movie theatre equipped with a big screen and a high-definition sound system.
The fact is, there are plenty of indoor and outdoor amenities to indulge in without leaving the building. But those who do will be attracted to the beautiful waterfront, clear skies, and assortment of lush parks. A day well spent in the neighbourhood surrounding the Aquabella condos can include grabbing a bite to eat at the St. Lawrence Market, soaking up the sun at Sugar Beach, and bike riding to the boardwalk at Harbour front.
Aquabella has everything All it needs is an owner to enjoy everything it has to offer. "Every inch of this space is meticulously designed," says Tara. "Prominent Toronto. Waterfront living."
manalboutros.com
Instagram: @manalboutros_
Twitter: @manalboutros