The Lang & O'Leary Exchange's Amanda Lang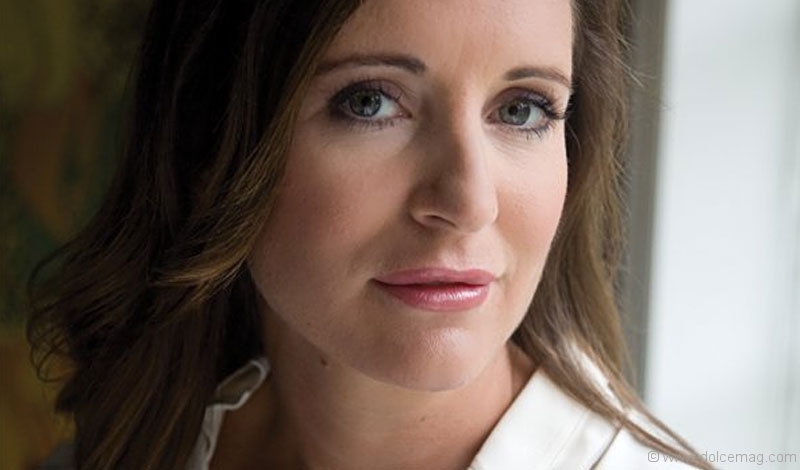 The persistent bark of Amanda Lang's dog makes the doorbell inaudible. A few seconds later, her chocolate Lab shows its true colour. "This is Bella," says Lang before introducing herself. Based on the clacking of her kitten heels, the crispness of her navy blue suit dress and the subtle curls that sweep her shoulders, one might assume the senior business correspondent is seconds away from going on-air, but the backdrop of her Forest Hill hallway provides clarity. Her day at CBC started early, and she'll be back there soon to discuss bottom lines and bailouts on The Lang & O'Leary Exchange, and anchor The National on behalf of Peter Mansbridge.
When the photographer arrives moments later, she has no qualms with his request to privately takeover her upstairs office to set-up, a space Lang jokingly refers to as her "cloffice" based on its acquisition of her wardrobe. The intimate interior of her home is a quiet reflection of what Lang represents: a thriving, unostentatious appeal. This is the Lang that viewers have come to love, especially when rebutting the capital driven claims of her on-air counterpart Kevin O'Leary, who she's had an on-again-off-again television romance with since the days of Business News Network's (BNN) SqueezePlay. Part of her job means playing a well-informed devil's advocate with the mutual fund magnate and Dragons' Den star, often introducing leftist ideologies to balance the tug-of-war. "It's interesting, [O'Leary] goes around saying I'm the prettiest communist working on TV. My family thinks I'm really right wing, so it just depends on where you sit in the spectrum," says Lang, whose father Otto was a respected Liberal force appointed to Pierre Trudeau's cabinet. Despite their volatile on-air exchanges, Lang defends her colleague. "The thing that is great about [O'Leary] is that he'll sometimes say the thing a lot of people would say but most of us don't even dare, and so there's something refreshing with that."
Lang, while highly ambitious, admits she's not a goal-oriented person. It may have a negative connotation, but lacking a life map has proved to be one of her biggest assets. "The only goal I ever had was to be an architect … So the one thing I had set out to do as a specific choice was actually, in the end, the wrong thing." Ever since that realization, Lang has lived a life driven by intuition. "I just trust the voice, whatever it is, and I don't think too much about it, I just go with it and it's worked super, super well for me," says the 41-year-old Gemini-award winner. It's that voice that took her to Toronto in the early '90s, to fill an administrative role at The Globe and Mail, a gig that ultimately launched her journalism career when it evolved to an assistant editor position. Lang still remembers the satisfaction she had from one of her first assignments at the paper, a feeling that continues to drive her today. It was a profile of personal heroism about an 18-year-old boy named Chris MacLeod who was doing remarkable things despite suffering from cystic fibrosis. "I've never forgotten the experience of interviewing him and telling his story," she says, adding that McLeod has since opened his own law firm fighting for Canadians jailed abroad. "Everyone has a story if you just take time to stop and listen to it."
Lang's journalism skills later led her to New York City, where she held the business beat for the Financial Post, Report on Business Television (now BNN) and CNN. She returned to Toronto in 2002 to work for BNN, where she spent many years further developing her profile as Canada's leading business journalist. With several successful years and many strong bonds made, the choice to leave for CBC two years ago wasn't as easy, but when Lang was approached with an opportunity to broaden her reach and expand her experience by exploring unchartered areas as the business face of the network, she found it impossible to turn down. "From the very first second until today its felt right; something about the place and the people and the way it works, it was definitely the right move," she says, crediting CBC's chief correspondent Peter Mansbridge as one of the people who helped smooth her transition.
Lang likely didn't know it at the time, but Mansbridge had long been a fan of hers and was quite eager to see her join the network. "She's got a great natural ability to convey a story to an audience," he says. Since fulfilling her new role, Lang has permeated the boundaries of business, covering hard-hitting stories for The National such as Canadian soldiers adapting to life back home after completing their combat mission in Afghanistan. "She's obviously multi-talented, she's not one-dimensional, she has a good sense of stories beyond her regular beat, she understands politics and she looks for the big stories on the international scene that impact not just her area but other areas as well," Mansbridge adds.
Long before Lang saw the bright lights of CBC's massive multi-camera studio, affixed with floor directors and that much-discussed glass desk, it was simply her and a wall box camera. "It always just felt like me and this thing, and the thing almost has this personality for me." She attributes this intimate start to what's helped her overcome an innate shyness that would otherwise conflict with the idea of speaking to millions of viewers every night. For Lang it's about connecting with her interview subjects, which in turn translates to the viewers. "It's just sort of me talking to one person and that one person is every person, I guess."
The photo shoot captures the Lang that lives at home. In contrast to her formal introduction, she says goodbye wearing blue jeans and a flowing cream dress shirt. When checking her Blackberry a final time, she discovers she's been nominated for another Gemini. Looking genuinely surprised, she lets out a slight smile. Win or lose, Lang is in it for the long-run. "What I love about what I do is the chance to talk to people, the chance to learn things and help people understand the world better. So to the extent that I can do that, that's what I want to pursue. What that looks like? I'm not going to start planning now, it's worked out so well so far."