David Mirvish and his Brave New City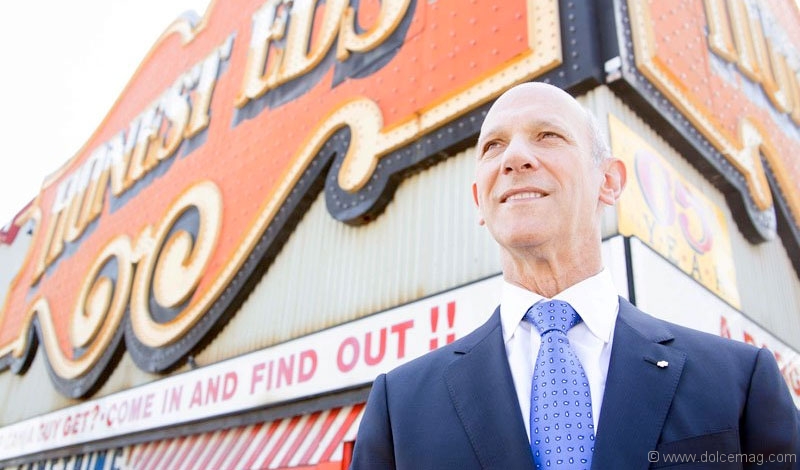 Over half a century ago, David Mirvish's father played a key role in transforming Toronto — now he's looking to do the same
Across the street from Honest Ed's, just south of where Bloor and Bathurst streets intersect, a new nine-storey condo is being built. In a city where mammoth glass-and-steel towers, many well over 40 floors, are rapidly dominating the skyline, this modest development may seem insignificant. But in the Bloor-Bathurst area, one of the tallest buildings for pretty much ever has been the four-storey discount retail icon Honest Ed's. It's a sign of the transformation sweeping through Toronto — a movement David Mirvish wants to be part of.
The morning of an early August day drifts towards noon as sporadic shoppers wander amongst the white bins, cardboard-box displays, hand-painted signs and black-and-white photos of entertainers of old that make up one of the many rooms of Honest Ed's. In a crisp navy-blue suit, Mirvish, founder of famed Canadian theatrical company Mirvish Productions, stands amongst this milieu of bargain-priced merchandise that his father, the late Ed Mirvish, devised and orchestrated over six decades ago. The contrast between the past and the present is as lucid as the store's marquee on a clear summer night. For Mirvish, it's also clear that it's time for change.
"One never knows when the perfect time for change is," says Mirvish, seated in the boardroom overlooking the aisles of his family's store. "But what you don't want to do is let someone else make decisions for you. You want to make those decisions at a time that seems appropriate."
In mid-July, Honest Ed's was put up for sale for $100 million. The price also includes Mirvish's 1.8-hectare plot of land in Mirvish Village, a neighbourhood known for its distinct small businesses, charming dining and affordable rent, which made it a bastion for artists and students. It's a community the Mirvish family supported and preserved over the years, one where residents still recognize and wave to the impresario as he walks the street. The news came only a week before the once seminal store's 65th anniversary. For many, it was a bittersweet celebration.
Honest Ed's has been a fixture of Toronto since opening in 1948 — its founder, Ed Mirvish: a cherished figure. He was a pioneer and an exhibitionist, a businessman and a philanthropist; loved by many, known to all. During a time when prices were dictated by department stores and manufacturers, Ed blazed new trails with his discount-retail model; the same method utilized by Walmart 14 years later. Ed's innovative spirit would lead to much dabbling in then novel retail strategies, including incorporating self-service, loss-leader goods and an in-store pharmacy and photo shop, long before they were commonplace. He embraced his immigrant-heavy customer base, offering wire-transfer services so new-to-Canada clientele could send money to their home countries, and eventually brought in a passport renewal kiosk. He refused to sell-out to Loblaws when they offered to open an Honest Ed's with every one of their grocery stores across the country. "He said, 'I'm making a living, and I don't want to spend my time travelling and looking at figures in a book,'" Mirvish explains. He also never issued stock, which, when Honest Ed's was bringing in $65 million a year in the early '90s, would have further buttressed the family wealth. Above all, Ed was a showman. From his annual turkey giveaways at Christmas to his pun-filled commercials to enticing "the Wolf Girl" to travel by dogsled from the Yukon to Toronto to shop at Honest Ed's — "'All you do is hitch your dogs to the sled and you keep coming until you run out of snow,'" Mirvish recounts of his father's offer — Ed relished the spotlight. "The irony was always that he was actually quite a humble person and quite soft spoken," he adds. "I guess it's a little like looking at the Wizard of Oz: behind the curtain is not the Great Oz, but there could be a great man there in just another way." Over the years, Honest Ed's maze-like, funhouse atmosphere (customers were, and still are, encouraged to "come in and get lost"), combined with exceptionally low prices and Ed's friendly theatrics would prove appealing to Torontonians of all walks of life. Honest Ed's became both a first for the city and the world.
But things are far different today. While many still shop at Honest Ed's, still enjoy its playful character and great value, Mirvish knows the world is not as it was in his father's heyday. "The service that Honest Ed's provided once upon a time," he says, "is no longer needed in the same way." The sale marks an end of an era and acts as a reality check for those who still nostalgically cling to the past. In a world where big box stores stand within arm's reach of many neighbourhoods, this move was a long time coming and undoubtedly an eventuality. Even years before he passed away in 2007, Ed was already closing his restaurants due to competition in the King Street West area, a neighbourhood he helped revitalize when he bought the Royal Alexandra Theatre in 1963. There were over 85 restaurants in the area by 2002, and the Mirvish's converted their warehouses into office space. Things change; people adapt — c'est la vie. "The city is constantly evolving. It's a living organism," explains Mirvish. "If you don't constantly evolve, you fall by the wayside."
And Mirvish has no plans to disappear. Although far more reserved than his father, Mirvish has turned heads with his latest project, currently known as the Mirvish+Gehry Toronto. In October of last year, he announced his partnership with Peter Kofman of Projectcore Inc. and renowned architect Frank Gehry (who was unavailable for comment) and revealed their vision for his family's property in the Entertainment District. While the proposal has undergone several iterations since its unveiling, the current design features a trio of 80-storey structures wrapped in white milk glass. "Gehry's tried to make the transition from the base into the towers be a fluid one," explains Mirvish. "So what you have are three vases with different flowers — an iron flower, a glass flower and a clay flower that you live in." The embrace of flowing white waves gives the impression that these arresting towers are peeking through clouds, as if a morning mist is receding, losing its grip on three colossal statues.
This project will be Mirvish's second venture in real estate development — the first being One King West, which opened in 2005 — and many of Toronto's artistically inclined have thrown their weight behind it. Matthew Slutsky, president and founder of BuzzBuzzHome, declared it an "instant landmark on the Toronto skyline," and Globe and Mail columnist Marcus Gee trumpeted its bold design, stating, "… it is a once-in-a-generation chance to take architecture and the arts in Toronto to a new level."
Elevating Toronto's cultural scene is one of Mirvish's primary goals. There is a commercial drive behind the project, he makes clear, but Mirvish also sees an opportunity to meld the downtown lifestyle with his passion: art. Along with numerous residential units, roughly 100,000 square feet of retail and 40,000 sq. ft. of commercial space, these towers will also house a new facility for the Ontario College of Art & Design (OCAD) and an art gallery. The OCAD campus — dubbed The Princess of Wales Centre for the Visual Arts at OCAD University, in honour of The Princess of Wales Theatre, which Mirvish built in 1993 and will be demolished during construction — will provide space for performances, lectures and teachers' and students' work. The 60,000 sq. ft. art gallery will allow Mirvish to showcase pieces from his collection of 1,100 works of contemporary art. "What I'm hoping is that it will produce an art museum that is free. It's a museum that's about advocacy," he says.
Mirvish has always held a fondness and intrigue for contemporary art. It was a love affair cultivated by his father's transition into theatre and the artistic inclinations of his mother, Anne Mirvish, a sculptor herself. Once, on a family vacation to Europe, Anne exposed young Mirvish's mind to the great works displayed in the museums and cathedrals of the Old World. While Ed never shared his son's affection for contemporary art, he always encouraged Mirvish to pursue his own path. In 1963, Mirvish opened the David Mirvish Gallery, a small refuge for contemporary works located right around the corner from his father's bargain retail store. Until the gallery was closed in 1975, Mirvish was the premier champion of the contemporary style in Toronto, particularly of artists from the Color Field movement. Over the years he collected and dealt various works, and notes his appreciation for the likes of Frank Stella and the late Helen Frankenthaler and Canadian Jack Bush. His dream for the Mirvish+Gehry's gallery is to dedicate an individual room to each of a number of these artists so the public can experience the full scope of their importance. He explains that Bush, for example, is well represented in museums around the world, but that type of encyclopedic presentation style doesn't do him justice. "If we don't do right by him," he says, "and give him a place to be seen in the context of his peers, we won't be able to judge his accomplishment." Adding: "If we had a museum that was devoted to this, I believe people would come from all over the world — as many people that will come to see Frank Gehry's architecture."
Mirvish's dream is to create a cultural hub whose presence will rival the city's tallest building, most of which are dedicated to banks and insurance companies. The savvy dealings of our country's financial institutions are praiseworthy, but Mirvish believes "that our residential and entertainment and intellectual activities merit a place of equal prominence and should be able to grow to similar heights as those buildings." The 80-plus-storey towers, while radical in height next to current developments in the area, are symbolic of a city in this place in time — a means of announcing to the world our dedication to cultural endeavours.
There are, however, hurtles. The city, for one, has pumped the breaks on Mirvish's aggressive vision. Director of city planning Gregg Lintern explains that through community consultation meetings the public has raised issues with the project's dramatic size, scale and intensity and expressed a desire to conserve the heritage buildings that will be demolished during construction. "We certainly recognize what the project represents in terms of architecture and culture and the nature of the proposal," he says. "We're trying to work with that and with the planning context that's in the area." Lintern adds the next planning report to city council will likely be held in November, and any issues with the current design will be addressed then.
Mirvish believes the angled wooden beams and glass canopy of the project's five-storey podium evokes and pays homage to the antiquated industrial buildings it will replace, and hopes the city will not insist on diminishing the height. This is an opportunity to have Gehry, one of the leading architects in the world, a born-and-raised Torontonian, develop what could possibly be his greatest work yet — and, in the process, elevate the city to its rightful place on the global stage.
"From our point of view, we are trying to make a statement. We want these buildings to be visible, we don't want them to hide behind other buildings, we didn't hire Frank Gehry for these buildings not to be prominent," says Kofman, the venture's development and project manger, adding ample time and effort has also been put into the public space on King Street to ensure it is enhanced in a compelling way. "We want these buildings to be a special place and that's why we're doing it."
But as it is for all things in life, only time will tell. For Mirvish, this is a chance to further his family legacy, to shape the city in a meaningful way, just like his father did. All he wants is the opportunity. "It means that I had a chance to stand on my father's shoulders. I didn't do it by myself in one generation. I did it because I worked alongside him for 50 years. I'm 69. I've been able to evolve and do things because we came out of a certain community where certain opportunities present themselves. My father said there was no other place in the world where he could have achieved what he did."
And now, Mirvish hopes it's where he can do the same.