Embracing the Seasons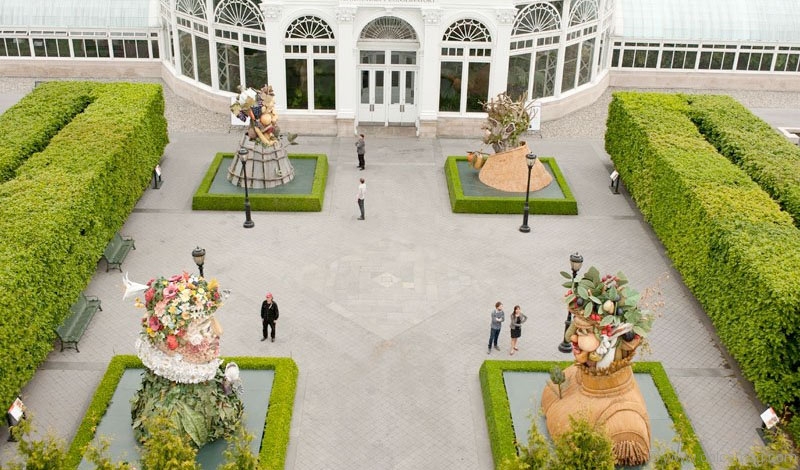 Contemporary artist Philip Haas references classical Italian Renaissance portraiture in his celebrated "Four Seasons" series
In the city that never sleeps, there are seasons that never  end. Specifically, film-director-turned-artist Philip Haas' spectacular new sculpture creation "Four Seasons," currently on display at New York's Botanical Garden as part of an American tour.
Inspired by Renaissance master Guiseppe Arcimboldo's composite facial portraits, "Four Seasons" represents winter, spring, summer and autumn as you've never seen them, nor experienced them. Each sculpture is 15 feet high (4 metres) and placed in pairs facing each other, so visitors can examine them from different angles. What they see astonishes.
"It's very gratifying to see the impact the work has had on an audience," says Haas, who describes himself now as a "recovering film director." "What's great about having four 3D sculptures is that the work changes depending on where you are positioned or how close you are to it, and when taken altogether, that's a different perspective as well."
Haas began his career as a documentary film director and graduated to such feature films as Angels and Insects, which was nominated for an Academy Award and the Cannes Film Festival's Palme d'Or. He describes his move to physical artistry as a "transition."
"I began to see an appetite to do something that transcended film," says Haas. "I see it all as part of the same vision, making something from nothing. I'm a conceptual artist in that I think up something — an idea — and get a lot of people to work with me on it."
And what an idea "Four Seasons" is.
Seemingly springing from the grounds of the Garden's courtyard, the steel infrastructure-and-fibre-glass sculptures utilize a labyrinth of natural forms such as twigs, bark, leaves, branches, trees, flowers, fungi, moss and even vegetables — brilliantly recycled and sculpted by Haas to form four human portraits, each representing individual seasons. As well as complementing Arcimboldo's style, each sculpture has its own fusion of form and function.
And while "Four Seasons" has been on display at the National Gallery of Art in Washington, the Piazza del Duomo in Milan, and the Gardens of Versailles in Paris, Haas feels the courtyard at the Botanical Garden adds to its effect.
"In the Garden you get a very interesting feeling, I feel a riff, between the sculptures and the environment," he says. "Suddenly, the hedges are looking sculptural and the sculptures are looking more organic than they might ordinarily."
Haas describes his process as "sculpting by thinking." And if "Four Seasons" is any indication, it is the kind of thinking few of us can imagine but all of us can enjoy.