Famba: Doing Everything Differently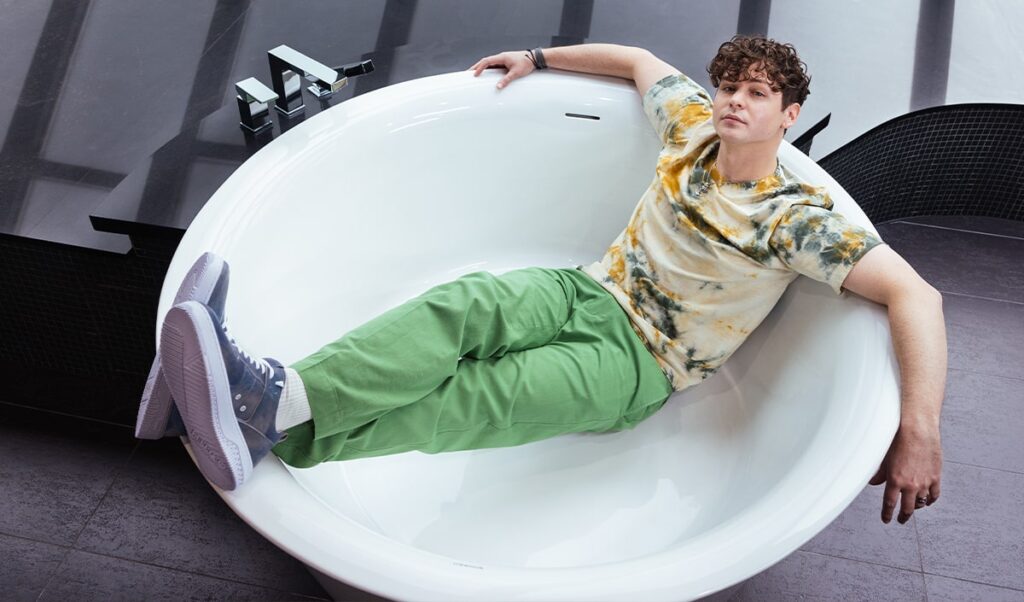 The music producer and DJ on Star Wars, new music and the album that inspired him to start producing music.
Halifax's Ryan Pettipas is proud to call himself a sci-fi fanatic. His DJ name, Famba, is inspired by Fambaa, a creature he found at Star Wars wiki Wookieepedia. Pettipas thought the name had a good ring to it.
After entering the electronic music scene with a collection of underground house and progressive house tracks, he won crowds over with his approach to sound. Not only were his singles "Wish You Well (feat. Trove)" and "Swear to God" certified gold in terms of sales, but his single "Storm (feat. Kyra Mastro)" reached the No. 1 spot on the Mediabase Dance chart.
"My music can be described as fun, energetic and uplifting," he says. "especially the music I've been making lately. I want it to work in a club and I want it to be super-energetic."
For Famba, his passion for music started early, and he shares how he's loved it for as long as he can remember. He chose to learn to play guitar at 12 and then started to produce his own songs in high school after hearing Calvin Harris's I Created Disco album. "I started off doing Famba as pop music and writing pop songs," he shares. "Now I'm still writing pop songs — it's just the production has taken a turn into the deep end that's more underground." His most recent single, "Estar Conmigo," embraces this and has already got music outlets abuzz about how the beats come together to create something memorable.
"My music can be described as fun, energetic and uplifting."
As someone who listens to all genres from indie rock to techno, Famba finds inspiration can come from anywhere. He shares how he was recently at a show at Toronto's electronic music venue, Coda, to see Skin On Skin. "It was the sickest set I've ever seen," Famba says. "The next day, with a raging hangover, I worked all day because I was so inspired by his set and ended up making something that was different than what I'd been doing."
Despite the fact that inspiration can come from anywhere, Famba says he approaches every song as its own entity. "I do everything differently. There are different ways to approach songs," he says there are big differences. "So, a certain genre will have a different creative process. When you're writing a pop song, it starts with lyrics and melodies but when you're writing a house song, it starts with production."
Even with DJing and producing, Famba notes there are big differences. "DJing is the funnest thing in the world," he says. "You have a crowd of people and you can play anything you can think of, and it's cool gauging crowd reactions and hearing people go crazy." He describes producing as more trial and error. "You could have two days straight of the worst music you've ever made and then, within an hour, you've made the best thing you've ever made."
It's also a career that comes with unpredictability, and he's open in describing his work as a roller- coaster. "You have big highs and lows. You might have music that's popping and then times when you fizzle out and can't write anything. It's challenging to stay motivated through the lows, but that's part of the job."
When asked what his career highlight is, he says he doesn't have one. Instead, he says he's just happy to be here, and here he intends to stay. Famba has new music on the way that he describes as a mix of his old and new styles, promising "big choruses and hooks" while trying new things with production to push the boundaries.
RAPID-FIRE
Q: Favourite Song
A: "Down Under" by Men at Work
Q: Idol
A: Prince
Q: Favourite Timbit
A: Honey-glazed
Q: Coffee order
A: Black
Q: First job
A: Dishwasher
Q: Favourite word
A: F***
Q: Guilty Pleasure
A: Nerd behaviour
Q: Starstruck by
A: Tom Cruise
Q: Favourite colour
A: Blue
Q: Last vacation
A: Cayman islands
Q: Favourite movie genre
A: Sci-fi
Q: Hobby
A: Video games
Q: Favourite video game
A: All of them
Q: Fashion sense
A: Confused
Q: Favourite city
A: Toronto
Q: Nickname
A: Ryan (at this point)
Q: Made a love song
A: Yes, many
Q: Hidden talent
A: Whistling
Q: Favourite movie
A: Forrest Gump
Q: Favourite Canadian musician(s)
A: The Tragically Hip
Q: What does la dolce vita mean to you?
A: Living your best life… health, wealth, being elevated, being happy and good vibes overall
INTERVIEW BY ALEXANDRA AULICINO