Jully Black: "i'm An Empath, A Citizen Of The World, An Agent Of Change"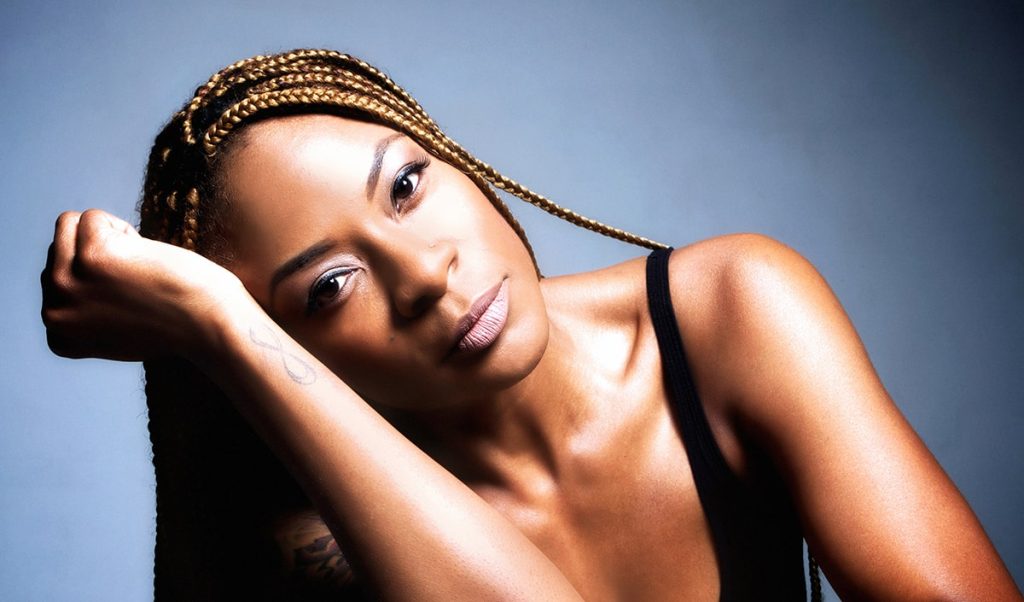 Following her induction into Canada's Walk of Fame, the singer-songwriter and entrepreneur talks about her new album and how the pandemic taught her not to lock down, but lock in.
Jully Black is a Canadian success story. As well as being named by CBC Music as one of the 25 greatest Canadian singers of all time, she's a Juno Award–winning, platinum-selling recording artist and 2021 inductee into Canada's Walk of Fame.
But, for her, it's not about the awards or accolades. "I'm full of gratitude. I'm an empath, a citizen of the world, an agent of change," Black says. "The essence of who I am defines me more than what the accolades and awards say. It's really about who I am."
With her powerhouse vocals, Black's musical style is distinct. It's led to her sharing the stage with big names, including The Black Eyed Peas, Kanye West and Alicia Keys. She credits a lot of her voice's development and style to her upbringing.
"Being raised in the church, there's a strong emphasis put on your soul, energy and essence," she continues. "For me, that's the root of all connections. Celine Dion is a soul singer. Adele is a soul singer. I'm a soul singer. It's people singing from truth."
She also credits many of her attributes to her mother, who passed away four years ago. "My mum taught me a lot of humility. There's a saying she would say to all of her kids, especially her daughters. It's Jamaican, but she'd say, 'A pretty face isn't going to get you anywhere.' She was about ambition, studying books and focus. She'd rather you be the smartest person in the room than the prettiest."
Black continues to explain how she puts in a huge amount of work, so she's the best version of herself, and opens herself up to others when onstage or entering a room. She recounts an "Aha" moment she had in a meeting the week before our conversation, where she realized she was what she calls "a surrogate dreamer."
"I'm carrying my mum's dreams and am able to live them out. It's helped me in missing her and wanting her physical presence every time someone laughs at something I say, enjoys a show, or I'm able to support somebody behind the scenes."
And support Black does. With a belief that what you do in private will reward you in public, she's committed to helping others.
Black even talks about a tattoo of a bridge she has on her forearm. "My purpose in life is to be a bridge. They connect people to go from one place to the next. If you're sitting in fear on one side, let me take your hand and walk you over to some faith and courage."
As a celebration of this outlook on life — not to mention all the lessons her mother instilled in her — she founded 100 Strong & Sexy, a global community of health, wellness and lifestyle. Its mission is to help others find and commit to their wellness journey and make deeper cultural connections in mental, emotional, physical and spiritual wellness.
"100 Strong & Sexy was born as a result of my mum passing away, and [my] turning pain, grief and sorrow into purpose, possibility and service. Rather than sitting in grief, I allowed it to reveal. There was an opportunity here to reveal all of my pain, shame and things we carry and suffer with in silence."
With the pandemic putting the world in lockdown and closing gyms, the idea of being active and making moves to stay mentally and physically engaged was crucial for Black. During that time, she also became a certified Xtreme Hip-Hop with Phil instructor and founded the Power of Step which is classic retro step, aerobics reimagined with high-energy, low-impact choreographed routines set to old-and new-school hip hop and R&B, dance hall, soca, Afrobeats and gospel music that will get your heart, body, mind and soul moving.
"I said, 'I'm not going to be locked down, I'm going to be locked in,'" Black continues. "I'm going to be locked into purpose, routine and a ritual of daily movement."
In spring 2022, Black will release her new album, Three Rocks and a Slingshot, that she describes as being an ode to the biblical tale of David and Goliath, where David used only three rocks and a slingshot to take down the giant Goliath. Black is using her three rocks of her faith, resilience and a positive outlook on life to step into the new music industry after being away for the last 10 years.
"For me, my giants were getting through the grief of getting over my mum, being an independent artist, a woman in this business, a woman who's single and without children," Black notes. "There were a lot of things I had to slay for the creativity to flow and for me to write and co-write these songs about love, life and fun. This album is a rediscovery and rebirth. I'm re-presenting myself, to myself."
www.jullyblack.ca
@missjullyblack
Interview by Estelle Zentil