Barbara Walters: New York City Apartment For Sale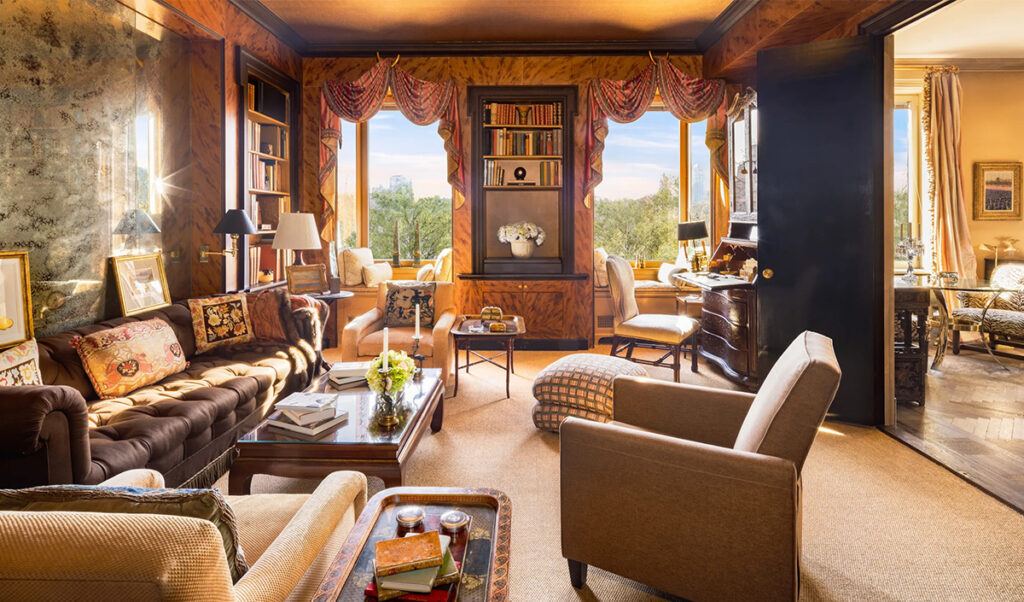 Barbara Walter's Fifth Avenue apartment, boasting five bedrooms and overlooking Central Park, is now available for purchase for US$19.75 million.
The grand apartments in older buildings on Manhattan's Fifth Avenue adjacent to Central Park come with some of the world's best views and sometimes a little history. A five-bedroom apartment is now for sale on Fifth Avenue that takes up the entire sixth floor in a building designed in 1925 by architect Nathan Korn comes with a little more history attached to it than most, as it was the home of trail-blazing television news anchor and journalist Barbara Walters.
Located on Manhattan's Upper East Side, the Italian Renaissance-style limestone-clad 14-storey building ranks as one of New York's premier residences in one of its most upscale locations and was Walters' home from 1989 until when she died in 2022 at age 93.
The apartment, with its 11 light-filled rooms and an abundance of seating areas in various colours, has been left mostly as it looked when Walters passed. The living room includes a wood- burning fireplace, tall ceilings and breathtaking views overlooking Central Park. Next to the entrance gallery and living room is a red-lacquer- painted library with a dressing table, seating area and a floor-to-ceiling mirror, which reflects some of Walters' favourite books and mementos.
The primary bedroom suite includes built-in wardrobe cabinets with floral motifs, another fireplace and more vistas of the park. There is a large dining room for entertaining where you can imagine fabulous dinner parties with stimulating conversations, thoughts, opinions and pronouncements from Walters' eclectic circle of friends and guests. The apartment also contains an eat-in kitchen and five and a half bathrooms.
Walking through the many seating areas, you can envision the famous Barbara Walters interviews with some of the world's most famous people. Walters had an innate ability to extract real emotion from her guests rather than the pat answers we are all used to seeing. Using deep research to uncover personal stories and histories, she'd get people you'd never think would to let down their guard and sometimes actually cry in those captivating and emotional long-form interviews. Walters' interviews were "must-see TV" when she was at the top of her industry, a very long way from where she started.
If there was a group photo of the most transformational journalists in American history, Barbara Walters would be in that photo. She might be the only female in that photo, a testament to her 65-year journalism career.
As perfectly portrayed in the movie Anchorman: The Legend of Ron Burgundy, the news had always been delivered by men since the advent of television in the late 1940s. Women were on television, of course, but limited to the weather, fashion, or celebrity reports, or the "lighter side" of the news. Hard network news was the exclusive domain of men, such as Edward R. Murrow, Walter Cronkite, Chet Huntley and David Brinkley. They were sober, serious men with credibility and gravitas. That is, until Barbara Walters challenged the convention.
Walters began her career in television at the NBC affiliate in New York in 1953 as writer-producer of a news-and-information program aimed at a younger audience. She joined the staff of the network's Today show in the early 1960s as a writer and segment producer of women's-interest stories, which was a typical role for any female in a newsroom at the time.
However, her popularity grew with viewers and she began receiving more airtime, becoming co- host of the program in 1974. History was made in 1976 when Walters became the first U.S. female co-anchor of a network news program, alongside Harry Reasoner on the ABC Evening News. The journalistic glass ceiling had been broken.
If there was a famous person on the globe during her broadcasting career, Walters probably interviewed her or him. She interviewed every sitting American president and First Lady from Richard and Pat Nixon to Barack and Michelle Obama, along with Fidel Castro, Anwar Sadat, Vladimir Putin and more Hollywood legends than you can imagine. She created, produced and co-hosted the daytime talk show The View from 1997 and appeared on the program until her 2014 retirement.
Whoever buys this grand apartment on Fifth Avenue will not only be purchasing one of the best residences in midtown Manhattan but a slice of journalism history, as well.