Peter Simons – A Provincial Company Goes National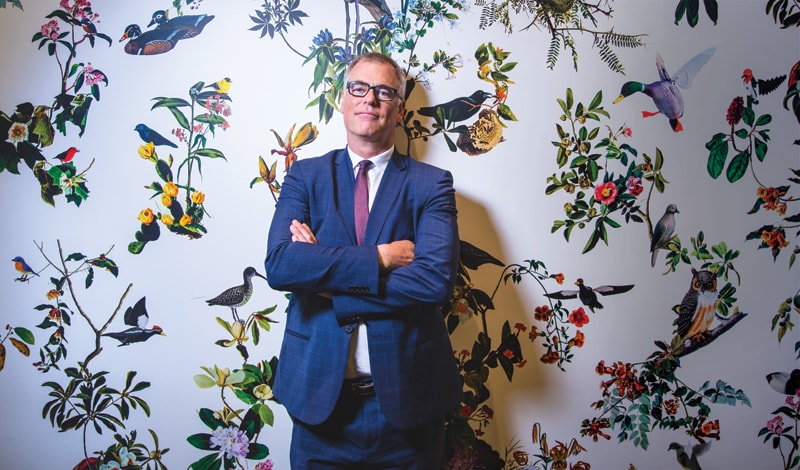 Breaking ground on their new state-of-the-art distribution facility, Peter Simons sits down with Dolce to discuss the growth of this iconic company and what is still to come.
Interview By Victoria Scott
In the high-paced forum of big-box retailing, massive bling and homogenized fashion, Simons (La Maison Simons in Quebec) is a singular stand-alone retailer. Founded in Quebec City in 1840, Simons is Canada's oldest privately owned family department store, and it's run by fifth generation Simons. Peter Simons, president of Simons, and his brother Richard, vice-president of merchandising, co-own the company together.
At a time when large retailers such as Sears and Target have vacated the Canadian marketplace, Simons, a mid- to high-end fashion and home décor retailer with 3,000 plus employees and offices in Paris, Florence, Italy, Korea and the Far East, averages $500 million plus in annual sales. And while Peter calls the family firm a small Canadian retailer, over the past several years Simons has expanded its Quebec base of nine stores to include two stores in Ontario, (Mississauga and Ottawa), three stores in Alberta and one in British Columbia.
"Our DNA is old-school merchant," Peter says. "Product, people and store environment are our focus, with an emphasis on quality, rather than scale. We are very attached to our 180-year history and are committed to understanding our position, appreciating our roots and understanding our place in time," he says. "It is a temporal sensitivity, and as fifth generation Simons, our sense of history, gratitude and appreciation for our past inspires us to make meaningful decisions."
To that end, Simons is dedicated to a range of accountabilities on multiple levels, including unique and singular store designs; striking architecture; informed, respected and valued staff teams; and a variety of exclusive brands, as well as a small, thoughtfully curated selection of artisan wares, museum-quality art and a spirit of community that champions empathy, consideration and the sincere pleasure of serving its customers. "There are times when I thought we could save a lot of money building cookie-cutter stores," Peter says. "But we are not interested in homogenization. Decision-making around product selection is always centred on creativity and the legitimacy of that creativity, rather than product spin. Esthetics and creativity are the end goal," he says. "Shoppers today are very aware. Women do not want prescribed looks; it is more about the palette, as opposed to the painting."
"Our philosophy centres on the fact that to operate in a community is a privilege"
As a part of the retailer's love and commitment to art, Simons partners with both small artisans and high-profile artists such as Canadian novelist and artist Douglas Coupland. "Why should you have to go to museums to see beautiful art, when we can surround ourselves with it on a daily basis?" Peter asks.
In order to keep up with what Peter calls "tectonic changes," Simons is building a $200-million, state-of-the-art distribution facility in Quebec that is projected to open in 2020. Since the launch of its e-commerce site in 2010, Simons's growth has been exponential, surpassing 20 per cent of overall business. In fact, Simons is ranked No. 2 in its category in the Quebec e-commerce space and is in the top 10 of its category in Canada. And while the bricks-and-mortar stores are also growing, Simons recognizes the need to secure market share in the competitive online forum. "Our new facility will be ultra rapid and ultra productive, with two automated robotic technologies that will expedite processing, shipping and servicing," Peter says. "We are also deeply committed to reducing energy and eventually morphing into a net-zero facility that will be energy positive."
Peter, who studied engineering at Western University in London, Ont., before transferring to business and economics, did not start out as a fashionista. He studied computer programming, world politics, chemistry and philosophy, a diverse baseline of education that equipped him to succeed. "Retailing is so much more than merchandising and selecting products these days. At any given point, I can be selecting merchandise, meeting with programmers to discuss metadata or meeting with the bank to discuss complex financing," he says. "In retail today, you have to love what you're doing. That being said, my 89-year-old dad said to me, 'Peter, you have to go fly-fishing more often,'" Peter says with a laugh. "One day, I will."