Manoir Hovey, Suite Dreams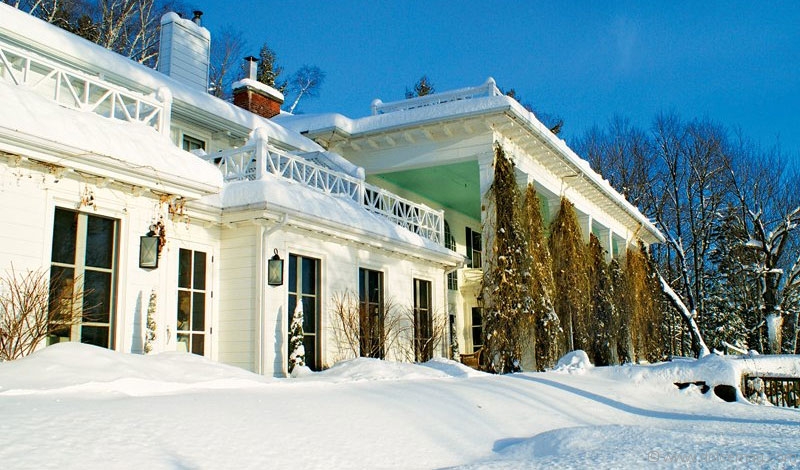 Antiquated cottages, sweeping hills and the Precambrian rock of the Canadian Shield capture the historic charm of a former farming community while striking a balance between the familiar and the faraway. Neither a picturesque Via Rail ride from Toronto nor a scenic 90-minute drive from Montreal braces us for the beguiling beauty that awaits at Manoir Hovey in North Hatley, Quebec.
Rows of white birch trees line the periphery of Rue Hovey, lending significance to the five-star property's preceding name: The Birches. That's what Henry Atkinson decided to call the grounds when the U.S. businessman acquired it at the turn of the century. His vision of building a private estate summer home modelled after President George Washington's house at Mount Vernon in Virginia is still alive today with its wraparound verandas and snow-white siding. When The Birches was sold in 1950 to a hotelier named Robert F. Brown, the property was transformed into a country inn. The Stafford family soon took over, and has been welcoming guests to Manoir Hovey for over three decades.
Situated on 1,700 feet of lush English gardens and the secluded shore of Lake Massawippi, the resort inn's commanding views and French country interiors gush with its hundred-year biography at every turn. Before being given a tour of the 42-suite property by a congenial young man referred to as JD, we're greeted by the maître d'hôtel, Franck Trutet, whose international experience includes acting as restaurant manager for renowned chef Gordon Ramsay. After taking in Manoir Hovey's outdoor tennis court and swimming pools, traditional library, award-winning Le Hatley Restaurant and the Tap Room enriched by wood beams and a 10,000-brick fireplace, we reach a two-acre hilltop where a completely isolated Heron suite with panoramic views is perched. What instantly impresses after pushing past the doors is the haute contemporary design and large-scale windows that flood the cottage-like space with natural light. Other suite highlights include a Muskoka room with Jacuzzi steam showers, bleached hardwood flooring and a crackling wood fireplace in the spacious bedroom; a flat-screen TV and stunning lake views.
Later that evening a lightly lit winding stairway takes us down the bluff to Manoir Hovey's award-winning restaurant. The sommelier's impressive knowledge of wine is topped off by his sense of humour. "It's full-bodied, yet refined, just like me," quips Yanick Lallier, while pouring a bright red complement to executive chef Roland Ménard's filet mignon, roasted vegetables, risotto and soubise sauce. "I think that my plates represent the calm you can find here, because sometimes I'm taking a walk outside and I just look to the lake and my mind feels relaxed and it gives me ideas," says Ménard, who's received several rewards in his 30-year tenure at the inn, including top prize for best chef in Quebec at the Gold Medal Plates competition. When it comes to dishing on the Manoir Hovey experience, Ménard does it just as well. "I think people who come here are going to be very surprised. They will find something they don't see anywhere else."
As nightfall casts a scintillating spell over Lake Massawippi, there's a sense that the stars are within reach. This old-world oasis in Quebec is proof that you don't have to travel far to feel like you're a million miles away.

www.manoirhovey.com