Swingers' Club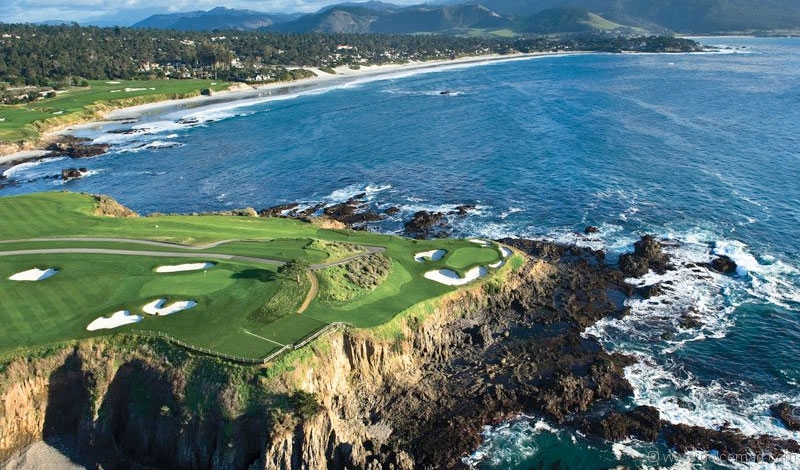 1. Pebble Beach
Monterey Peninsula, California
Pebble Beach Golf Links is easily a frontrunner for top spot on any avid golfer's bucket list. Between crashing waves and cliffside holes, this par 72 pulsates with personality. "It's pretty hard to beat the scenery there," says Canadian golf course designer Doug Carrick of Pebble Beach's unmatched majesty. It's hosted a number of championship tournaments, including five U.S. Opens, but besides some smaller, more demanding greens, Pebble Beach remains a very playable course, Carrick explains. With award-winning accommodations, Pebble Beach is a stunning destination for a golf-themed getaway.
2. Predator Ridge
Vernon, British Columbia
Nestled amidst the mountainous terrain of Vernon, B.C., overlooking the crystal waters of Lake Okanagan, Predator Ridge Golf Resort Community seamlessly melds landscape and links. Moving from rolling grasslands to wooded valleys and up through rocky terrain, The Ridge Course captures the breadth of this unforgettable vista. "There's about 400 feet of elevation change on the golf course," Carrick explains, "so you get some pretty dramatic views from some of the tees," such as on holes 5 and 6. Relax in private cottages, condo-style villas and award-winning spas after a captivating round.
3. Pinehurst
Pinehurst, North Carolina
Established in 1895, Pinehurst Resort is an American institution. This 8-course golf resort is the largest in North America, exuding stately elegance through its tranquil forest setting and dignified accommodations. Course No. 2 was designed by highly influential course architect Donald Ross and is one of the world's most renowned. Amateurs will be thankful for No. 2's wide, forgiving fairways, but intricate slopes and contour placement on and around the greens present challenging approach shots for seasoned vets.
"The average golfer, if they play to their ability and play approach shots short of the greens, they can avoid a lot of the trouble around the greens and still have a reasonable score," Carrick says. "For a good golfer, they have to be in the right position off the tee to be able to attack certain pin positions. So it's a wonderful golf course from that standpoint."
4. Kingsbarns
St. Andrews, Scotland
Scotland is the Holy Land for any golf enthusiast. St. Andrews: mecca. Many have pilgrimaged to the Old Course at St. Andrews to experience the sport in its purest form. But if you happen to find yourself along the coastline of Fife, satisfied by a respectable round at the "home of golf," and are itching for something a wee bit contemporary, Kingsbarns Golf Links is not to be missed.
Located just south of St. Andrews, and recently ranked the Best Modern Course in Great Britain by Golfweek magazine, Kingsbarns is a modern masterpiece. The spirit of traditional golf meets today's layout techniques to deliver challenge and fun. Holes run along the coastline with sweeping views accenting each shot. Carrick explains that thanks to strategic design and green layout, Kingsbarns's character is fresh while honouring the birthplace of golf.
www.kingsbarns.com
5. Troon North
Scottsdale, Arizona
Considered by many to be Arizona's finest course and the pinnacle of desert golf — including Golf magazine, which ranked it No. 20 on its list for Top 100 Courses You Can Play — Troon North Golf Club offers a rare and memorable experience, especially for Canadians. Smooth, near faultless fairways lead to vibrant greens, which are made all the more brilliant by the rugged, rocky surrounding of the Sonoran Desert. "It really creates a nice contrast of manicured turf and wild desert landscape," says Carrick. Errant shots may see balls obscured by large boulders or the odd cactus, but through thought-out design — and careful play — golfers of all skill levels can appreciate a gratifying round. Make your stay in Scottsdale all the more pleasant with a suite at the Four Seasons Resort.