Lamborghini for Mercy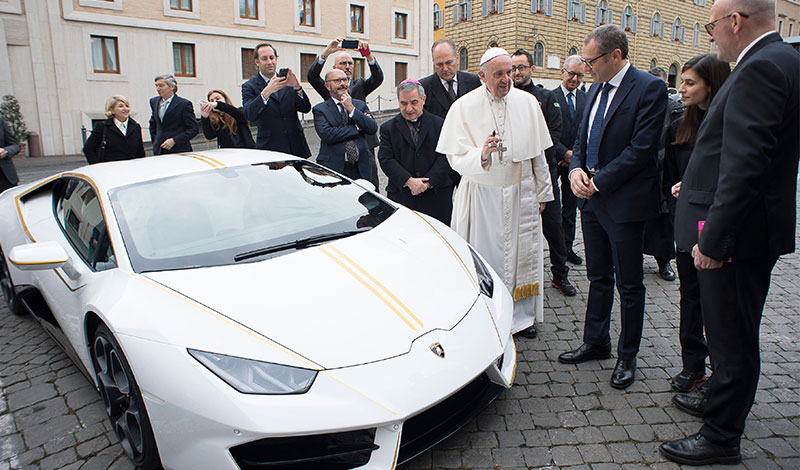 Lamborghini created an exclusive version of the Huracán RWD that was donated to His Holiness Pope Francis and will be auctioned for charity.
The car will be auctioned on May 12, 2018, by RM Sotheby's, with all of the proceeds going toward three much-needed missionary initiatives.
The first is the reconstruction of the Nineveh Plain under the patronage of the Pontifical Foundation Aiuto alla Chiesa che Soffre (Aid to the Church in Need). This project is an attempt to return the Christian community to the Nineveh Plain in Iraq by rebuilding their homes, public edifices and places of worship.
The second is dedicated to helping women who are victims of trafficking and other abuses through the Pope John XXIII Community. This initiative is also in honour of the 10th anniversary of the passing of Father Oreste Benzi and the 50th anniversary of the founding of the community Progetto Casa Papa Francesco (Pope Francis House Project).
And the third is geared toward two Italian associations that help in Africa: GICAM, led by Prof. Marco Lanzetta Lugano, and Amici per il Centrafrica (Friends for Central Africa). Both associations have worked in the region for many years, primarily focusing on aiding women and children in need.
The Lamborghini Huracán RWD is an homage to the Vatican, an idea by the agency Riptide, located in Milan. Lamborghini's customization department Ad Personam brought the concept to life.
The one-of-a-kind model pays tribute to the colours of the flag of Vatican City: it is painted in Bianco Monocerus (white) with Giallo Tiberino (gold) embellishment. Its glistening, pristine white coat and gold trimmings on the top and side give it a distinct muscle-car look.
The vehicle was presented in a special ceremony in the Vatican in the presence of Pope Francis; Stefano Domenicali, chairman and CEO of Automobili Lamborghini; members of the company's management board; and two technicians who built the car.
The donations made from the automobile will go a long way toward providing support in areas that desperately need it.
photos courtesy of Automobili Lamborghini