Romance is better in The Bahamas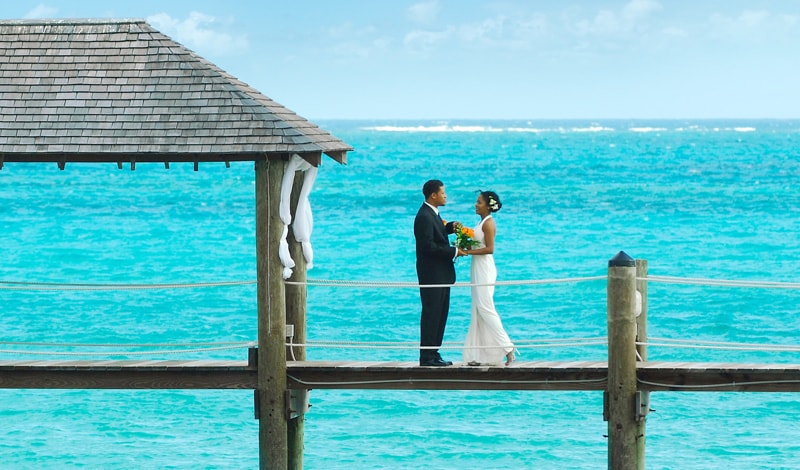 What could possibly be better than island hopping through a handful of the 700 islands and cays that make up The Bahamas? The area's 100,000 square miles of ocean boasts some of the clearest, translucent water on the planet. White and pink sand beaches are cause for celebration, and in fact, USA Today's 2019 10 Best Readers' Choice Awards for the Caribbean, named Gold Rock Beach in Freeport the Best Caribbean Beach, and Green Turtle Cay in the Abacos, the Best Caribbean Island for Romance. Stocking Island Beach in the Exumas and Tahiti Beach, in the Abacos, were also highlighted for their spectacular stretches of gorgeous beach. A relatively short 3-hour flight from Toronto, The Bahamas experience defines luxury with a capital L, and also stands for Love.
"The Bahamas is Number 1 for romantic travel," says Vinincia Strachan, Senior Manager of Romantic Travel, Bahamas Ministry of Tourism Aviation. "It is the ultimate experience to propose and/or get married here, either on the beach, quaint chapel, or in one of our beautiful gardens." Nonstop flights to Nassau and Paradise Island are popular Bahamas destinations for Canadians. "But Grand Bahama, The Exumas, (home of the original swimming pigs), and Eleuthera, (famous for pink sandy beaches), provide amazing vibes and are quickly gaining in popularity," says Strachan. "Visitors also enjoy other islands in The Bahamas called The Abacos, which is considered the boating capital of the Bahamas. Sailing guests can also look forward to scuba diving, fishing, restaurant and bar hopping, shell collecting, or a quiet picnic on a deserted cay," says Strachan.
The Baha Mar group of resorts, the definition of luxury, offers unique, 5 Star cuisine and accommodation at each of its properties, including Nassau's Rosewood Resort, a sanctuary of exclusivity; The Grand Hyatt with its nightly fountain light shows; and the SLS, which has both Nassau's only rooftop lounge as well as the opulent, state-of-the-art Bond nightclub.
If you are hiding out from the paparazzi, Paradise Island's The Ocean Club Four Seasons, a gated property, is the go-to place for luxurious pampering. Visiting celebrities include Oprah, Sally Jesse Raphael, and Cindy Crawford.
Hidden among the out islands of The Exumas are eleven private islands that encompass Musha Cay and the Islands of Copperfield Bay, which are owned by American magician, David Copperfield. A definitive, second-to-none luxury vacation can be experienced at one of Musha Cay's five glorious homes, each of which have their own private beach, spacious living and dining areas, and remarkable privacy. Accommodations, which range from whimsical to romantically exotic, are all tropically decorated and accented with glamorously striking treasures collected by David Copperfield on his globe-trotting adventures.
The Highview home, with its 10,000 square feet of exceptional luxury has a commanding 360-degree view of Musha Cay. The Pier House, which features two master suites, opens onto its own private beach and a pier that runs right into the ocean. Blue Point, perched on a rocky outcrop, has a mahogany wrap-around porch. The Beach House, arguably the most romantic of all five houses, is a one-bedroom thatched-roof cottage on a secluded crescent-shaped beach. Lastly, Palm Terrace, a 4,500 square-foot five bedroom home is perfect for families, with its spacious living quarters, gorgeous patio, and private beach.
For water sport enthusiasts, a visit to The Andros Barrier Reef, the third largest fringing coral reef in the world, with its blue holes for scuba divers, and its 160 species of coral and fish, is a must. Strachan states that the friendliness, helpfulness and graciousness of The Bahamian people are also key assets for visitors. "Too, our 5-Star accommodations, our rich food culture, which includes a variety of popular Conch dishes, our 700 islands, and the vibrant Bahamian culture are distinctive and unique. Junkanoo, which is an authentic Bahamian street parade with music, dancing and costumes dates back to the 17th Century. I think that when you put all of these things together, The Bahamas experience spells romance," Strachan says.
---
For more information on the Islands of The Bahamas, Please contact Vinincia Strachan, Manager of Romantic Travel at 1-800-667-3777 or romanceinfo@bahamas.com